Accenture cuts Woods as sponsor
Updated:
December 14, 2009, 10:14 AM ET
ESPN.com news services
Global consulting firm Accenture PLC has ended its relationship with Tiger Woods, marking the first major sponsor to cut ties altogether with the golfer since his alleged infidelities surfaced and he announced an indefinite leave from the sport to work on his marriage.
In its first statement since the Woods' scandal erupted, Accenture said Sunday the golfer is "no longer the right representative" after the "circumstances of the last two weeks."
The move ends a six-year relationship during which the firm credited its "Go on, be a Tiger" campaign with boosting its image significantly.
Accenture has used Woods to personify its claimed attributes of integrity and high performance.
"After careful consideration and analysis, the company has determined that he is no longer the right representative for its advertising," Accenture said, adding that "it wishes only the best for Tiger Woods and his family."
The firm plans to immediately transition to a new advertising campaign, with a major effort scheduled to launch later in 2010. An Accenture spokeswoman declined to comment further.
Advertising firm Young & Rubicam, which has handled the company's Tiger Woods ads, also would not comment on the move.
One of the risks of advertising tied to a celebrity is that "your image gets carried by someone you can't control," said Jonathan Bernstein, president of Bernstein Crisis Management.
Diminishing Returns as Pitchman?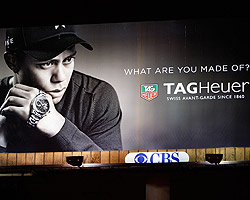 Accenture becomes the first offical sponsor of his 12 to cut ties with Tiger Woods after Gillette said it was phasing out his advertisements. His other 10, according to TigerWoods.com:
AT&T
In 2009, AT&T again ranked No. 1 in the telecommunications industry on Fortune magazine's list of the world's most admired companies. Among its offerings are wireless coverage, high-speed Internet access and voice services.
EA Sports
One of the world's leading interactive-entertainment software companies, developing, publishing and distributing software for the Internet, PC and video-game systems. Top-selling franchises include Tiger Woods PGA Tour Golf, FIFA Soccer, John Madden Football and NHL Hockey.
Gatorade
Gatorade, a divison of PepsiCo., is a beverage company helping provide athletes a hydration solution by replenishing fluid, carbohydrates and electrolytes.
Golf Digest
The world's No. 1 golf publication has provided golfers with award-winning editorial for over 50 years. Their Web site combines stories from Golf Digest, Golf World and a host of golf-related services.
NetJets
A subsidiary of Berkshire Hathaway, NetJets is among the worldwide leaders in fractional aircraft ownership for business and private jets.
Nike Golf
Nike Golf designs and develops products to meet the standards of many levels of players. "When his career is over, you'll look back on these indiscretions as a minor blip," Nike chairman and co-founder Phil Knight has said in reiterating his support.
TAG Heuer
Crafting luxury timepieces since 1860, TAG Heuer ranks as the fourth-leading brand in the international market. "We respect his performance in the sport," the company said Monday in announcing its relationship with Woods will remain unchanged.
Tatweer: The Tiger Woods Dubai
The first-ever Tiger Woods-designed golf-course community will be developed on about 574 acres in the Dubailand project. It will include 20 mansions, 200 villas and 200 medium-sized villas; an 18-hole championship golf course and a boutique hotel.
TLC Laser Eye Centers
Together, the doctors at TLC have performed more laser-vision surgeries than any other group of doctors in North America.
Upper Deck
The leading provider of sports collectibles and a pioneer of autograph authentication. Woods serves as a company spokesman for Upper Deck and as an official autograph signer for Upper Deck Authenticated, the company's memorabilia division.
"They definitely understand there's damage," Bernstein said of Accenture.
Accenture's advertising campaign was almost entirely built around Woods and his success, portraying his ability to sink a key putt or hit out of the rough.
If Woods had acknowledged mistakes and said he would be back in a month, Accenture might be able to ride it out, said Rick Burton, a professor of sports management at Syracuse University, in an interview.
But Accenture can't afford to wait for what could be a long time before Woods returns.
"They had tied everything in their campaign to Tiger Woods it appeared," he said. "If he's not golfing, those ads don't make sense."
Burton said Accenture's billboards and airport advertising need to be replaced quickly.
Without a backup plan, the company might fall back on something simple and conservative that could highlight its logo.
"It is probably prudent to take a low-key, conservative approach until they determine what their next message is that they want to send," he said. Accenture will have to determine whether it wants to stick with sports or whether its been too burned by what happened and will go another route, Burton added.
"Accenture has made a decision to not continue with their sponsorship. We are disappointed but respect their decision," said Mark Steinberg, Woods' agent at IMG Worldwide.
The PGA Tour said it would have no comment.
Accenture has been title sponsor since 2001 of the Match Play Championship, a lucrative World Golf Championship event that draws the top 64 players from the world ranking.
Accenture earlier this year renewed its sponsorship of the tournament through 2014. The contract is separate from its business endorsement with Woods.
The management consulting, technology services and outsourcing company has clients in more than 120 countries and about 177,000 employees across 52 countries.
Starting as the consulting arm of now-defunct accounting firm Arthur Andersen, it split off in 1989 under the name Andersen Consulting, eventually ending all ties with Andersen and changing its name to Accenture.
The company went public in 2001 and now has a market cap of $26 billion.
Earlier this year Accenture shifted its place of incorporation from Bermuda to Ireland, where it has done business for about 40 years.
Woods' array of endorsements helped him become the first sports star to earn $1 billion, according to Forbes. But while not terminating its relationship completely, another major Woods sponsor pulled away this weekend.
On Saturday, Gillette, which uses the slogan "The best a man can get," said it won't air advertisements featuring Woods or include him in public appearances for an unspecified time. Woods was hired by Gillette in 2007 and has been in ads for Gillette Fusion Power razors with titles like "Phenom" and "Champions" with other stars including tennis great Roger Federer and soccer player Thierry Henry.
Other sponsors continue to stick with Woods for the time being.
On Monday, Swiss watch maker Tag Heuer said it will continue its association with Woods.
"He's the best in his domain," spokeswoman Mariam Sylla told The Associated Press. "We respect his performance in the sport."
Sylla said Woods' personal life was "not their business."
Electronic Arts, whose EA Sports division has been selling Tiger Woods video golf games for a decade, said Sunday, "We respect that this is a very difficult, and private, situation for Tiger and his family. At this time, the strategy for our Tiger Woods PGA TOUR business remains unchanged."
The game's next edition featuring Woods comes out in six months.
AT&T said Sunday that it continues to evaluate its relationship with the golfer.
Nike Inc. said late Friday that it supported Woods' decision to take time off.
Information from The Associated Press was used in this report.
SPONSORED HEADLINES
MORE GOLF HEADLINES
MOST SENT STORIES ON ESPN.COM
TIGER WOODS' STATEMENT

During his statement last month, Tiger Woods shared plenty of information about his situation, but left many asking for more. Jason Sobel proffers a few queries Woods will hopefully answer ... some day. Column
• Watch Tiger's full statement

LATEST NEWS
ANALYSIS
VIDEO
AUDIO