Tiger Woods shoots 6-under 65
Updated:
August 27, 2010, 1:16 AM ET
ESPN.com news services
PARAMUS, N.J. -- Yes, that really was Tiger Woods' name atop the leaderboard.
More from ESPN.com

While Tiger's game seemed to be returning to form on Thursday, it was his renewed confidence that should put fear in his opponents, writes ESPNNewYork.com's Ian O'Connor. Column
• Sobel: Tiger's game starting to click
• Tiger Tracker
In his first tournament since his divorce, Woods finally looked like the No. 1 player in the world Thursday at the Barclays when he opened with a 6-under 65, his lowest score of the year, to share the lead with Vaughn Taylor. It was his first time leading after any round on the PGA Tour since the Tour Championship last September.
"It's exciting to hit the ball flush again," Woods said. "It's something I've been missing all year."
He didn't miss much at Ridgewood Country Club. Woods hit all but one fairway and putted for birdie on all but two holes. And while he hit his driver only twice, they were two of his best shots of the day -- including on the 291-yard fifth hole, where his drive landed pin-high and settled 15 feet away.
Was it just a coincidence that his game showed up so soon after his marriage was dissolved?
"I can't really say that's the case," he said. "As far as golf, it was nice to put it together."
Woods' confidence was evident in another way -- his belief that the record he set as a goal long ago is still attainable.
Asked after his post-round news conference if he still believes he will break Jack Nicklaus' record of 18 major titles, Woods told ESPNNewYork.com's Ian O'Connor, "Absolutely."
[+] Enlarge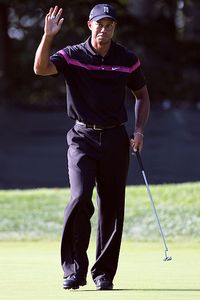 Hunter Martin/Getty ImagesTiger Woods, playing his first tournament since his divorce was announced, shot his best round of the season.
"I look at it this way," Woods said, "[Ben] Hogan won all nine of his [majors] at my age and older. I think for every kid out there, the goal is to get there. That is the benchmark in our sport, and that's still my goal."
Woods and Taylor both played in the morning, when the greens were smooth and the conditions were only breezy. They had a 1-shot lead over Adam Scott, Brian Gay and Ryan Palmer. Scott played in the afternoon, where a gust of wind played tricks on him at the final hole and led to bogey.
Scott endured a long day in the pro-am Wednesday and didn't think Ridgewood would serve up a 65 to anyone.
"Seeing some good scores this morning made me change my mind," he said.
That one of those scores belonged to Woods was hardly a surprise.
"For him to piece things together can't be too hard," Scott said. "He's very good."
The last time Woods' was atop the leaderboard after any round of any tournament was when he won the Australian Masters on Nov. 15, less than two weeks before his life caved in on him -- the car crash after Thanksgiving night, details of adultery, five months away from the game and a broken marriage, which officially ended Monday.
His golf hasn't been very good either, which is why Woods began the FedEx Cup playoffs 112th out of 125 players who qualified. He was so low down the list that he was first to tee off under a sunny sky at Ridgewood, the first time he's done that in his PGA Tour career.
It worked to his advantage.
"With fresh greens, everybody in our group was making putts on the front nine," Woods said. "You had to get it today."
Tiger Shows Familiar Stripes
Tiger Woods' 6-under 65 on Thursday at The Barclays was his best score of the season. How did he pull it off? The statistics suggest an improvement in his accuracy off the tee and on the green:
Category
First 9 events
Thursday
Fairways hit pct.
55.3
93 (13/14)
Greens in reg. pct.
62.6
83.3
(15/18)
Putting avg.
1.77
1.6
Putts per round
29.3
27
And he did. The 65 was his lowest score in 46 rounds, dating to a 62 in the BMW Championship last year. Taylor grinned when asked if he was surprised to see Woods' name on the leaderboard.
"Somewhat, you know?" he said. "It's good to see him back up top."
With sunshine and a light breeze, conditions were ripe for scoring. Palmer had a chance to join the leaders until a three-putt bogey on the 18th put him at 66. Even though the greens became bumpy in the afternoon after so much foot traffic, the course was soft enough to allow for good scores. There were 14 players who shot 67, including Davis Love III, defending champion Heath Slocum and Stewart Cink.
Phil Mickelson, with his ninth chance in the last four months to replace Woods at No. 1 in the world, made only one birdie for a 72.
For Woods, the timing could not have been better.
Only the top 100 in the FedEx Cup standings advance to the second round of the playoffs next week in the Deutsche Bank Championship. Woods at least needs to make the cut, then finish in the middle of the pack. He had a better solution.
"I figure if I win, I should be OK," Woods said.
For one of the few times this year, he gave himself ample reason to believe that. Woods opened with a 3-wood down the middle of the fairway, a pitching wedge to 15 feet below the hole and a birdie putt.
More followed, even on the par 5s, which have given Woods fits in recent months.
The Barclays Leaderboard
T-1. Woods (-6)
T-1. Vaughn (-6)
T-3. Scott (-9)
T-3. Palmer (-9)
T-3. Gay (-8)

• Complete scores
He mostly used his 3-wood off the tee, figuring that was enough to reach the corners without having to take on the tops of trees that line the fairways. Plus, with saturated conditions from rain earlier in the week, tour officials allowed players to lift, clean and place their golf balls in the fairway.
"With the ball in hand, it's much more important to hit the fairways," Woods said. It was the first time since the 2006 British Open at Royal Liverpool that he hit his 3-wood off the tee on every par 5.
The two times he hit the driver turned out to be two of his best shots of the day.
After the tee shot on the par-4 fifth -- only six players hit that green off the tee -- Woods used his driver into the wind on the 18th, hitting it so well that he had only a 7-iron into the green. He hit a punch shot to just over 6 feet for a final birdie.
"It was just a low, bullet fade right around the corner," he said. "It was just the shape of the shot, because it was different than most of the 3-woods I played all day. I didn't hold a single 3-wood. I was turning them over. Now, the shape of the driver in the complete opposite direction ... and I hadn't hit a driver since the fifth hole."
EDITORS' PICKS
Texas residents Jimmy Walker and Jordan Spieth will set up a hometown final at TPC San Antonio. Story »

Will Adam Scott use his anchored putter for the Masters, and was Dustin Johnson treated fairly?
#AskESPNCaddie

Baddeley's birdie at the Valero Texas Open included a penalty stroke.
Michael Collins »
MORE FROM ESPN NEW YORK

Check out ESPN New York, your destination for sports coverage in the Big Apple.
MOST SENT STORIES ON ESPN.COM