Commentary
Chemistry test
Will Pavin's picks help or hinder the U.S. cause at the Ryder Cup?
Updated:
September 21, 2010, 2:22 PM ET
By
Jeff Bradley
| ESPN the Magazine
[+] Enlarge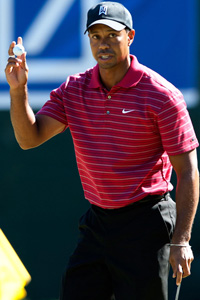 Getty ImagesChoosing Tiger Woods was a no-brainer, but what do Cink, Johnson and Fowler bring to the table?
As Corey Pavin's four captain's picks for the U.S. Ryder Cup team were unveiled on Sept. 7, the name of the most controversial player in the world drew nothing but a yawn from the 100 or so folks gathered at the New York Stock Exchange. Despite serious putting woes and a swing in rebuilding mode, everyone knew Pavin had to take Tiger Woods, for the simple reason that he remains the best player in the world.
What Pavin knows is that the importance of the captain's picks literally doubled two years ago, when then-skipper Paul Azinger successfully lobbied to increase subjective selections from two to four. Zinger's instincts were proved correct when the Tigerless U.S. squad (Woods was rehabbing his knee) ended a three-tourney oh-fer, and the captain's picks -- Steve Stricker, Hunter Mahan, J.B. Holmes and Chad Campbell -- earned 8 1/2 of the U.S.' 16 1/2 points.
But even with Tiger, the U.S. side comes to the Celtic Manor Resort in Wales (Oct. 1-3) in an unfamiliar position: as the underdog. The European squad is stacked with experience and talent and boasts more top-30 players (10) than the Yanks' (nine).
Still, the pressure will be on Pavin -- and his picks -- to perform. In addition to Tiger, two choices, Stewart Cink and Zach Johnson, were fairly conventional. But Rickie Fowler, the 21-year-old winless rookie, was a wild card. "I have a good feeling about him," Pavin says. Maybe, but a close examination of the U.S. captain's picks suggests that in choosing his foursome, Pavin had these factors in mind:
MOMENTUM: Cink and Johnson are steady players, and both are hot. Cink has four top-20s in his past five starts, and Johnson turned heads finishing third at the PGA Championship. Despite his supposed slump, Woods has managed seven top-25s in 12 events this year and his ball striking has improved recently, evident in his second-round 65 at the Deutsche Bank Championship in September. Fowler hasn't lit up the leader board of late, but he did hit 69 percent of greens in regulation, good for 22nd on the Tour and the best ranking on the roster behind No. 1 Matt Kuchar.
EXPERIENCE: Cink, the 2009 Claret Jug winner, has won or halved eight of his 15 career Cup matches. Johnson has the 2006 Cup under his belt (1-2-1), a Green Jacket (2007) in his closet and a competitive streak that rivals Tiger's. While Woods' 9-13-2 mark against the Euros doesn't compare well to his stroke-play tallies, he did win three times in 2006 and went undefeated when teamed with Steve Stricker at last year's Presidents Cup. Even Fowler boasts victories in seven of his eight Walker Cup tilts.
CHEMISTRY: Cink is a proven partner, especially when paired with rookies, winning points with newbies J.J. Henry ('06) and Chris Riley ('04). Johnson is the most consistent ball-striker in the bunch, a much needed skill on this bomb-and-gouge-heavy squad. Fowler, though not as high-spirited as 2008 hero Anthony Kim, exudes a cool confidence -- and snazzy fashion sense -- that should keep the vets loose. Tiger, meanwhile, often plays his practice rounds with teammates Bubba Watson and Dustin Johnson.
In the end, no amount of careful planning is going to win the Ryder Cup. Everyone agreed Pavin had to take Tiger despite the U.S.' 1-4 mark when he's on the roster. But the Captain knows you can't leave that kind of weapon out of the bag.
Jeff Bradley is a senior writer for ESPN The Magazine.
SPONSORED HEADLINES
MORE GOLF HEADLINES
MOST SENT STORIES ON ESPN.COM
ESPN The Magazine: October 4, 2010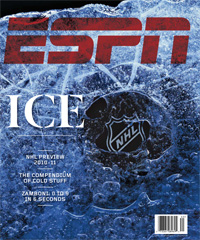 Check out the content from ESPN The Magazine's October 4, 2010 issue -- the Ice Issue -- below.
Features