At Phoenix Open, partying is as fundamental as putting
Updated:
January 23, 2003, 11:38 AM ET
By
Bob Harig
| Special to ESPN.com
Now it's time for the serious stuff.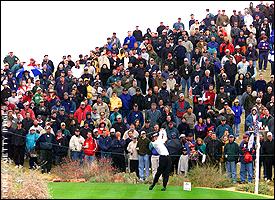 Two years ago, fans lined up dozens of rows deep to watch Tiger Woods despite the rain and cold.
After two weeks in laid-back Hawaii, the PGA Tour visits its annual rock concert in the desert, where ear-rattling crowds and maybe even a few hecklers will greet them. At this week's Phoenix Open at the TPC of Scottsdale, people-watching and partying is as big a part of the day as golf.
"From a player's perspective, I think this is one of the great events on the tour,'' said Phoenix-area resident Tom Lehman, who won the tournament in 2000. "The atmosphere of the Phoenix Open is unlike any other. You usually don't play too many holes where there might be 50,000 people around the green like there are on 18 on Sunday, roaring like they do.''
The tournament traditionally attracts the largest crowds of the year on the PGA Tour. Last year, the numbers were stunning. The tournament was not played the same week as the Super Bowl, which might have had an impact, but more than 500,000 fans were reported to have visited, with a whopping 164,000 on Saturday.
Where they're playing

This week:
Phoenix Open
Location:
TPC of Scottsdale; Scottsdale, Ariz.
Television:
Thurs: 3-6 pm ET (USA)
Fri: 3-6 pm ET (USA)
Sat: 3-6 pm ET (CBS)
Sun: 3-6 pm ET (CBS)
Defending champ:
Chris DiMarco


This week:
Singapore Masters
Location:
Laguna National Golf and Country Club; Singapore
Television:
Thurs: 9 am-noon ET (TGC)
Fri: 9 am-noon ET (TGC)
Sat: 9 am-noon ET (TGC)
Sunday 9 am-noon ET (TGC)
Defending champ:
Arjun Atwal


This week:
ConAgra LPGA Skins Game
Location:
Wailea Golf Club; Honolulu


This week:
ConAgra Senior Skins Game
Location: Wailea Golf Club; Honolulu
Television:
Sat: 3-6 pm ET (ABC)
Sun: noon-2 pm ET (ABC)


This week:
No event
Next event: Jacob's Creek Open Championship (Feb. 27-March 2)

Elsewhere this week...
Sunshine Tour:
Dimension Data Pro-Am

Tour of the Americas:
Panama Masters
That's more than most tournaments get in a week, and likely more than some get over two years.
Unlike Hawaii, where the crowds are sparse and the atmosphere is congenial, this week is high intensity. And it can be a shock to the system.
"You know they're loud and they're a little crazy,'' said Rocco Mediate, the 1999 Phoenix Open champion. "But if you can't deal with that, don't come here.''
Another unique aspect of the tournament is the TPC's par-3 16th, a short hole where fans are at their rowdy best and aren't afraid to voice their glee or displeasure with any shot. It's not uncommon for a poor shot to be booed. But when there's a good shot, or a hole-in-one -- Tiger Woods provided an ace in 1997 -- the place goes absolutely nuts.
It sure makes for an interesting week.
The Big Question
How will Aaron Baddeley fare after last week's playoff loss?
Before finishing second to Ernie Els on Sunday at the Sony Open, Baddeley needed a sponsor's exemption to get into the Phoenix field. His ranking among last year's Nationwide Tour graduates (10th) was not high enough to get him into the 132-player field.
Now, of course, the sponsor exemption is not necessary. Last week's top-10 finish got him a spot, and Baddeley will attempt to pick up where he left off. Is he drained? Or is he determined to stay on a roll?
Baddeley has plenty at stake. He's now put himself in position to earn an invitation to the Masters.
Five Things To Watch
1. The Phoenix Open has an excellent field, with 20 of the top 30 from last year's money list and 103 of the top 125. And that's without Tiger Woods and Ernie Els.
| | |
| --- | --- |
| | |
| | Mickelson |
2. Phil Mickelson makes his season debut at a tournament he won in 1996 in a playoff over Justin Leonard. Mickelson, who will defend his title at next week's Bob Hope tournament, will likely play a heavy schedule on the West Coast because he plans to take time off in March due to the birth of his third child.
He comes in having dropped from No. 2 to No. 3 in the World Golf Rankings, and is perilously close to falling to fourth -- Retief Goosen is right on his tail.
3. Is Sergio Garcia really using a belly putter? No doubt Garcia feels he could have done more damage in 2002 had he gotten more putts to drop. He was on the fringe of contention at all four majors, but was unable to get the big putts into the cup. But the long putter? Seems a bit extreme for someone who is just 23 years old.
4. Els is playing at the Singapore Masters this week, where he'll attempt to win his fourth straight start dating to last year. He'll play three of the next four weeks on the European Tour before returning to the United States for the Accenture Match Play Championship.
5. The Champions Tour gets started with the unofficial ConAgra Skins Game in Hawaii, with Arnold Palmer, Jack Nicklaus, Lee Trevino and Hale Irwin participating. It will be interesting to see Nicklaus on the course again after back problems limited him to very little golf in 2002.
THE COURSE
The 7,089-yard, par-71 TPC of Scottsdale, site of the Phoenix Open, is where Mark Calcavecchia set the PGA Tour scoring record in 2001 with a 72-hole total of 256. The way things are going so far in 2003, who is to say another record won't be set?

Ernie Els had the lowest-ever 72-hole score in relation to par two weeks ago at the Mercedes Championships (31-under), and the birdie barrage continued last week at the Sony Open. Birdies are likely to be prevalent at the TPC of Scottsdale, too, where fans scream for them at every turn.

But scoring can be wildly different, depending on course conditions and weather. Last year, Chris DiMarco won with a winning total that was 11 strokes higher than Calcavecchia's record score a year earlier.

The TPC of Scottsdale has been the tournament's home since 1987, and since then seven of its winners have won major championships. Although scoring can be low, the course has six holes on the back nine that border water, which require some accurate shots. There are also plenty of bunkers to get in the way.

That said, it's the desert. And if there's no wind and balmy conditions, look out.

THE CONTENDERS

| | |
| --- | --- |
| | Phil Mickelson started off last season with a victory at the Bob Hope Classic after a long layoff, and there's no reason to believe he can't begin this year in style as well. He's a past winner of the tournament and has won at least one West Coast event in nine of 12 years. During his recent break in California, Mickelson spent a lot of time with swing coach Rick Smith and working out with a personal trainer. |

| | |
| --- | --- |
| | Mark Calcavecchia returns to the site of his record-setting victory in 2001, which also happens to be his last win on the PGA Tour. After finishing outside of the top 50 on the money list in 2002, this would be a good place to bounce back. |

| | |
| --- | --- |
| | Chris DiMarco, the defending champion, had a lot of success on the par 4s last year, leading the field in birdies with his claw putting grip. DiMarco had four top-10 finishes in his first five starts last year before cooling off, but still had the best money-earning year of his career. |

| | |
| --- | --- |
| | David Toms couldn't win a tournament in all of 2002 despite finishing fourth on the money list, so wouldn't it make sense that he wins his first of this year? Toms had 12 top-10 finishes, including three thirds last year. In his past five tournaments at Phoenix, his finishes have gotten progressively better, including last year's tie for ninth. |

A LONGSHOT

| | |
| --- | --- |
| | John Daly remains one of golf's most popular players, and can still hit the ball forever. But can he compete this week? Daly is making his 2003 debut after a lackluster 2002 saw him drop to 112th on the money list from 61st the year before. Last year, he was in contention through three rounds at the TPC of Scottsdale and finished fourth, two shots behind Chris DiMarco. Daly has also reportedly dropped 28 pounds in two months since taking a nutritional supplement. |

A PRETENDER

| | |
| --- | --- |
| | Ty Tryon made his much-hyped PGA Tour debut a year ago in Phoenix, where he missed the cut. After suffering from mono for most of the spring and summer months, Tryon, 18, received a medical exemption for this year. He didn't get off to a good start last week, missing the cut at the Sony Open. He now has 20 events to equal or exceed the equivalent of 125th place on the 2002 money list ($515,445). The total includes $8,620 he made at last fall's Tampa Bay Classic. It might be too soon to think Tryon can win a PGA Tour event. |

Bob Harig covers golf for the St. Petersburg Times and is a frequent contributor to ESPN.com. He can be reached at harig@sptimes.com
EDITORS' PICKS
Track the final round of the Honda Classic.
In-progress scores »

Lydia Ko claimed her 10th career victory Sunday in the New Zealand Open.
Story »

Don't read too much into Rory McIlroy's missed cut.
Bob Harig »
MOST SENT STORIES ON ESPN.COM