Pebble Beach more than a course -- it's a golf icon
Updated:
February 6, 2003, 8:01 PM ET
By
Bob Harig
| Special to ESPN.com
Playing Pebble Beach requires more than hitting shots and traipsing after the ball. Soaking in the scenery is part of the experience.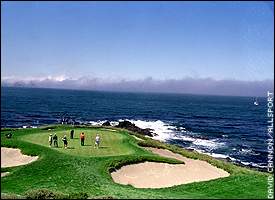 Players will play two of their four rounds this week at the famed Pebble Beach Golf Links, where breathtaking views are the norm, not the exception.
There are sights to behold, such as the sea lions sunning themselves beyond the seventh green, and waves from the Pacific Ocean crashing against the rocks.
It is some golf course. And most enthusiasts concur. Pebble Beach is ranked as America's top course by both Golf Digest and Zagat Survey. Playing the course means paying a hefty price, well into triple digits. And it helps if you are already staying at the Pebble Beach hotel properties, where prices can run more than $2,000 for a two-bedroom suite.
Still, people love Pebble Beach, even the greatest in the game. Jack Nicklaus, who won the 1961 U.S. Amateur, three Bing Crosby Pro-Ams and the 1972 U.S. Open at Pebble Beach, typically ranks the course in his top four, along with Augusta National, St. Andrews and Pinehurst No. 2.
He adds a distinction. "I've always said if I had one round of golf to play, I'd like to go to Pebble Beach,'' Nicklaus said.
That brings us to this week's AT&T Pebble Beach National Pro-Am, where two of the tournament's four rounds are contested on the famed Pebble Beach Golf Links.
For the 56th time, the tournament once known as the Bing Crosby Pro-Am will bring together a slew of pros and amateurs. Much like last week at the Bob Hope Chrysler Classic in La Quinta, Calif., Pebble Beach has pros paired with amateurs during actual tournament rounds.
Where they're playing

This week:
AT&T Pebble Beach Pro-Am
Site:
Pebble Beach, Calif.
Courses (par 72):
Pebble Beach (6,816 yards)
Spyglass Hill (6,858 yards)
Poppy Hills (6,833 yards)
Television:
Thurs: 3-6 pm ET (USA)
Fri: 3-6 pm ET (USA)
Sat: 3-6 pm ET (CBS)
Sun: 3-6 pm ET (CBS)
Defending champ:
Matt Gogel


This week:
Royal Carribean Classic
Site:
Key Biscayne, Fla.
Course:
Crandon Park Golf Club (6,893 yards, par 72)
Television:
Fri: 1:30-4 pm ET (TGC)
Sat: 1:30-4 pm ET (TGC)
Sun: 1:30-4 pm ET (TGC)
Defending champ:
John Jacobs


This week:
ANZ Championship
Site:
Sydney, Australia
Course:
New South Wales Golf Club (6,810 yards, par 72)
Television:
Thurs: 9 am-noon ET (TGC)
Fri: 9 am-noon ET (TGC)
Sat: 9 am-noon ET (TGC)
Sunday 9 am-noon ET (TGC)
Defending champ:
Richard Johnson


This week:
No event
Next event:
Welch's/Fry's Championship (March 13-16)


This week:
No event
Next event: Jacob's Creek Open Championship (Feb. 27-March 2)

Elsewhere this week...
Tour of the Americas:
Central America Open of Guatemala
But there is a difference. This is the only tournament where an amateur can play all 72 holes. There will be 25 amateurs who make the cut and will be playing alongside the pros on Sunday.
It takes some getting used to for the pros. That's why a good number of them skip this tournament. But it's one of the things defending champion Matt Gogel loves about the event.
"Players are playing for so much money now, they're forgetting the essence of the week, which is really the Crosby,'' Gogel said. "You have to take it for what it is, and that is camaraderie, crummy weather sometimes, great weather sometimes, and that's in the same day. Go with the understanding of ... the heritage of the event.
"The pictures in the Tap Room (in the Lodge) kind of say it all. Having a nip after a cold round of golf with your buddies. That's what the whole atmosphere is about. I love it.''
Before he won at Pebble last year, Gogel had a couple heartbreaking near misses.
Three years ago, Gogel led during the final round as a PGA Tour rookie. But he shot a back-nine 40 and Tiger Woods came from seven strokes to hand Gogel a stunning defeat.
Two years ago, Gogel held the 36-hole lead after a career-best 62 at Poppy Hills, one of the other two courses used for the event, only to shoot 81 in the third round at Spyglass Hill.
Then there was last year. Gogel rallied to take the lead on the back nine, then three-putted the 17th hole to fall into a tie with Pat Perez, who then followed with a birdie to take the lead. But Gogel birdied the 18th hole, and when Perez knocked his tee shot out of play and made triple-bogey, Gogel had his first tour title.
Now in his fourth year on tour, Gogel has won more than $1 million at Pebble Beach, almost half of the $2.5 million he has won in his three-plus years on tour. No wonder he likes the place so much.
The Big Question
Will the weather cooperate this week?
This tournament, unlike any other, has been affected by weather more times than not. It is one of the things that gives the event its charm. It can be sunny on one of the three courses, cloudy and cold on the other tour. The often soggy, damp conditions can make for some trying times. But so far this week, the outlook is for clear skies. The Monterrey Peninsula has been void of rain for much of this winter.
Things to Watch

Only three players from the top 10 in the World Ranking -- Phil Mickelson, Davis Love III and Vijay Singh -- and eight of the top 25 are entered, making this a weak field. Unpredictable weather, sometimes uneven course conditions, and the four-day pro-am format contribute to this, despite Pebble Beach being one of the wonders of the golf world.
Don't be on the first-round leader. There has not been a wire-to-wire winner of the tournament since it went to a 72-hole format in 1958.
Americans have been shut out so far this year on the PGA Tour. In fact, you have to go all the way back to the Buick Challenge last fall, where Jonathan Byrd won, to find an American winner. Since then, six events have been played, all won by international players, including Canadian Mike Weir on Sunday.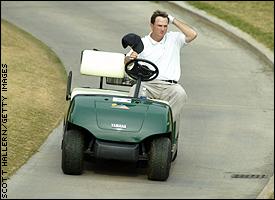 Casey Martin and his cart return to the PGA Tour for the first time since his collapse in the final round of Q-school.
Casey Martin is back, at least for one week. Martin, who won a Supreme Court decision that allows him to ride a golf cart in competition due to a degenerative leg condition, was given a sponsor's exemption. Martin shot 77 the final day of the PGA Tour Qualifying Tournament and finished 57th, costing him his PGA Tour card and relegating him to a spot on the Nationwide Tour this year.
Tiger Woods is not playing Pebble Beach for the first time since he turned pro in 1996, but he could make news anyway. If he is to make his season debut at next week's Buick Invitational, he has to commit to the tournament by Friday.
The Champions Tour has its first full-field event of the season at the Royal Caribbean Classic in Key Biscayne, Fla. John Jacobs is the defending champion, but look for Dana Quigley, making his 203rd consecutive Champions Tour start for events in which he is eligible. The former club pro is coming off his eighth tour victory at the season-opening MasterCard Championship.
THE COURSES
Pebble Beach Golf Links gets all the attention. Most of the television coverage of this event emanates from the host course, and for good reason: the panoramic views, the history.

But two of the four rounds of the tournament are played at other area courses. If it weren't for Pebble Beach, Spyglass Hill would get much more attention. Its first five holes are within view of the ocean, then the course turns inward, giving it a North Carolina feel. Spyglass is typically considered the most difficult of the four course. Wet conditions typically make it play longer than its 6,862 yards.

Players figure they have to do their damage when they play Poppy Hills, a 6,833-yard course that in 1991 took the place of famed Cypress Point. Poppy is not dramatic. But it has five par 5s, usually reachable in two, which means this is the course where players go low.

For the first three days, players rotate on the three courses. Then the cut is made, and the final round is played at Pebble Beach, which measures 6,816 yards. All three courses are par 72.

THE CONTENDERS

| | |
| --- | --- |
| | Vijay Singh is destined to win this tournament sometime, and following a week of practice and rest after his Phoenix win, this might be the time. Singh has been in the top-10 here in each of the past four years, with seconds in 2001 and 2002. Plus, he has victories in two of his last four tournaments dating back to last year's Tour Championship. |

| | |
| --- | --- |
| | Phil Mickelson is coming off of top-10 finishes in his first two events of the year (thanks to strong finishes in both tournaments), and although he missed the cut at Pebble Beach last year, he tied for third in 2001 and won the tournament in 1998, the year the finish was delayed until August. |

| | |
| --- | --- |
| | Pat Perez had a major meltdown last year at Pebble, shown in all its glory on television replays. The volatile Perez blew a four-shot lead, recovered it, then blew it again with a triple-bogey on 18. But if he took anything positive out of the experience, he should be in the hunt. Perez played well last week at the Bob Hope Chrysler Classic, where he birdied 36 of the 90 holes. |

THE LONGSHOTS

| | |
| --- | --- |
| | Defending champion Matt Gogel has had great success at Pebble Beach and loves the course. But no player has defended his title since Mark O'Meara in 1990. |

| | |
| --- | --- |
| | O'Meara has not won on the PGA Tour since his 1998 British Open title, but he does love Pebble Beach. He has five victories in this tournament. O'Meara has yet to make a cut this year, but perhaps Pebble Beach will inspire him. |

Bob Harig covers golf for the St. Petersburg Times and is a frequent contributor to ESPN.com. He can be reached at harig@sptimes.com
SPONSORED HEADLINES
MORE GOLF HEADLINES
MOST SENT STORIES ON ESPN.COM
EDITORS' PICKS
Familiar foe could keep Tiger from win No. 6 in 2013.
Bob Harig »

Few global icons moved Tiger the way Nelson Mandela did.
Harig »

Every time Gary Player met Nelson Mandela, he had to wipe a tear from his eye.
Watch