We'll see this week what Annika learned at Colonial
Updated:
June 5, 2003, 2:25 AM ET
By
Bob Harig
| Special to ESPN.com
Among the reasons for playing against the men at the Bank of America Colonial was a stated goal to perform better in the LPGA's major championships. Annika Sorenstam gets her first opportunity to test that objective this week at the McDonald's LPGA Championship.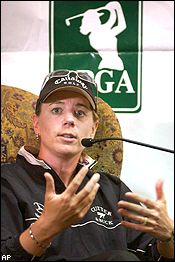 The attention Annika Sorenstam is receiving at the LPGA Championship is nothing compared to what she faced at the Colonial.
Sorenstam left the Colonial a big winner, if not on the scoreboard then in the eyes of many who wondered if she'd be able to hold up to the pressure of competing against men. Although Sorenstam missed the cut and couldn't break par, she left with confidence and parlayed that into a victory last week at the Kellogg-Keebler Classic, her 44th career LPGA title.
Attendance increased at the tournament, as did media interest, and it will be interesting to see as time goes on if Sorenstam's foray into men's golf translates to more interest in the LPGA Tour.
That question will likely be answered over time.
But when it comes to majors, there are just four a year, and this is the second on the LPGA Tour. Sorenstam finished second to Patricia Meunier-Lebouc at the year's first, the Kraft Nabisco Championship.
And for all her success in the game -- 44 victories, five Player of the Year awards, five money titles -- she has just four major championships.
Where they're playing


This week:
LPGA Championship
Site:
Wilmington, Del.
Course:
DuPont Country Club (6,408 yards, par 71)
Television:
Thursday: 4-6 pm ET (TGC)
Friday: 4-6 pm ET (TGC)
Saturday: 3:30-6 pm ET (CBS)
Sunday: 3:30-6 pm ET (CBS)
Defending champ:
Se Ri Pak


This week:
FBR Capital Open
Site:
Potomac, Md.
Course:
TPC at Avenel (7,005 yards, par 71)
Television:
Thursday: 4-6 pm ET (USA)
Friday: 2-4 pm ET (USA)
Saturday: 3-6 pm ET (ABC)
Sunday: 3-6 pm ET (ABC)
Defending champ:
Bob Estes


This week:
Senior PGA Championship
Site:
Newtown Square, Pa.
Course:
Aronimink Golf Club (6,928 yards, par 70)
Television:
Thursday: noon-4 pm ET (ESPN2
Friday: noon-2 p.m. ET (ESPN2); 4-6 p.m. ET (ESPN)
Saturday: noon-3 p.m. ET (NBC)
Sunday: 2:30-5:30 p.m. ET (NBC)
Defending champ:
Fuzzy Zoeller


This week:
British Masters
Site:
Meriden, England
Course:
Marriott Forest of Arden (7,213 yards, par 72)
Television:
Thursday: 10 am-1 pm ET (TGC)
Friday: 10 am-1 pm ET (TGC)
Saturday: 9:30 am-12:30 pm ET (TGC)
Sunday: 9:30 am-12:30 pm ET (TGC)
Defending champ:
Justin Rose


This week:
LaSalle Bank Open
Site:
Glenview, Ill.
Course:
The Glen Club (7,254 yards, par 72)
Television:
Thursday: 1:30-4 pm ET (TGC)
Friday: 1:30-4 pm ET (TGC)
Saturday: 1:30-4 pm ET (TGC)
Sunday: 1:30-4 pm ET (TGC)
2002 winner:
Marco Dawson
Two of them came in back-to-back U.S. Women's Opens in 1995-96, long before she elevated her game to superstar status. Since then, she's added two Kraft Nabisco titles.
She's never won the LPGA Championship, nor the other majors, the former du Maurier and the current British Women's Open.
"My problem is I want it so badly I get in my own way,'' Sorenstam said. "My caddie always tells me that you try too hard. I have to just go out and play. That's what I do the other weeks. It just seems when a major comes, the more I try to play. I just have to control my brain a little bit. I know I have the shots. And I've won majors before. It's just controlling it, I believe.
"I think I put more pressure on myself early on. Like Thursday. It's like I try to win it on Thursday, which we all know it comes down to the back nine on Sunday. You'd think I'd know that by now. I just get so anxious sometimes. I think my chances are better if I'm in the middle of the pack going into Saturday or Sunday.''
While there is no doubt about Sorenstam's standing in the women's game, she is not ahead of the pack in terms of majors. Juli Inkster has won seven, while Karrie Webb, who has yet to win this year, has six. Se Ri Pak is tied with Sorenstam with four, but is seven years younger.
On the all-time list of LPGA majors, Sorenstam is tied for 13th.
"Majors is where the history is and a lot of people look at somebody's career depending on how they do in the majors,'' Sorenstam said. "I'd like to win more majors. I'd like to do better there and I believe I can.''
Sorenstam believes Colonial helped her cause. To prepare for the PGA Tour event, she played a lot of golf from the back tees, forcing her to hit long-iron approach shots. She worked on her short game, tried to become more adept at hitting lob shots and tricky shots around the green. She also took note of how the men went about their business.
How it translates will begin to unfold this weekend. One thing is certain, however. It is hard to imagine Sorenstam feeling any more pressure standing on the tee at an LPGA major than she did two weeks ago.
"It's the majors that I've been gearing up for all year,'' she said. "The Colonial was just one step towards it. The confidence is high and I feel like I'm hitting the ball well, so I don't think I could have asked for better preparation for the McDonald's Championship.''
The Question
Can Sorenstam ride a wave of momentum to a major championship?
Sorenstam is the first to admit that she is lacking in major titles for all her success. That was among the reasons for playing on the PGA Tour, to better prepare for this. Now here's another chance.
Five Things To Watch
1. The LPGA Tour has its second major of the year, the McDonald's LPGA Championship, in Wilmington, Del. Pak, who trails only Sorenstam on the money list, is the defending champion.
2. Not far away is the year's first senior major, the Senior PGA Championship at Aronimink Golf Club in Newton Square, Pa. Fuzzy Zoeller defends his title as the Champions Tour looks for its first repeat winner in its 15th event. Craig Stadler is also scheduled to make his Champions Tour debut after almost 30 years on the PGA Tour.
3. The FBR Capital Open, previously known as the Kemper Open, returns to a more favorable date the week before the U.S. Open. The tournament has three of the top 10 in the world in the field: Davis Love III, Phil Mickelson and Padraig Harrington.
Also in the field are 64 players who are competing in a U.S. Open qualifier down the road at Woodmont CC in Rockville, Md. The qualifier was scheduled to finish up Tuesday, but rain pushed it back to Wednesday. Should they not finish Wednesday, those players may have to decide between playing the qualifier or the Capital Open on Thursday.
4. Love, the PGA Tour's leading money winner, returns to the PGA Tour for the first time since the suicide death of his brother-in-law and friend two weeks ago.
5. Over the past 20 years, the Capital Open has produced 10 first-time winners.
THE COURSE: TPC AT AVENEL
The FBR Capital Open moved from Charlotte to the Washington, D.C. area in 1980, where it was played at Congressional Country Club until 1987. It then moved to its current home, the TPC at Avenel in Potomac, Md.

The 7,005-yard, par-71 course is not a bomber's paradise, as the recent list of winners attests -- Bob Estes ('02) and Frank Lickliter ('01) are not known for overpowering courses.

It does have smaller greens, however, so hitting greens in regulation and scrambling are keys.

It also has a strong foursome of finishing holes, with two lengthy par-4s, an average-length par-4 and the 195-yard, downhill, par-3 17th. The 18th is 444 yards and is played to a green with a huge amphitheater setting.



THE CONTENDERS

| | |
| --- | --- |
| | Phil Mickelson hasn't won since the week following last year's U.S. Open, so maybe he makes it the week before this time. He tied for third at this tournament two years ago. |

| | |
| --- | --- |
| | Defending champion Bob Estes obviously likes the course and he is having a strong year, with just one missed cut in 11 tournaments and a playoff loss to Steve Flesch at New Orleans. |

| | |
| --- | --- |
| | Stuart Appleby has a strong record at this course, where he won in 1998 and has never missed the cut. He tied for 18th last year. |

FOUR MORE TO WATCH

| | |
| --- | --- |
| | It is amazing that Davis Love III is even playing this week, given his recent family issues. Love, who you would figure to be among the favorites at next week's U.S. Open, has not played this tournament since 1997. |

| | |
| --- | --- |
| | Rich Beem won this tournament in 1999 and was considered a fluke. Last year, he finished second, which happened to portend a big summer in which he won twice, including the PGA Championship. |

| | |
| --- | --- |
| | Scott Hoch returns after taking three weeks off due to an injured wrist. Hoch, who played beautifully earlier this year, has missed four straight cuts for the first time in his career. |

| | |
| --- | --- |
| | Ireland's Padraig Harrington joins Love and Mickelson as the only top-10 players in the field, but he's playing the tournament for the first time and has never won on the PGA Tour. |
Bob Harig covers golf for the St. Petersburg Times and is a frequent contributor to ESPN.com. He can be reached at harig@sptimes.com.
EDITORS' PICKS
Can Adam Scott keep the flat stick grooving in Round 2?
Scores »

Rory's day at Doral didn't quite go as he had hoped.
Bob Harig »

Before Bubba's Masters wins, he lost Doral by 1. Coincidence?
Harig »
MOST SENT STORIES ON ESPN.COM