Solheim Cup a homecoming for Sorenstam
Originally Published:
September 3, 2003
By
Bob Harig
| Special to ESPN.com
In the year that she decided to take on the men to better prepare herself for the major championships -- then went out and won two of them -- it is only fitting that the Solheim Cup is played in Annika Sorenstam's native Sweden.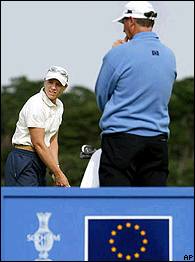 All eyes will be on Annika Sorenstam when the Solheim Cup gets under way Friday.
It wasn't planned that way, but it is nice just the same.
Sorenstam leads the European team into this weekend's Solheim Cup at Barseback Golf and Country Club, which is located in Loddekopinge in the southern part of Sweden.
The course has hosted the Scandinavian Masters, a men's European tour event, as well as the Compaq Open, a Ladies European tour event.
No doubt it will be pro-European, and pro-Annika. The Europeans will try to regain the Cup after the U.S. team won last year's match in Minnesota, 15½-12½, where Sorenstam was surprisingly defeated in singles on the final day.
That will likely serve as motivation for Sorenstam, who uses just about anything to better herself.
"Yes, there is a little extra pressure playing in my home country, but I feel very proud to be part of a Solheim team playing for a first time in Sweden," she said on Wednesday.
"I've only played in one winning side (at Loch Lomond in Scotland) three years ago and I want to experience it again.
"To win this week would be very, very special. I have lots of family and friends here with me and you don't get the chance to experience this sort of excitement too often. This will probably be the only Solheim I play in Sweden and I know it is a week I will remember for the rest of my life."
Where they're playing

This week:
Solheim Cup
(Friday-Sunday)
Site:
Loddekopinge, Sweden
Course:
Barseback Golf and Country Club (6,518 yards, par 72)
Format:
Team match play. Four alternate-shot and four best-ball matches Friday and Saturday; 12 singles matches Sunday.
Television:
Thursday: 9-10 a.m. ET (Opening ceremony)
Friday: 1-11 a.m., 8-11 p.m. ET (TGC)
Saturday: 2 a.m.-2 p.m., 8-11 p.m. (TGC)
Sunday: 2 a.m.-9 a.m., 8-11 p.m. ET (TGC)
Defending champ:
United States


This week:
John Deere Classic
Site:
Silvis, Ill.
Course:
TPC at Deere Run (7,183 yards, par 71)
Television:
Thursday: 4-6 pm ET (ESPN)
Friday: 4-6 pm ET (ESPN)
Saturday: 4-6 pm ET (ESPN)
Sunday: 3-6 pm ET (ESPN)
Defending champ:
J.P. Hayes


This week:
Constellation Energy Classic
Site:
Hunt Valley, Md.
Course:
Hayfields Country Club (6,983 yards, par 72)
Television:
Friday: 1:30-4 pm ET (TGC)
Saturday: 1:30-4 pm ET (TGC)
Sunday: 1:30-4 pm ET (TGC)
Defending champ:
J.C. Snead


This week:
Lancome Trophy
Site:
Saint Nom La Breteche, France
Course:
Saint Nom La Breteche Golf Club (6,903 yards, par 71)
Television:
Thursday: 4-7 pm ET (TGC)
Friday: 4-7 pm ET (TGC)
Saturday: 4-7 pm ET (TGC)
Sunday: 9 am-noon ET (TGC)
2002 champ:
Alex Cejka


This week:
Oregon Classic
Site:
Junction City, Ore.
Course:
Shadow Hills Country Club (7,007 yards, par 72)
Television:
None
2002 champ:
Jason Gore
And if she wants to use it, there is the incentive to be gained from being slighted last year when she wasn't even nominated for the country's highest sports honor, the Swedish Sports Academy Awards' "Idrottsgalan.''
All she did was win 11 of 23 LPGA Tour events and 13 of the 25 worldwide tournaments she played in 2002. She was given the award in 2001 after winning eight times, but the group nominating candidates a year later somehow forgot about Sorenstam.
"The committee, of course, got a lot of criticism for that, especially when Annika was nominated for the title 'best woman athlete in the world,''' said Carl Magnus, a reporter for Svensk Golf, a golf magazine in Sweden. "So maybe she is bigger in the world than in her own country.''
The award went to Kajsa Bergqvist, a high jumper who won the European Championship in Munich, Germany, last year and came close to the world record of 2.09 meters with a jump of 2.05.
That said, Sorenstam's homeland has certainly not forgotten her. The world's best female golfer has 46 LPGA Tour victories, including four this year, and will be inducted into the Hall of Fame in October (provided she plays in two more events this year). She made plenty of news back home when she competed at the Bank of America Colonial.
Svensk Golf, the largest golf magazine in Europe with a monthly circulation of 365,000, sent Magnus and another editor to Texas to cover Sorenstam at the Colonial. The country's two major tabloids, "Aftonbladet'' and "Expressen,'' were also there, along with the major Swedish news agency "TT.'' The tournament was also broadcast on "Viasat,'' a cable television channel.
Sweden's largest commercial television station, "TV 4,'' recently traveled to Orlando to tape a feature on Sorenstam for its Saturday morning show. A crew met Sorenstam at Lake Nona, where they filmed her cooking in the country club's kitchen.
"I would say she's in the media a lot,'' Magnus said.
But Sorenstam is not exactly on the level of Tiger Woods in her homeland, which has a population of 8.8 million people, or slightly more than the state of Georgia. Much of that has to do with the fact that she lives in the United States, has an American husband and achieved most of her fame on this side of the Atlantic.
"She is very well regarded,'' said Stina Sternberg, a native of Sweden who now works for Golf for Women magazine. "She's received most of the biggest honors you can get. But I think they would like to see more of her. I don't think they know her. They very much admire her and are proud of her. Compare her to Jesper Parnevik. He's the son of the Swedish version of Bob Hope (Bo Parnevik). He goes to premiers and parties, he's very visible even though he's not nearly as successful as Annika.
"Annika is very much adored. But she's not written about or talked about as much.''
Parnevik, 38, is far more flamboyant than Sorenstam, and although he lives in Florida, too, he spends a good bit of time each year in Sweden. But he has just five PGA Tour victories, and nine international titles.
Sorenstam, meanwhile, had not been home to Sweden for some two years before she returned last summer to win the Compaq Open on the Women's European tour.
"But when Annika does come home, every Swede wants to see her play,'' Magnus said. "During the Compaq Open last year, 61,000 people showed up to the golf course in the city of Helsingborg, the southern part of Sweden. It was crazy. It was Annika fever. And of course, she won the event.''
As for Sorenstam not visiting her native land more often, Magnus understands.
"She is so focused on her job on the LPGA and to be the No. 1 in the world,'' he said. "It's really no time to go on vacation to Sweden.''
This week won't be a vacation for Sorenstam, either, but it should be quite an occasion in Sweden.
The Question
How will golf-crazy Sweden react to hosting the Solheim Cup?
The Swedish fans will have three home-grown faves to cheer for this week -- Sorenstam, Sophie Gustafson and Carin Koch.
Five Things To Watch
1.
The Solheim Cup has a long way to go to match the Ryder Cup, but it has picked up steam in recent years with a bit of controversy and bickering between the squads. The U.S. leads 5-2 and came from behind to win last year's match after trailing 9-7 heading into the final day.
2.
To watch the Solheim Cup, however, you'll really have to want to. The Golf Channel is televising the event live, starting at 1 a.m. EDT Friday morning.
3.
PGA Tour players are battling to keep their cards. This is the time of year when many big names are off, but the grinders play every week, hoping to find some success and avoid the PGA Tour Qualifying Tournament. Many of them are in the field at the John Deere Classic.
4.
Scotland's Sam Torrance, the captain of Europe's victorious Ryder Cup team last year, makes his Champions Tour debut at the Constellation Energy Classic in Baltimore.
5.
British Open champion
Ben Curtis
-- who got married a couple weeks ago during the NEC Invitational -- returns to Europe for the first time since his victory at Royal St. George's for the Lancome Trophy in Paris, where he will also work in a honeymoon.
THE COURSE: TPC AT DEERE RUN (JOHN DEERE CLASSIC)
The John Deere Classic is played at the TPC at Deere Run and has moved away from it's post-British Open date.

For years, this tournament was known as the Quad Cities Open and at first was played in Bettendorf, Iowa, before moving to Coal Valley, Ill. This is the fourth year at the TPC of Deere Run, a par-71, 7,183-yard course that is sure to give up a slew of birdies, unless weather becomes an issue. This is a tournament where you have to go low, as J.P. Hayes' winning score of 262 (22-under) from a year ago, proves. Hayes made just one bogey all week, and it came during a second-round 61.

It is not the place to grind out pars. Although the course has just three par-5s, it has seven par-4s that measure under 440 yards, which for today's PGA Tour pros means short irons into the greens.



THE CONTENDERS

| | |
| --- | --- |
| | Davis Love III is the highest-ranked player (No. 3) in the field and has an excellent chance to pad his lead on the PGA Tour money list. This is his first appearance in the event since 1990. |

| | |
| --- | --- |
| | Vijay Singh, ranked No. 4 in the world, is the only other top-10 player in the field. He should probably win more, considering how much he is in contention. In addition to his two victories, he has six top-five finishes and 13 top-10s. He tied for sixth last week at the Canadian Open. |

| | |
| --- | --- |
| | Justin Leonard has no top-10s since a second at the Colonial, and missed the cut at the British Open and PGA Championship. But given the relatively weak field and a nice rest since the NEC Invitational, this seems to be a good week for him. |

THREE LONG SHOTS

| | |
| --- | --- |
| | Defending champion J.P. Hayes captured his second career PGA Tour title at last year's tournament and had a 61 during the second round. But this year, Hayes has just one top-10 finish, an eighth at the Reno-Tahoe Open. |

| | |
| --- | --- |
| | Greg Norman made a surprise commitment to the tournament as a favor to his caddie, Tony Navarro, who is from the Silvis, Ill., area. |

| | |
| --- | --- |
| | PGA champion Shaun Micheel makes just his second start since winning his first tournament last month. He's had a nice rest since tying for 23rd at the NEC Invitational. |
Bob Harig covers golf for the St. Petersburg Times and is a frequent contributor to ESPN.com. He can be reached at harig@sptimes.com. Information from SportsTicker was used in this report.
SPONSORED HEADLINES
MORE GOLF HEADLINES
MOST SENT STORIES ON ESPN.COM
EDITORS' PICKS
Could you possibly love golf too much?
Kevin Maguire »

The best in golf try to impersonate Ivor Robson.
Watch

Farrell Evans shares six candidates for NTO minority exemption.
Story »