Girl vs. guys novelty hasn't worn off
Originally Published:
September 3, 2003
By
Bob Harig
| Special to ESPN.com
A good number of golf followers think it is wrong. They believe men have a golf tour and women have a golf tour. Keep it separate. Don't take spots away from aspiring male professionals. Make women at least qualify.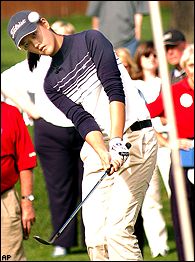 Michelle Wie will play in her second men's event of the year this week, but hopes to go up against the guys on a more consistent basis down the road.
Those were the arguments raised when Annika Sorenstam played at the Bank of America Colonial in May. There will be some of the same cries this week at the Boise Open, a Nationwide Tour event where 13-year-old Michelle Wie will compete starting Thursday.
But here is reality: We wouldn't even be discussing the Boise Open this week in this space were it not for Wie's participation. Few would turn into coverage on the Golf Channel. Major newspapers would not send reporters.
The novelty of women competing with men in golf has not worn off, even though this is the fourth occurrence this year. And sponsors will take advantage of that publicity.
After Sorenstam missed the cut at the Colonial, Connecticut club pro Suzy Whaley played in the Greater Hartford Open, an event she had qualified for last year by winning a PGA sectioned event. Wie then played in a Canadian Tour event last month, where she missed the cut.
Now she gets a shot at the PGA Tour's developmental circuit, where aspiring pros hone their games and have an opportunity to earn an exemption to the PGA Tour by finishing among the top 20 money winners for the season.
Where they're playing

This week:
84 Lumber Classic
Site:
Farmington, Pa.
Course:
Nemacolin Woodlands Resort & Spa, Mystic Rock Course
(7,329 yards, par 72)
Television:
Thursday: 4-6 pm ET (ESPN)
Friday: 4-6 pm ET (ESPN)
Saturday: 4-6 pm ET (ESPN)
Sunday: 3-6 pm ET (ESPN)
Defending champ:
Dan Forsman


This week:
SAS Championship
Site:
Cary, N.C.
Course:
Prestonwood Country Club
(7,129 yards, par 72)
Television:
Friday: 1:30-4 pm ET (TGC)
Saturday: 1:30-4 pm ET (TGC)
Sunday: 1:30-4 pm ET (TGC)
Defending champ:
Bruce Lietzke


This week:
Boise Open
Site:
Boise, Idaho
Course:
Hillcrest Country Club
(6,785 yards, par 71)
Television:
Thursday: 5-7:30 pm ET (TGC)
Friday: 5-7:30 pm ET (TGC)
Saturday: 5-7:30 pm ET (TGC)
Sunday: 5-7:30 pm ET (TGC)
2002 champ:
Jason Gore


This week:
German Masters
Site:
Pulheim, Germany
Course:
Gut Larchenhof Golf Club
(7,209 yards, par 72)
Television:
Thursday: 9 am-noon ET (TGC)
Friday: 9 am-noon ET (TGC)
Saturday: 9 am-noon ET (TGC)
Sunday: 9 am-noon ET (TGC)
2002 champ:
Stephen Leaney


This week:
No event
Next week:
Safeway Classic
Wie has turned heads with her prodigious drives and a top-10 finish at the LPGA's first major, the Kraft Nabisco, and has made it clear she wants to test her game against men.
"It's kind of a tester,'' she said in an interview earlier this year. "You go to beauty shops and try and test the products, and if you like it you buy it, if you don't, you don't buy it. Same thing.''
And she talks with an air of innocent confidence. "If I play good (and beat them), then they need to practice more and beat me later on,'' she said.
Not everyone in Boise thinks women playing in men's events is a good idea.
"To be quite honest, you start to compare and that's not what this is about. There's no need to compare. The bottom line is that's what you end up getting and that's not fair,'' said PGA Tour veteran John Cook, who is playing in his first tournament since The Masters because of a shoulder injury. "If we start seeing more crossover stuff, I don't see anything good that can happen.''
Down the road, Wie talks of playing routinely with men, perhaps a mix of LPGA and PGA Tour events. Her ultimate goal is to play in The Masters, for which she could earn a spot by winning the U.S. Amateur Public Links tournament. For now, her biggest hope is to play in January's Sony Open in Hawaii, which is in her hometown of Honolulu.
"I just try to play the best I can and see what happens, but I really hope I get into the Sony Open next year,'' she said. "It's at home, I'm used to the course, it's a PGA Tour event. I think I'd have an advantage there.''
Wie is a freshman in high school, which means a pro career is still a good four years away, if then. The LPGA Tour requires members to be at least 18 years old (as does the PGA Tour), and Wie has said she is interested in attending Stanford. If she were to follow through on that plan, she wouldn't turn pro for another eight years, by which time Sorenstam will be 40 years old.
But eight years, even four years, is a long time, and undoubtedly endorsement money will be thrown her way. And that might be too tempting to pass up.
For now, Wie will compete in all the major amateur events and take her shots at various LPGA and PGA opportunities that are sure to come.
There are more than a few skeptics who wonder if this is the right path for a teenager. Other LPGA players have counseled her to enjoy growing up, enjoy school. There is plenty of time for golf, they say.
"She's brought wonderful attention to women's golf,'' said Jane Blalock, a 27-time winner on the LPGA Tour who runs her own sports marketing company in Boston and now also runs the Women's Senior Golf Tour. "Hopefully it's a boost and inspiration to young players. But I worry about exploitation. I think playing in men's events this summer is exploitation. I'm nervous about that. I just hope her parents keep her priorities in order.''
Then there is this humbling thought: 10 years from now, Wie will be all of 23 years old, the age when many players are just getting their professional careers started.
The Question
Can Michelle Wie make the cut at a men's professional event?
Wie certainly has a chance to do just that this week in Idaho. After all, on a course that measures more than 300 yards longer than the one she'll play this week, Wie opened with a 74 in a men's Canadian Tour event before struggling to a 79 on the second day.
She also held her own against a couple of PGA Tour players and an LPGA Hall of Famer in a skins game exhibition Monday. Her 1-under 34 for nine holes was better than John Daly and Nancy Lopez, and just a stroke worse than Hank Kuehne.
Five Things To Watch
1.
If there was resentment over Sorenstam competing at the Colonial, will there be any concerning Wie on the Nationwide Tour, where prize money is far less and players are competing for their futures?
2.
The 84 Lumber Classic of Pennsylvania is missing many of the PGA Tour's top names, which will provide an opportunity for those hoping to get into the Tour Championship or trying to keep their cards.
3.
The Champions Tour moves to Raleigh, N.C., for the SAS Championship.
Bruce Lietzke
is the only champion this event has known, he's won it the only two years it's been played and will go for a threepeat this week.
4.
Nine players from the victorious 2002 European Ryder Cup team are in action at the German Masters on the European tour. This is the third week of qualifying for the 2004 Ryder Cup.
5.
The events in Pennsylvania (84 Lumber) and North Carolina (SAS) could be impacted by Hurricane Isabel.
THE COURSE: MYSTIC ROCK (84 LUMBER CLASSIC)
The Mystic Rock Golf Course at the Nemacolin Woodlands Resort & Spa is home to the 84 Lumber Classic of Pennsylvania. It's a par-72 that measures 7,329 yards and offers quite a view, with giant boulders, huge bunkers and massive greens.

It wanders through the woods in the Laurel Highlands Mountains some 60 miles from Pittsburgh. It might not be easy to get to, but Mystic Rock, designed by Pete Dye, should be worth the trip for those making the journey. This is a first-time venue for the event that began in 2000.



THE CONTENDERS

| | |
| --- | --- |
| | Chris DiMarco, who won his first PGA Tour event in 2000 at the Pennsylvania Classic when it was played outside of Philadelphia, is the highest-ranked player in the field and highest on the PGA Tour money list at No. 14. |

| | |
| --- | --- |
| | Steve Flesch won his first tournament earlier this year in New Orleans and, at least by the numbers, should be a contender. He is one of just three top-25 players in the field. |

| | |
| --- | --- |
| | Rocco Mediate, who is from nearby Greensburg, Pa., should get a boost from local fans. |

THREE MORE TO WATCH

| | |
| --- | --- |
| | Robert Allenby tied for second at this tournament last year and won in 2001, although the event was at a different course. |

| | |
| --- | --- |
| | John Daly, an 84 Lumber endorser, is the unofficial host and should be able to bomb the ball on a long course, but he's been battling a hand injury and has not contended all year. |

| | |
| --- | --- |
| | Dan Forsman eagled the 18th hole to win last year's tournament, his first victory in 11 years, and has had a nice season, winning more than $700,000 so far in 2003. |
Bob Harig covers golf for the St. Petersburg Times and is a frequent contributor to ESPN.com. He can be reached at harig@sptimes.com. Information from the Associated Press was used in this report.
EDITORS' PICKS
Before Bubba's Masters wins, he lost Doral by 1. Coincidence?
Harig »

Paula Creamer drained a bomb again, this time in heels.
Watch

How fast can Rory turn things around at Doral?
Four-Ball »
MOST SENT STORIES ON ESPN.COM