Annika's Hall call a long time coming
Originally Published:
October 8, 2003
By
Bob Harig
| Special to ESPN.com
There was a time not long ago when the task of qualifying for the LPGA Hall of Fame appeared to be too tough. They changed the rules, figuring what good is a Hall if nobody can gain entry? Turns out, in Annika Sorenstam's case, it didn't matter.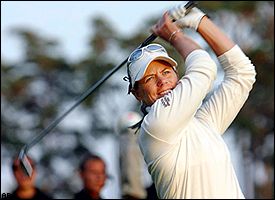 Annika Sorenstam officially qualifies for the Hall of Fame on Thursday, which also happens to be her 33rd birthday.
She is a Hall of Famer by any measure, except for the fine print. All of the playing qualifications have been met.
Sorenstam long ago won a major championship, and has added a few Vare Trophies and Player of the Year awards, too. She accumulated the required 27 Hall points, making it to that number three years ago.
It's been just a matter of time since then, and that time is now. Sorenstam will complete the final criteria on Thursday when she completes the first round of the Samsung World Championship.
There will be a small ceremony on the 18th green to commemorate the event.
"It's going to be emotional, for sure," she said.
There won't be as many people as usual around to witness the ceremony. The event features only the top 20 female golfers in the world.
Where they're playing

This week:
Las Vegas Invitational
Site:
Las Vegas
Courses:
TPC at Summerlin
(7,243 yards, par 72)
Southern Highlands Golf Club
(7,247 yards, par 72)
TPC at The Canyons
(7,063 yards, par 71)
Television:
Wednesday: 4-6 pm ET (USA)
Thursday: 4-6 pm ET (USA)
Friday: 4-6 pm ET (USA)
Saturday: 3-6 pm ET (USA)
Sunday: 3-6 pm ET (ABC)
Defending champ:
Phil Tataurangi


This week:
Samsung World Championship
Site:
The Woodlands, Texas
Course:
TPC at The Woodlands
(6,376 yards, par 72)
Television:
Thursday: 3-5 pm ET (ESPN)
Friday: 3-5 pm ET (ESPN)
Saturday: 4-6 pm ET (NBC)
Sunday: 2:30-4:30 pm ET (NBC)
Defending champ:
Annika Sorenstam


This week:
Dutch Open
Site:
Hilversum, Netherlands
Course:
Hilversumsche Golf Club
(6,617 yards, par 70)
Television:
Thurs: 9:30 am-12:30 pm ET (TGC)
Fri: 9:30 am-12:30 pm ET (TGC)
Sat: 9 am-noon ET (TGC)
Sun: 9 am-noon ET (TGC)
Defending champ:
Tobias Dier


This week:
Turtle Bay Championship
Site:
Kahuku, Hawaii
Course:
Turtle Bay Resort, Palmer Course
(7,044 yards, par 72)
Television:
Friday: 8-10:30 pm ET (TGC)
Saturday: 8-10:30 pm ET (TGC)
Sunday: 8-10:30 pm ET (TGC)
Defending champ:
Hale Irwin


This week:
Gila River Classic
Site:
Chandler, Ariz.
Course:
Whirlwind Golf Club, Cattail Course
(7,017 yards, par 71)
Television:
Thursday: 5-7:30 pm ET (TGC)
Friday: 5-7:30 pm ET (TGC)
Saturday: 5-7:30 pm ET (TGC)
Sunday: 5-7:30 pm ET (TGC)
Defending champ:
David Branshaw
In order to gain entry into the LPGA's Hall of Fame, a player must complete 10 LPGA seasons. A season is defined as a minimum of 15 events, and the Samsung is Sorenstam's 15th tournament in her 10th season. So after the first round, it will be official.
"Nice thing to get under your belt at 32, isn't it?'' said Nick Price, 46, who will be inducted into the World Golf Hall of Fame along with Sorenstam on Oct. 20.
Sorenstam's 33rd birthday falls on Thursday as well, just one more thing to celebrate.
It has been some year.
Sorenstam played with the men at Colonial, and with the world watching every swing, gained new admirers. She also gained the fortitude she felt was missing to win major championships, and captured two of them. And she helped bring the Solheim Cup back to Europe, playing in her native Sweden.
Yes, it has been some year.
Not a bad way to follow her 2002 season, when she won 13 times worldwide.
"I do notice that I love the pressure, and I love to have that big shot or big putt to win the tournament,'' she said. "I've realized that's what I live for.''
And yet, Sorenstam showed another side to herself. Often criticized for being too dour, too bland, she waved to the crowd, smiled, let out some emotion. Her composure coupled with her ability to let fans see she was nervous endeared her to the masses. Although Sorenstam had her detractors who felt she didn't deserve a spot at Colonial, few could argue that she didn't acquit herself quite nicely.
"When I started playing golf, I did it because I enjoyed the game,'' Sorenstam said. "It was very difficult for me to win a tournament and give a winning speech. I was terrified. After (Colonial), I realized that if I was me, that's good enough. Sometimes I felt like I had to be somebody and carry the LPGA in a certain direction, and I felt the pressure and just couldn't handle it. Now I'm being me, I'm doing the things I like, and I'm kind of doing it my way.''
What now?
Sorenstam, with 47 victories, needs just one more to tie Nancy Lopez for sixth on the all-time list. She has six major championships and maybe would like to get to double digits before she calls it quits.
First, however, comes the Hall of Fame, which at one time required a minimum of 30 victories and two different major championships, feats considered too tough, hence the criteria change.
Perhaps Sorenstam deserves some kind of asterisk, because she did it the hard way, too.
The Question
Can Jim Furyk win his fourth Las Vegas Invitational title and put himself back in contention for Player of the Year honors?
The U.S. Open champ isn't counting himself out of the Player of the Year race just yet. If he can win in Vegas and possibly again at the Tour Championship, it would be hard not to give him the nod.
Five Things To Watch
1.
Furyk headlines the field in Vegas, where he has won three of his nine PGA Tour titles.
2.
Eleven of the top 25 money winners are in Vegas, which could be played for the last time. The event is without a title sponsor, and so far, has been unsuccessful in finding a new one. The purse was lowered by $1 million, to $4 million.
3.
After a seven-week break,
David Duval
returns to the PGA Tour for the first time since withdrawing from the PGA Championship. The former world No. 1 sits 210th on the money list and has made just three cuts all season.
4.
Sorenstam attempts to defend her title at the Samsung World Championship, a limited-field event in Houston. It was her ninth of 11 LPGA Tour titles last year, and was the last in a streak of four wins in a row.
5.
Fifty-one-year-old Jan Stephenson, on a sponsor's exemption, will become the first woman to play in a Champions Tour event at the Turtle Bay Championship in Hawaii. This is the second-to-last full-field event on the Champions Tour.
Hale Irwin
is the defending champion. Laura Davies will also tee it up with the guys this week at the Korean Open.
THE COURSES: LAS VEGAS INVITATIONAL
The Las Vegas Invitational is one of two events on the PGA Tour that's played over 90 holes, the other being the Bob Hope Chrysler Classic.

It is played on three courses, the TPC at Summerlin (7,243 yards, par-72), Southern Highlands Golf Club (7,247 yards) and TPC at The Canyons (7,063 yards). The field plays one round on each of the three courses before the cut is made after 54 holes. The final two rounds are played at the TPC at Summerlin.

No matter the venue, a player better go low on courses that are birdie-friendly because of the pro-am format used for the first three days. Last year, winner Phil Tataurangi shot 10-under-par 62 during the final round and he became the third straight Vegas winner to record five rounds in the 60s. In fact, there were 12 players last year who recorded all five rounds in the 60s.



THE CONTENDERS -- LAS VEGAS INVITATIONAL

| | |
| --- | --- |
| | How can you not like Jim Furyk, who has a third of his career PGA Tour titles at this event and is its all-time leading money winner? |

| | |
| --- | --- |
| | Stuart Appleby is coming off a tie for second at the American Express Championship and tied for second in Vegas last year. |

| | |
| --- | --- |
| | Tim Herron, although he has missed the cut here the past two years, is coming off a tie for second at the American Express Championship, his second runner-up finish in a month. He also had success this season at the Bob Hope, which has a similar five-day format and good scoring conditions. |

FOUR MORE TO WATCH

| | |
| --- | --- |
| | Phil Mickelson was a late entry as he makes a push for the Tour Championship, an event for which he has qualified 10 straight years. |

| | |
| --- | --- |
| | Northern Ireland's Darren Clarke decided to stay in the States after playing in the American Express Championship and makes his first appearance in the event. |

| | |
| --- | --- |
| | David Duval is back after a long break, and it will be interesting to see what kind of form he displays. |

| | |
| --- | --- |
| | Chris Riley, whose only PGA Tour victory came in Nevada at the Reno-Tahoe Open, lives in Las Vegas and is a hometown favorite. |
Bob Harig covers golf for the St. Petersburg Times and is a frequent contributor to ESPN.com. He can be reached at harig@sptimes.com. Information from SportsTicker was also used in this story.
EDITORS' PICKS
Rory will likely miss the cut in his 2015 PGA Tour debut.
Harig »

What was up with Sergio's reaction at Riviera?
#AskESPNCaddie »

Can Rory McIlroy keep his impressive play going?
Bob Harig »