History in the balance, Tiger on cruise control
Originally Published:
October 22, 2003
By
Bob Harig
| Special to ESPN.com
LAKE BUENA VISTA, Fla. -- The accomplishment might seem more extraordinary if the person about to do it hadn't already done so much. Tiger Woods is on the verge of capturing his fifth straight PGA Tour money title, and all it elicits is a yawn.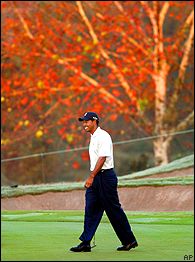 Tiger Woods can move a step closer to winning a fifth straight money title, but he gets more satisfaction from having the lowest scoring average.
Woods heads into this weekend's Funai Classic at Walt Disney World with a $171,239 lead over Vijay Singh, who is also entered. Singh plans to play next week, while Woods does not. Then it's on to the Tour Championship in Houston to settle the deal.
If Woods prevails, it will be five straight years atop the money list, a feat never before accomplished. Tom Watson was the last to win four in a row, from 1977-80.
Perhaps sensing, however, that a money title can be skewed by simply playing more events, Woods will take it if he can get it but said he gains more satisfaction from having the lowest scoring average, which brings the Vardon Trophy.
"I take more pride in the Vardon than anything else because that shows you've been consistent the entire year,'' Woods said. "The money title can be a little skewed if you play 30 tournaments. You just outplay everybody. I take great pride in the Vardon. The worst I've ever finished since I've been on tour is second. I am very, very proud of that.
Where they're playing

This week:
Funai Classic at Walt Disney World
Site:
Lake Buena Vista, Fla.
Course:
Walt Disney World Resort
Magnolia Course
(7,190 yards, par 72)
Palm Course
(6,957 yards, par 72)
Television:
Thursday: 3-6 pm ET (ESPN)
Friday: 3-6 pm ET (ESPN)
Saturday: 4-6 pm ET (ESPN)
Sunday: 3-6 pm ET (ABC)
Defending champ:
Bob Burns

This week:
Charles Schwab Cup Championship
Site:
Sonoma, Calif.
Course:
Sonoma Golf Club
(7,013 yards, par 72)
Television:
Thursday: 5-7:30 pm ET (TGC)
Friday: 5-7:30 pm ET (TGC)
Saturday: 5-7:30 pm ET (TGC)
Sunday: 5-7:30 pm ET (TGC)
Defending champ:
Tom Watson

This week:
2004 Qualifying Tournament (final stage -- Oct. 21-24)
Site:
Daytona Beach, Fla.
Course:
Legends Course at LPGA Insternational

This week:
Telefonica Open de Madrid
Site:
Madrid, Spain
Course:
Club de Campo
(6,957 yards, par 71)
Television:
Thurs: 9 am-noon ET (TGC)
Fri: 9 am-noon ET (TGC)
Sat: 9 am-noon ET (TGC)
Sun: 9 am-noon ET (TGC)
Defending champ:
Steen Tinning

This week:
Miccosukee Championship
Site:
Miami
Course:
Miccosukee Golf and Country Club
(6,700 yards, par 72)
Television:
None
2002 champ:
Inaugural event
"As you know, I play more of a tougher schedule, some of the tougher tournaments. You have to be pretty solid. My scoring average, I take great pride in that. That goes to show you that you fought the entire time, had your bad days but you somehow gutted it out and somehow kept it as low as possible. If you go ahead and dog it, that Vardon is history.''
Woods has an adjusted scoring average of 68.13 (the PGA Tour has a formula for adjusting scores based on difficulty of courses) and has a healthy lead in that category over Vijay Singh.
The money title is not so certain, especially with Singh (currently second) playing more tournaments. But if Woods pulls it off, it would be his fifth money title in six years.
Jack Nicklaus never won more than three in a row, but captured five of six from 1971 to 1976 and won the money title eight times. Watson won five. Arnold Palmer won it four times.
If Woods played more often, however, all of this would be moot. He has done his damage this year in 16 events. Only Ernie Els, who captured the European tour money title this year, is in the top 10 on the PGA Tour and has played less. Mike Weir has played 19 times. Singh, who is trying hard to catch Woods, has played eight more events than Tiger (24).
Woods also will try to tie Byron Nelson's PGA Tour record cut streak at 113 in a row this week. Win or lose, it's been a pretty good year, even if what he does looks ordinary in comparison to the rest of his career.
"I've won almost one-third of my tournaments this year,'' Woods said. "And I looked at this year versus the rest of the guys, and I've made more World Ranking points than the rest of the guys. And people said I've had a terrible year. Granted, I didn't win a major championship this year. That's disappointing. I tried and I had my chances.''
The Question
Will Tiger tie Byron Nelson's record for 113 consecutive cuts made on the PGA Tour by making the cut at the Funai Classic?
If Woods accomplishes the feat, he'll celebrate it without regular caddie Stevie Williams, who was given the week off to race cars in New Zealand. Instead, Tiger will have old friend Bryon Bell on the bag. The last time Bell lugged around Tiger's clubs, Tiger won the 2000 Buick Invitational.
Five Things To Watch
1.
The Funai Classic, commonly referred to as Disney, is typically a low-stress, sleepy event on the fall calendar. But this year, the top four money winners on the PGA Tour are entered.
2.
Fred Couples
has dropped to 31st on the money list and is playing this week in order to try and improve his position and qualify for the season-ending Tour Championship, which invites the top 30.
3.
Sweden's
Per-Ulrik Johansson
is now on the hot seat, occupying the 125th and final spot on the money list. There's just two events left for players to make up ground and earn playing privileges for 2004.
4.
The Charles Schwab Cup Championship is the Champions Tour's season-ending event for the top 30 money winners in Sonoma, Calif. Money leader Tom Watson is the defending champ.
5.
The Nationwide Tour's Miccosukee Championship in Miami is the last full-field event of the season. The top 55 money winners qualify for next week's season-ending Nationwide Tour Championship.
THE COURSE: FUNAI CLASSIC AT WALT DISNEY WORLD
There has been a golf tournament at Disney as long as the Magic Kingdom has been open, and although the format has changed, the venue remains basically the same. Disney's Palm and Magnolia courses are home to the Funai Classic at Walt Disney World, and birdies are the name of the game. The tournament is one of four on the PGA Tour that incorporate amateurs during actual tournament rounds. Players alternate the first two days on the Magnolia and Palm courses before the 36-hole cut is made and pros proceed to the weekend. Because of the amateurs, the courses are set up rather benign for the first two rounds, with accessible pins and minimal rough. Throw in perfect Florida fall weather, little wind and the best players in the world, and the scores are lower than low. Last year, Bob Burns was 26 under par for four rounds and the cut was a season-low 6 under par.
THE CONTENDERS FOUR MORE TO WATCH

| | |
| --- | --- |
| | Tiger Woods could all but lock up his fifth straight money title with a victory. Although Woods is not a big fan of these birdiefests, he likes the proximity to his Orlando home and has won the event twice. |

| | |
| --- | --- |
| | Vijay Singh has made it a goal to win the money title and trails Woods by about $171,000. He could make a big move this week and plans to play next week at the Chrysler Championship while Woods is off. |

| | |
| --- | --- |
| | Phil Mickelson has to emerge from his funk sometime, and what better place than one that yields lots of birdies? Mickelson is 36th on the money list, just over $200,000 out of the top 30. |

| | |
| --- | --- |
| | Retief Goosen has never played this event, but he is trying to hang on to his spot among the top 30 on the money list. He is 28th. |

| | |
| --- | --- |
| | Davis Love's hopes of winning the money title and Player of the Year honors are fading. His back has been bothering him, and last week he missed the cut in Greensboro, where he redesigned the course. |

| | |
| --- | --- |
| | Defending champion Bob Burns has not done much since his victory and would be struggling to keep his tour card at No. 156 on the money list if he didn't have a two-year exemption. |

| | |
| --- | --- |
| | Chris DiMarco finished second last year and is looking for his first victory of the season. |

| | |
| --- | --- |
| | Coming off the glow of Hall of Fame induction, Nick Price takes another run at an elusive victory in 2003. |
Bob Harig covers golf for the St. Petersburg Times and is a frequent contributor to ESPN.com. He can be reached at harig@sptimes.com.
EDITORS' PICKS
Reed looks to stay on track at the Honda Classic.
Scores »

Lydia Ko claimed her 10th career victory Sunday in the New Zealand Open.
Story »

Don't read too much into Rory McIlroy's missed cut.
Bob Harig »
MOST SENT STORIES ON ESPN.COM