Wie cheating herself by playing against pros
Originally Published:
January 14, 2004
By
Bob Harig
| Special to ESPN.com
There is no denying her ability, no questioning her potential. Michelle Wie, at age 14, can hit a golf ball distances that many men can only dream about. She's already captured a prestigious adult amateur women's tournament. And she tied for ninth last year at an LPGA major championship.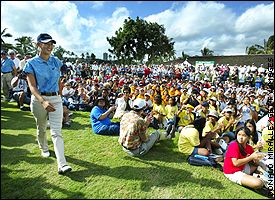 Michelle Wie will get plenty of support at the Sony, but that doesn't change the fact that she's way out of her league.
Pretty heady stuff for a freshman in high school. So, naturally, when a sponsor's exemption to this week's Sony Open came late last year, Wie jumped on it. Who could blame her? The tournament is in her hometown of Honolulu, it is on a course she knows. She wants to see how she fares, and in doing so, is set to become the youngest player to ever compete in a PGA Tour event.
Let's hope, however, that this is the last time, at least in the immediate future, for Wie.
Forget whether it is right to offer a spot in a men's event to a woman, or whether there are more deserving players who could use a sponsor's exemption, or if this is a publicity stunt or a true break for a teenager with game.
All of those issues have been debated endlessly, ever since Annika Sorenstam received an exemption to last May's Colonial, where she missed the cut.
There was a huge difference, however. Sorenstam was an accomplished player, the best female in the world, a multiple major winner on the verge of the LPGA Hall of Fame who wanted to see how her game stood up against the best.
Wie is far from such poise. She did finish in the top 10 at the Kraft Nabisco Championship, but mostly struggled in her other LPGA Tour appearances last year. Although she won the U.S. Women's Amateur Public Links, a huge accomplishment, she didn't fare nearly as well at the U.S. Women's Amateur, or even the U.S. Girls Junior.
And then there is this: 10 years from now, Wie will be nine years younger than Sorenstam is today. Or, she'll be the same age Charles Howell III is now.
The point is, she has time. Lots of it. Why spend it trying to compete with players so much more seasoned, so much older? Even Tiger Woods didn't do that. At least not very often.
Where they're playing

This week:
Sony Open in Hawaii
Site:
Honolulu, Hawaii
Course:
Waialae Country Club
(7,060 yards, par 70)
Television:
Thursday: 6:30-9 pm ET (ESPN)
Friday: 7-9:30 pm ET (ESPN)
Saturday: 7-10:30 pm ET (ESPN)
Sunday: 7:30-10 pm ET (ESPN)
Defending champ:
Ernie Els

This week:
South African Open
Site:
Cape Town, South Africa
Course:
Erinvale Golf Club
(7,087 yards, par 72)
Television:
Thursday: 9 am-noon ET (TGC)
Friday: 9 am-noon ET (TGC)
Saturday: 9 am-noon ET (TGC)
Sunday: 9 am-noon ET (TGC)
Defending champ:
Trevor Immelman

This week:
No event
Next event:
MasterCard Championship
(Jan. 23-25)

This week:
No event
Next event:
BellSouth Panama Championship
(Feb. 5-8)

This week:
No event
Next event:
Welch's/Fry's Championship
(March 11-14)
Woods met Wie for the first time last week at the Mercedes Championships, and was surprised to have to look up at her. And he believes it is "neat" she is playing and wished her well. But Woods also made it clear that it will be good for Wie to play with her peers and win.
"I think it's good experience, obviously, to move up and play against people who are better than you," he said. "You do learn that way. But I also look at the philosophy, you need to play and win, too, learn the art of winning. My dad was a big believer in that.
"I didn't go nationally until I was playing well enough to win consistently at the junior level in my own Orange County (California). Then when I went nationally, I didn't play amateur golf until I was able to win consistently. So I learned the art of winning.
"I think that's what she needs to try and do ... I think there's a certain art to winning. If you can instill that early on, I think you're going to have more of a successful career."
Last year, Wie tried to Monday qualify for the Sony and shot 73, six shots off the number. She has talked often about wanting to play both the LPGA and PGA Tours, both noble goals. Last year, she became a household name, missing just one cut in nine LPGA Tour tournaments, then competing in Canadian Tour and Nationwide Tour events, where she missed the cut in both.
But for all her experience, Wie does not have a lot of victories. It might be best if she put a few trophies on her mantle before trying to tackle the best golfers in the world.
"You put young kids out there to learn how to win golf tournaments," said Vijay Singh. "For Michelle, she's not winning. It's always a negative when you don't win. She's not going to do that playing against the men."
The Question
Can Aaron Baddeley make good on the promise he showed at last year's Sony Open?
Baddeley took Ernie Els to a sudden-death playoff, but faded after that, posting just two more top-10s the rest of the year. He missed some three months with an ankle injury, and finished the year just shy of $1 million -- 73rd on the money list.
Five Things To Watch
1.
Although Tiger Woods elected not to make Hawaii a two-tournament stop, 23 of the 30 who played the Mercedes Championships last week are at the Sony Open, including No. 2 Vijay Singh, No. 3 Ernie Els, No. 4
Davis Love III
and No. 5
Jim Furyk
. The tournament also has three of the four major champions from a year ago: Furyk,
Ben Curtis
and
Shaun Micheel
.
2.
In his past four Sony Opens,
Jerry Kelly
has three top-10 finishes, including a win in 2002. During that stretch, Kelly has posted just one over-par round and had 13 in the 60s.
3.
One player you won't see this week is David Toms, who won twice last season but is out due to surgery in early December on his left wrist. Toms missed the season-opening Mercedes and is expected to return in several weeks.
4.
To do well at the Sony Open, a player must dominate the par-5 ninth, a 510-yard hole that ranked the easiest on the PGA Tour in 2003. The hole played to an average of 4.2, yielded 45 eagles and 276 birdies. Only 11 bogeys and one double bogey were recorded, making it the easiest of 1,008 different holes played last year on the PGA Tour.
5.
The European Tour is in South Africa for the South African Airways Open, where
Colin Montgomerie
(who is starting his season earlier than usual) has switched to Yonex clubs, his third change in two years.
THE COURSE: WAIALAE COUNTRY CLUB

Waialae Country Club, site of this week's Sony Open in Hawaii, is a 7,060-yard, par-70 course that is quite a contrast from last week's venue at Kapalua. Unlike the opening event on the PGA Tour, which had large fairways and greens and big elevation changes, Waialae is relatively flat and narrow, requiring players to hit straight tee shots and precise irons. The first Hawaiian Open was played in 1928 at the course, which has changed substantially since then. This event has been played at Waialae since 1965, when Gay Brewer won the inaugural tournament in a playoff over Bob Goalby. And it has typically been a place to go low. John Huston set a PGA Tour scoring record in 1998, shooting 260, 28 under par. Since then, the course changed from par-72 to par-70, with only Jeff Sluman's winning total in 1999 above 266. Last year, Ernie Els shot four rounds in the 60s and defeated Aaron Baddeley in a sudden-death playoff.

MAILBAG: ASK BOB HARIG ONE MAN'S OPINION: DRIVER TESTING

Got a question about the PGA Tour? Ask ESPN.com golf writer Bob Harig, who will answer a few of your inquiries in each installment of This Week in Golf.
It is a sticky issue, asking players to test their equipment, but why not make it mandatory? Only five of the 30 players at last week's Mercedes Championship had their drivers tested by the PGA Tour's new "pendulum tester," which makes sure the club conforms to USGA specifications. Everyone should be tested. And if the tour is afraid of embarrassing someone who inadvertently was given a "hot'' driver, keep the results private. If players know their club is conforming, what is the harm in testing it? And if they don't have their clubs tested, what signal does that send?
Bob Harig covers golf for the St. Petersburg Times and is a frequent contributor to ESPN.com. He can be reached at harig@sptimes.com.
EDITORS' PICKS
The Masters is less than 10 days away, and Tiger Woods' status remains a mystery. Should he return to golf in Augusta? Bob Harig

The name is unfamiliar, but the year's first LPGA major still comes replete with its cherished traditions. Bill Fields »

The name is unfamiliar, but the year's first LPGA major still comes replete with its cherished traditions. Bill Fields »
MOST SENT STORIES ON ESPN.COM