Tiger serves up heaping helping of 'Told You So'
Originally Published:
May 18, 2003
By
David Lefort
| ESPN.com
Do you believe Tiger Woods now?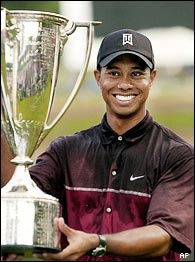 AP PhotoLook familiar? Tiger Woods strikes a pose with the winner's trophy for the first time in over three months.
Throughout his 14-week, six-event winless drought, Woods cringed whenever he heard the word "slump" (which was quite often), insisting his troubles weren't serious and that he wasn't far from putting it together again.
Turns out he was right.
Woods lapped the field in a five-stroke victory Sunday, matching the best total in 100 years of competition at the Western Open with his 21-under 267. It was a poignant reminder of his dominance when we needed one the most.
With the win, Tiger served up a big slice of "Told You So" to his critics and a heaping helping of "Remember Me?" to the PGA Tour, who may have been getting all-too-comfortable these last three months without Woods at the top of his game.
The victory was his fourth of the season, and lifted him into second on the money list. Combined with his gutsy performance at Bay Hill, Woods' last two victories have come by a combined 16 strokes.
Around the tours ...


This week:
U.S. Women's Open
Site:
North Plains, Ore.
Course:
Pumpkin Ridge Golf Club, Witch Hollow Course (6,550 yards, par 71)
Top finishers:
1-x Kelly Robbins (-1)
1-x Angela Stanford (-1)
1-x Hilary Lunke (-1)
4 Annika Sorenstam
5 a-Aree Song
x-will play 18-hole playoff Monday


This week:
Western Open
Site:
Lemont, Ill.
Course:
Cog Hill Golf and Country Club, Dubsdread Course (7,224 yards, par 72)
Top finishers:
1 Tiger Woods (-21)
2 Rich Beem
T3 Jim Furyk
T3 Jerry Kelly
T3 Mike Weir


This week:
No event
Next event:
Ford Senior Players Championship
(July 10-13)


This week:
European Open
Site:
Dublin, Ireland
Course:
The K Club, North Course (7,327 yards, par 72)
Top finishers:
1 Phillip Price (-16)
T2 Alastair Forsyth
T2 Mark McNulty
4 Gary Evans
T5 Darren Clarke
T5 Eduardo Romero


This week:
Canadian PGA Championship
Site:
Richmond Hill, Ontario
Course:
DiamondBack Golf Club (7,067 yards, par 71)
Top finishers:
1-x Tom Carter (-9)
2 Jason Bohn
3 Blaine McCallister
T4 Jaxon Brigman
T4 Derek Gillespie
T4 Steve Ford
T4 Kelly Gibson
T4 Scott Dunlap
x-won in playoff
Woods had a 10-stroke lead after 10 holes Sunday, but saw it cut in half after two rain delays. Don't get caught up too much in that number, the tournament was already in the bag when he played the back nine in 1-over.
More significantly, his victory comes at an ideal time. The Western Open was Woods' last event before the British Open, where he'll now go after his first major in over a year without having to deal with the bothersome slump talk.
Inside Woods' week
The putter that gave Tiger so much trouble in his last few tournaments was his greatest weapon at Cog Hill. His 104 total putts tied a career low, and his 26 putts-per-round average was not only best in the field, but more than three strokes better than in either of his last two events.
His putter can't take all the credit, though. Woods was also on target with his irons, giving himself just a handful of putts of over 20 feet after Friday. His driver, too, came around a bit. He was second in the field in driving distance (303.4 yards), and hit nine or more fairways in three of his four rounds.
"I told everyone I was close to putting it together, I wasn't that far off," Woods said after his third round, when his lead was a paltry six strokes. "It was just a matter of making a few putts, and more than anything getting the momentum going."
More facts and figures from Woods' week:
He made 19 of his tournament-high 26 birdies and one of his two eagles on the front nine, playing those 36 holes in 18-under.
Woods has enjoyed consistent success at this event, which he's now won three times. He's played 22 of his last 24 Western Open rounds at par or better.
Woods has won three stroke-play events this season by a total of 20 strokes. Davis Love III and Mike Weir -- who also have three wins apiece in 2003 -- have won their events by a combined total of 12 shots.
The win gives Tiger five straight seasons with at least four titles, a feat never previously accomplished on the PGA Tour.

Three observations
1. The USGA has to be patting itself on the back for its selection of Pumpkin Ridge as the venue for this year's U.S. Women's Open.

Unlike Olympia Fields (site of the men's U.S. Open in June), the Witch Hollow course featured a memorable finishing stretch, including a risk-reward par-5 18th hole that served as the stage of some high drama Sunday afternoon.

While Annika Sorenstam was trying to figure out how to play her third shot from in between the port-o-potties and giant scoreboard (she got a free lift after a 15-minute discussion), qualifier Hilary Lunke and Angela Stanford were standing about 250 yards behind her in the fairway, waiting to hit the approach shots that would ultimately decide whether they'd live to play another day.

The hole played a role for each of the top four players. Sorenstam's shocking bogey after a near-perfect drive kept her out of the playoff, while Stanford drained a clutch 20-footer for birdie on the 18th green minutes later. Lunke then had a 15-foot birdie putt to win it, but came up short.

About 45 minutes earlier, Kelly Robbins just missed making the first eagle of the week at the hole, settling for a birdie. Her 1-under score would set the bar for the final groups.

Like Olympia Fields, the course was at its toughest on Sunday afternoon -- another reason for the bluecoats to smile. Just three of the 59 players who teed it up in the final round were under par, and just the three in Monday's playoff (noon ET, ESPN) finished the tournament in red numbers.

2. Thirteen-year-old Michelle Wie would probably rather forget her experience at Pumpkin Ridge, but remembering it will likely be far more useful.

What sticks out about Wie's week wasn't her booming drives (she led the field in driving distance), but rather her run-in with LPGA Tour veteran Danielle Ammaccapane, who was allegedly upset with what she saw as breaches of golf etiquette.

To be a 13-year-old girl in the spotlight of the U.S. Open is one thing. But to be a 13-year-old girl in that spotlight entangled in controversy is a totally different ballgame. To Wie's credit, she handled the extra attention admirably, firing back-to-back 76s amid the hubbub to finish tied for 39th.

Afterwards, she seemed anxious to put it all behind her. Phenom or not, she's still just a ninth-grader-to-be with a lot to discover. She has a little less to learn after this week.
| | |
| --- | --- |
| | |
| | Beem |
3. Good to see you again, Rich Beem.

Beem, the outgoing everyman who rocked the golfing world at the PGA Championship last August, posted his first top-5 finish since that unlikely victory at this week's Western Open.

Beem was runner-up to Woods, who ironically was runner-up to Beem at Hazeltine last year. This time, though, Beem never had a chance to catch Tiger down the stretch.

But that didn't stop him from making it interesting.

Trailing by 10 strokes on the back nine Sunday, Beemer played holes 10-14 at 5-under -- including an incredible eagle on No. 11 -- to cut the deficit in half.

''I actually thought I had a glimmer of hope after the putt on 14'' that got him within five, Beem said. ''I got (Tiger's) attention. We went back to the locker room (during the rain delay) and he said, 'Hey, slow down, man.'''

Up next ...
PGA Tour: Greater Milwaukee Open
While most of the PGA Tour is crossing the pond to prepare for the British Open, a watered-down field will tee it up at Brown Deer Park.

European tour: Scottish Open
Many players will get a final tune-up for the British Open in Scotland this week. That group includes defending British Open champ Ernie Els, Phil Mickelson, Fred Couples, John Daly, Chad Campbell and Colin Montgomerie.

Champions Tour: Ford Senior Players Championship
Stewart Ginn defends as the seniors play their third major of the year.

LPGA Tour: Canadian Women's Open

Nationwide Tour: Hershey Open

David Lefort is ESPN.com's golf editor, and can be reached at david.m.lefort@espn3.com. The Associated Press contributed to this report.
SPONSORED HEADLINES
MORE GOLF HEADLINES
MOST SENT STORIES ON ESPN.COM
EDITORS' PICKS
Thailand rolls

Worth a pick?

Tour pro Jarrod Lyle plays golf and fights cancer.
Farrell Evans »