Maruyama puts himself in elite company
Originally Published:
October 19, 2003
By
David Lefort
| ESPN.com
Quick ... name the four players who have at least one PGA Tour victory in each of the last three seasons.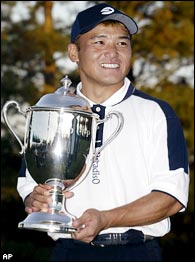 AP PhotoShigeki Maruyama has battled injuries all season, but a hot putter helped him earn his third career PGA Tour win.
Tiger Woods is a gimme. And Jim Furyk and Justin Leonard are probably on your short list as well. That's three right there. And the fourth?
Davis Love III maybe? Nah.
What about Phil Mickelson? Wrong. Lefty hasn't won this year.
Ernie Els? Not him either. The Big Easy played too much in Europe the last few years.
It's gotta be Vijay Singh, then, right? Nope. Vijay has five victories the last two seasons, but went winless in 2001 despite 14 top 10s.
This game could go on for hours before you even sniff the right answer -- Shigeki Maruyama. The 5-foot-7 Maruyama has enough trouble being spotted in a crowd, never mind standing out among the best golfers in the world.
But Maruyama has done just that, producing his third victory in three years Sunday at the Chrysler Classic of Greensboro. He was never really threatened during the final round, beating distant runner-up Brad Faxon by five strokes.
"I'm really happy to be one of those players, to be listed with the big names,'' Maruyama said. "This big win gives me a lot of confidence.
Next question: Name the most successful Japanese player in PGA Tour history.
Around the tours ...

This week:
Chrysler Classic of Greensboro
Site:
Greensboro, N.C.
Course:
Forest Oaks Country Club
(7,246 yards, par 72)
Top finishers:
1 Shigeki Maruyama (-22)
2 Brad Faxon
3 Matt Gogel
4 Robert Allenby
T5 Brenden Pappas
T5 John E. Morgan
T5 Jonathan Byrd
T5 Jay Haas
T5 Jeff Brehaut
T5 Stephen Ames
T5 K.J. Choi

This week:
World Match Play Championship
Site:
Virginia Water, England
Course:
Wentworth Club, West Course
(7,072 yards, par 72)
Winner:
Ernie Els

This week:
Mallorca Classic
Site:
Son Servera, Mallorca
Course:
Pula Golf Club
(6,568 yards, par 70)
Winner:
Miguel Angel Jimenez (-6)

This week:
SBC Championship
Site:
San Antonio
Course:
Oak Hills Country Club
(6,661 yards, par 71)
Winner:
Craig Stadler (-15)

This week:
Permian Basin Charity Classic
Site:
Midland, Texas
Course:
Midland Country Club
(7,354 yards, par 72)
Winner:
D.J. Brigman (-16)
Isao Aoki, right? Not if you go by the numbers. Aoki won just once in the States, the 1983 Hawaiian Open. Maruyama is the only other Japan-born player with a PGA Tour victory to his credit, and he has three since joining the tour in 2000. Before coming Stateside, the 34-year-old played eight years in Japan, winning nine tournaments during that span.
Maruyama finished 16th on the money list last year after just missing the Tour Championship in each of his first two seasons. He's struggled a bit in 2003, though, sitting 35th after battling neck and shoulder injuries most of the year.
Some facts and figures from Maruyama's winning week:
He was second in the field in putts per round (25.3), first in putts per green in regulation (1.53) and made eight of 11 putts between seven and 20 feet. Keep in mind, these were greens that were completely redesigned in the last year.
Maruyama made just two bogeys all week, and led the field in birdies with 24.
His 22-under total was one stroke shy of the tournament record. The Greensboro event has been played since 1938.

Four observations




1.

Els won his record-tying fifth World Match Play Championship on Sunday, beating Thomas Bjorn 4 and 3 in the final.

Though the win doesn't count on the money list or the World Ranking, it's his seventh of the season. He's already wrapped up the top spot on the European tour's Order of Merit -- the first time he's done that in his career -- and sits eighth on the PGA Tour's money list.

2.

Love helped revamp Forest Oaks in the offseason, redesigning all 18 greens and adding about 200 yards. The layout yielded plenty of birdies, not to mention the second-lowest winning score in tournament history.

However, Love wasn't among those enjoying the birdiefest. He finished the first two rounds at even-par 144, missing the cut by a stroke and watching his chances at the Player of the Year continue to spiral down the drain in the process.

Love, who probably needs a fifth win to have a chance at taking the POY away from the frontrunning Woods, hasn't posted a round in the 60s since mid-August. He missed opportunities in two relatively weak events -- the John Deere and Greensboro -- and now faces the tall task of beating better fields at the Funai Classic at Disney and the Tour Championship to reach win No. 5.

3.

The PGA Tour's tight Player of the Year race has been getting a lot of the attention, but there's an even closer battle taking place on the Champions Tour.

Champions Tour rookie Craig Stadler -- who joined the seniors mid-season -- took the lead in wins with his third of the year Sunday at the SBC Championship, but he's far from a shoo-in for the award.

Tom Watson, Bruce Lietzke and Hale Irwin each have two victories, and both of Watson's victories came in major championships (as opposed to just one of Stadler's). Watson is the leader in the clubhouse, but the race could very well be won at this week's season-ending Charles Schwab Cup Championship.

4.

With just two full-field events remaining in the 2003 PGA Tour season, it's crunch time for those fighting to keep their cards.

Jeff Brehaut made the most significant move up the money list, jumping from 122nd to 97th with his tie for fifth ($142,392) and virtually assuring himself a spot in the top 125.

Jesper Parnevik's late-season rally continued in Greensboro as well, albeit with a twist. His tie for 22nd ($39,487) lifted him from 126th to 121st, but he had to do it without his bag man.

Caddie Lance Ten Broeck went on strike for the final two rounds, driving home to Florida after Friday's second round apparently angry at the way he was being treated by Parnevik.

According to SportsTicker sources, Ten Broeck didn't even tell his boss he was leaving, and it was a while before Parnevik became aware of the situation (Jesper used his yoga and meditation guru as his looper for the final two rounds). They later talked and apparently cleared the air. He's expected to be back on Parnevik's bag for this week's Funai Classic at Walt Disney World.

David Lefort is ESPN.com's golf editor, and he can be reached at david.m.lefort@espn3.com. Information from SportsTicker and The Associated Press was used in this report.
EDITORS' PICKS
Harrington counts his blessings after Honda win.
Harig »

Scott Van Pelt updates the old caddie credo.
Listen

Lydia Ko claimed her 10th career victory Sunday in the New Zealand Open.
Story »
MOST SENT STORIES ON ESPN.COM