Looks can be deceiving at Whistling Straits

By Bob Harig
ESPN.com
Archive
SHEBOYGAN, Wis. -- If you didn't know any better, it would be easy to think Whistling Straits is on the coast of Scotland.
[+] Enlarge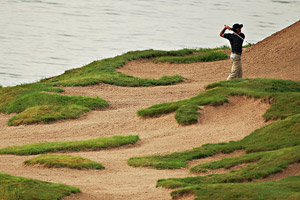 Andrew Redington/Getty ImagesBesides the views of Lake Michigan, the bunkering at Whistling Straits will be the most noticeable feature at the 92nd PGA Championship.
Lake Michigan is the body of water that borders the course, not the Atlantic Ocean. And those sandy dunes and wispy rough give the appearance of a British links course, with the single-file nature of the holes very much in keeping with the style of play over there.
But this is Wisconsin, and we're here for the PGA Championship.
"It definitely looks more like a links than it plays," Northern Ireland's Rory McIlroy said. "Especially with the overnight rain that we had, the course is still very soft, and you wouldn't find a links course in Ireland playing that soft.
"Aesthetically and visually, it does look very much like a links course, but it just doesn't play like one."
Famed golf course designer Pete Dye got his marching orders from owner Herb Kohler: Make it look like Ballybunion.
He moved considerable amounts of dirt to make it happen, and the look is impressive.
But how it plays is very different than a links course in the United Kingdom.
Unlike at St. Andrews, for instance, running shots along the ground simply won't work. Not with much success. The turf is too soft to allow for that kind of game. So in that way, the course plays much like championship courses in America, requiring high iron shots and exact yardages to get the ball close.
"It looks like we're playing overseas somewhere playing in a British Open," Wisconsin native Steve Stricker said. "I feel at home, but when I get out on the course, I don't. It's a little different style than we're accustomed to."
Ryder Cup prospects
For the good part of this year, the U.S. Ryder Cup team has been shaping up as a decided underdog against the Europeans in October. When you consider that Colin Montgomerie could field a pretty strong team from Great Britain and Ireland alone (the way it used to be), it is a pretty scary prospect for U.S. captain Corey Pavin. At the moment, four Europeans ranked among the top 20 -- Justin Rose, Padraig Harrington, Paul Casey and Edoardo Molinari -- have yet to even qualify for the team.
But all is not lost for the Americans. Despite the unclear status of Tiger Woods, Pavin has plenty to be encouraged about after a nice showing by Americans at the Bridgestone Invitational.
Hunter Mahan, who has played on the past two Presidents Cup teams and the winning 2008 Ryder Cup team, locked up a spot with his victory. Jeff Overton and Matt Kuchar, although potential Ryder Cup rookies, have been playing some of the most consistent golf of any players this year.
And veterans Steve Stricker and Jim Furyk each finished in the top 10 at the Bridgestone.
If Anthony Kim can regain his form after missing three months with a thumb injury and if Woods can bounce back, the U.S. team would not look nearly as vulnerable. Certainly an underdog, but the Ryder Cup has an interesting way of evening out such deficiencies.
Harig's head-scratcher of the week
As he is wont to do, Colin Montgomerie raised more than a few eyebrows over the weekend when he did not shy from the idea of making Bernhard Langer a captain's pick for his European Ryder Cup team.
Perhaps Monty is showing respect to a former captain who picked him in 2004.
And there is no doubt Langer is having a terrific year on the Champions Tour, winning three times overall, including back-to-back majors -- the Senior Open Championship and the U.S. Senior Open. Those back-to-back majors were an impressive feat.
But does it really warrant consideration for a loaded European team?
It would be one thing if the European side lacked experience or firepower.
But Monty already is faced with leaving some significant names off the team. As it stands now, Paul Casey, Justin Rose, Padraig Harrington and Edoardo Molinari are not qualified for the team, based on the world points list and European lists used for the team.
All four players are ranked among the top 20 in the world. And that doesn't include Sergio Garcia, who although he is having a tough year, might be in the mix for consideration, too. A pretty prominent player will be left out.
It is hard to believe that Langer even has a chance.
So you want to play ...
Whistling Straits. The site of this week's PGA Championship is open for public play and offers some spectacular views of Lake Michigan and a true links feel -- if not a real links experience.
The Straits course goes for $340, and caddies are required (no carts). The complex also has another course called the Irish with rates of $170.
The Straits first hosted the PGA in 2004 and had the 2007 U.S. Senior Open. The PGA of America has become so enamored of the place that it already has scheduled the return for the PGA in 2015 as well as the Ryder Cup in 2020.
Bob Harig covers golf for ESPN.com. He can be reached at BobHarig@gmail.com.
Birdies And Bogeys
BIRDIES

Mahan
1. Hunter Mahan. A final-round 64 and second victory of the year at the WGC-Bridgestone Invitational wrapped up a spot on the U.S. Ryder Cup team.
2. Matt Kuchar. He hasn't won, but he continues to contend, posting his eighth top-10 finish of the year at the Bridgestone and making a serious run at a U.S. Ryder Cup team spot.
3. Phil Mickelson. Here's to healthy eating and Lefty's disclosure that although he was scared by an arthritic condition, medication should clear it up.
BOGEYS

Woods
1. Tiger Woods. Where do you begin? The dubious distinctions are numerous. Perhaps this sums it up: He finished 30 strokes behind Hunter Mahan at the Bridgestone.
2. Lee Westwood. The Englishman is on the cusp of becoming No. 1 in the world but has been felled by a bothersome calf injury that might keep him out for several weeks.
3. Sergio Garcia. In the spring of 2009, Garcia was ranked second in the world. Eighteen months later, he is planning a two-month break to sort out his issues.
Notable
• Three-time major winner Vijay Singh, who won his last major title at the 2004 PGA Championship at Whistling Straits, is playing in his 66th consecutive major championship this week. The last major he missed was the 1994 U.S. Open at Oakmont. Mike Weir is next. This is his 47th in a row dating to the 1999 U.S. Open.
• Three players who made it to the Tour Championship last year in Atlanta are currently below 100th in FedEx Cup points: David Toms (110), Tiger Woods (119) and Weir (126).
• Hunter Mahan's victory at the WGC-Bridgestone Invitational made him the fifth player younger than 30 with at least three victories on the PGA Tour. He joined Anthony Kim, Camilo Villegas, Dustin Johnson and Sean O'Hair. Adam Scott, who turned 30 earlier this year, has seven victories.
• Kenny Perry turned 50 on Tuesday and immediately becomes eligible for the Champions Tour.
• Five players have top-10s at two of the first three majors this year -- Tiger Woods (Masters, U.S. Open), Phil Mickelson (Masters, U.S. Open), Lee Westwood (Masters, British Open), Nick Watney (Masters, British Open) and Martin Kaymer (U.S. Open, British Open).
Quotable
"For the last two months now, I've been a vegetarian. Can you believe that? I mean ... it's not really me ... but it has been." -- Phil Mickelson, who this week disclosed that he has an arthritic condition and that he's trying to go with a healthier diet.
Catching up with the '09 champ
Y.E. Yang stunned the golf world a year ago at Hazeltine when he came from behind to defeat Tiger Woods at the PGA Championship. It was the first time in 15 tries that Woods had failed to convert a 54-hole lead into a victory at a major championship.
By winning, Yang -- who had to go through Q-school in the fall of 2008 to make it onto the tour -- became the first Asian-born male golfer to win a major championship.
Yang has not won since and sometimes has struggled with his new place in the golf world.
Although he tied for eighth at the Masters this year, it was one of just two top-10 finishes. Still, he has six top-25 finishes and has earned more than $1.2 million. He ranks 50th in the FedEx Cup standings.
"Last year I was very confident about my ability to play," Yang said. "Compared to that, this year I feel I may have lost my rhythm a little bit and my confidence might not be as high as it was last year."
PGA Championship picks
Horse for the Course. Vijay Singh. He won here in 2004, the last of his three major championship victories, despite shooting a final-round 76.
Birdie Buster. Hunter Mahan comes in on a roll, having won the Bridgestone Invitational on Sunday with a final-round 64 that locked up a U.S. Ryder Cup team spot.
Super Sleeper. Mike Small. The University of Illinois golf coach is a heck of a player and won the Club Pro Championship to get into the field. But it's a tall order for a club pro to go on to win the PGA.
Winner. Steve Stricker. Wisconsin's own would be some story if he could capture his first major at Whistling Straits. Depending on the circumstances, it also could propel him to No. 1 in the world.