In the aftermath of an impressive United States victory over Europe last year at the Ryder Cup, captain Paul Azinger was heaped with praise for his strategy, especially how it related to pairing the players in groups of four during the practice rounds, and drawing his pairings from those groups.
And in the aftermath of another solid U.S. victory at the Presidents Cup, captain Fred Couples was also lauded, this time for basically letting them play.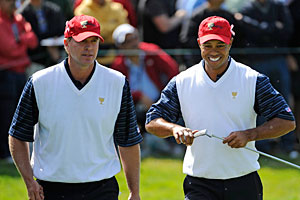 Chris Condon/Getty Images
When you're the captain of the U.S. Presidents Cup team, it helps to have a Steve Stricker and Tiger Woods on your crew.
In fact, Couples went so far as to say he didn't do much to guide the Americans to victory at Harding Park.
"Basically, these guys played golf and did it all," Couples said. "I would like to say that I didn't have a whole lot to do with it."
There is nothing wrong with either philosophy, really.
But it does suggest once again that the role of the captain is overrated, that the players either perform and get the job done or they don't -- and suffer the consequences.
Tiger Woods went 5-0 at the Presidents Cup and for the first time won more than three points at either the Ryder Cup or Presidents Cup. Phil Mickelson went 4-0-1. Steve Stricker, who partnered with Woods four times, went 4-1. Those are the top three players in the world and they helped put 9½ of the U.S. team's 19½ total on the board.
In essence, one third of the team provided half of the points.
Since Woods and Mickelson have been playing together on these Cup teams, they had never had the kind of success they enjoyed in San Francisco.
And that is the kind of effort that makes or breaks a captaincy.
As a Ryder Cup player, Woods has been on just one winning team -- in 1999, when the Americans made up the biggest final-day deficit in the event's history, which included a lopsided singles victory for Woods.
But in 2004, Woods and Mickelson played together the first day and lost both of their matches. Woods was just 2-3 at that Ryder Cup. Is that Hal Sutton's fault?
Greg Norman can be second-guessed for his decision to put Camilo Villegas and Adam Scott off first and second in Sunday's singles, a time when the International squad dearly needed to get some momentum going. Both players lost and combined to win just one match.
And although Scott was a captain's pick, the other choice -- Japan's Ryo Ishikawa -- went 3-2, matching Ernie Els for the best record on the International team. The highest-ranked player, Geoff Ogilvy, managed to go just 2-2 and was benched for one of the Saturday matches. Is it Norman's fault that Ogilvy didn't perform?
Nick Faldo is still the subject of criticism for his European captaincy last year, but really, the outcome was more about the lack of production he got from his top players: Padraig Harrington, Sergio Garcia and Lee Westwood combined to go 0-7-5 at last year's Ryder Cup.
"We hold the clubs and we hit the shots, not the captain," Westwood said last year.
Now it is on to Europe's Colin Montgomerie and the United States' Corey Pavin for the Ryder Cup to be played in Wales. This week they held a "one-year-out" function at Celtic Manor, and Monty was already waxing about how imposing a team the Americans will have if Woods plays the way he did at the Presidents Cup.
And Monty ought to know. He's undefeated in Ryder Cup singles and has been a huge contributor to the Ryder Cup. Along the way, he has made some captains such as Sam Torrance and Bernhard Langer and Ian Woosnam look pretty good.
Ultimately, it's about those who hit the shots.
Praise for Ryo
There were plenty of raised eyebrows this year when Ryo Ishikawa, just 17 at the time, received invites to the Masters and PGA Championship, as well as to several PGA Tour events.
But the Japanese phenom -- who has already won six times on his home tour, including four times this year -- was impressive at the Presidents Cup, where his 3-2 record matched the best of any International player.
His only defeats came in team matches against Tiger Woods and Steve Stricker, who went 4-0 together. Nothing to be ashamed of there. And he defeated Kenny Perry in singles on Sunday.
"He sent me right into retirement, that kid," said Perry, joking, who noted that Ishikawa is younger than all three of his kids.
"You have no idea the poise he's got," said International captain Greg Norman. "He only turned 18 a month ago. And for him to be able to walk to the first tee on Thursday like he did and to never expect the reception like he expected. … The first tee at The Presidents Cup, especially at Harding Park, it's a very confined space and there's a lot of things happening, people yelling, screaming, cameras going off and everything like that. It can really hit you in the forehead.
"But the way he conducted himself and handled himself right from the very first moment he's walked onto the golf course and into the team room, you know, we have embraced him and he's embraced us."
Woods was also impressed. He played the first two rounds of the British Open with Ishikawa -- where both missed the cut -- and again twice at the Presidents Cup.
"He's by far much more developed in his game than I ever was at 18 years old," said Woods, who did not turn pro until he was 20. "I was longer than he was, but I certainly did not have the ability to hit shots like he does.
"It's quite remarkable what he's done, and the poise in how he goes about it. To win -- what, four times this year? -- on any tour, is quite remarkable. And at his age, 17 now, and now he just turned 18, it's unheard of. I don't think it's ever been done.
"And for him to go out there and carry himself the way he has this entire Presidents Cup, it's been fun to be a part of and watch how he competes. I watched it at the British Open for two days, and I knew from just listening to what people have said, that he has talent; but certainly did not realize how talented he really was until you actually get a chance to play with someone."
A look at this week's venue
This is the second year of the Justin Timberlake Shriners Hospitals for Children Open and the second time that the Las Vegas tournament has been contested on just one course, the TPC Summerlin.
The 7,243-yard par-72 course is, to put it mildly, a pushover. Last year Marc Turnesa shot scores of 62-64-69-68 for a total of 263, 25 under par. Just to make the 36-hole cut, you had to be 6 under. And 13 of the 18 holes played under par for the week. So players had better be ready to make birdies. Davis Love III holds the course record of 61, shot in 2001. Last year, the course played to a scoring average of 69.07 and yielded a whopping 95 eagles and 2,131 birdies.
The Las Vegas tour stop dates back to 1983, when Fuzzy Zoeller won the 90-hole pro-am event that was played over four courses. Chip Beck became one of just three players in PGA Tour history to shoot 59, doing so in 1991 when the tournament had a three-course rotation.
In 2004, the tournament cut down to 72 holes, and in 2005 it went to just two courses before going to the single venue last year.
Bob Harig covers golf for ESPN.com. He can be reached at BobHarig@gmail.com.
Birdies and bogeys
Birdies

1. The Big Three. Tiger Woods, Phil Mickelson and Steve Stricker did what America's top players do in the Cup: go unbeaten. They were a combined 13-1-1 at the Presidents Cup.
2. Ryo Ishikawa. The Japanese star is just 18, but acquitted himself nicely in San Francisco, where he went 3-2 and showed a magical putting touch.
3. Harding Park. It stood up well as a Cup venue, and San Francisco fans supported the event in droves. The venue will get a couple of Charles Schwab Cups on the Champions Tour, but here's hoping the Presidents Cup returns.
Bogeys

1. Camilo Villegas. He wasn't able to follow up on his two-victory season a year ago on the PGA Tour. Then he went 0-4 at the Presidents Cup -- the only player on either side to fail to earn even half a point.
2. Robert Allenby. We appreciate when players speak their minds, but did he really need to throw Anthony Kim under the bus as he did Sunday after losing to him in singles? Allenby said a friend told him he saw Kim stumble into his hotel room at 4 a.m. Sunday morning, then likened him to John Daly. Kim denied he was out anywhere near that late. Now comes word that they've kissed and made up, and Allenby is saying his comments were taken out of context.
3. Olympic Golf. It's great for the game that it has been awarded a spot in the 2016 Olympics, but there are still so many questions: Venue? Participants? Format? And will a medal really mean more than a major championship?
Taking on slow play

Colin Montgomerie used this week's Ryder Cup event marking the one-year countdown to the tournament next October in Wales as an opportunity to speak out about slow play. Specifically, he hopes the Ryder Cup can set a good example in that regard. And he noted that Wales in October does not offer much wiggle room when it comes to daylight.
"There should be no six-hour rounds in the four-balls [best ball], as was the case at Kiawah Island when everyone remembers the silhouette of Seve [Ballesteros] in the darkness -- these days have gone," Montgomerie said. "Four-and-a-half hours should be enough for four-balls -- even in a Ryder Cup situation.
"We have to get 'round as quickly as we can next October. It is two weeks later than normal, and a lost half an hour will be the difference between finishing a game or not. The latter is not the type of message we should be putting across to club golfers. We should be playing quicker than them, because it's not as though we are having to look for golf balls."
For a time, the fear of suspended matches caused the European Tour's Ryder Cup committee to consider stretching the event to four days. During the first two days of competition, when there are four foursomes and four four-ball matches, finishing in daylight will be a concern. The tournament is scheduled for Oct. 1-3.
Last year, captains Paul Azinger and Nick Faldo agreed to not allow practice putting on the greens (something that is also against the rules on the PGA Tour) when a hole was completed. That rule was not in place at last week's Presidents Cup, but Monty wants to see it again next year.
"My players will not be practicing their putting once the match is underway," he said. "They'll have had three days to do that earlier in the week."
Notables
• The Justin Timberlake tournament is one of just four remaining on the PGA Tour schedule, the second of five "Fall Series" events. A number of prominent players are outside of the top 125 on the money list, including Todd Hamilton, Stuart Appleby, Chris DiMarco, Corey Pavin, Rocco Mediate and Billy Mayfair.

• For all the talk about the top players shutting it down after the Tour Championship, the Timberlake tourney has four players who competed in last week's Presidents Cup -- Jim Furyk, Anthony Kim, Hunter Mahan and Tim Clark. It also has nine players who made it to the Tour Championship.
• Rickie Fowler is making his debut as a pro at Las Vegas. The former college star and No. 1-ranked amateur at Oklahoma State, Fowler played in three PGA Tour events earlier this year as an amateur and lost in a playoff at a Nationwide Tour event.
Quotable

"We were talking earlier about how impressed we were with the job that he did. He just seemed to be on top of everything, from even details -- which isn't, you know, his personality. He was on top of all of the details. He was on top of who was playing well." -- Phil Mickelson on Fred Couples' job as U.S. Presidents Cup team captain.
Catching up with last year's champ
A victory at last year's Justin Timberlake tournament made for a successful rookie season for Marc Turnesa, who also lost in a playoff at the Viking Classic and finished the season 81st on the money list.
But that success has not carried over to this year.
Turnesa, 31, has struggled for most of the year, making just eight cuts in 27 starts. His best finish was a tie for 30th at the Northern Trust Open, and he's made just more than $187,000.
Were it not for Turnesa's victory last year, he'd be in trouble as far as being exempt for next year. But the win came with a two-year exemption, so no matter what Turnesa does the rest of the year, he will be fully exempt in 2010.
Shriners Hospitals for Children Open picks

Horse for the Course: Matt Kuchar. In addition to his victory two weeks ago at Turning Stone, Kuchar finished second to Marc Turnesa last year in Las Vegas.
Birdie Buster: Tim Clark. The South African comes into Las Vegas on a roll after an excellent performance for the losing International team at the Presidents Cup.
Super Sleeper: Anthony Kim has struggled for most of this year, but he had a good weekend at the Presidents Cup. A victory in Las Vegas would be a big boost.
Winner: Jim Furyk. He used to own this tournament, winning it three times in the '90s. A victory here would be his first in more than two years.