Lowry's Irish Open victory proved to be reality TV at its best

The PGA Tour's Texas Open? Pretty good finish, with a bunch of players in contention and Zach Johnson eventually upending James Driscoll in a playoff.
The LPGA's Sybase Classic? Fun stuff, as Ji Young Oh outplayed higher-ranked Suzann Pettersen when it mattered.
The Nationwide Tour's BMW Charity Pro-Am? The Champions Tour's Regions Charity Classic? Solid events with deserving champions.
Each one, however, paled in comparison to the dramatics at the European Tour's Irish Open on Sunday, which is already the year's clubhouse leader in pure entertainment value. In fact, as the W18 begins, it was so captivating that it appeared to come directly from a screenplay.
Stop me if you've seen this movie already: Young amateur competes in his nation's championship not too far from home, captures the hearts and imaginations of the locals and survives a series of wild ups and downs to finally and triumphantly prevail over the competition.
Peter Muhly/Getty Images
Shane Lowry, in just his first start on the European Tour, captured his home country's national championship in the 3 Irish Open.
If it sounds eerily familiar, that's because this was the very script when Francis Ouimet won the 1913 U.S. Open at his home course, The Country Club in Brookline, Mass., which was later immortalized in all its celluloid glory in the 2005 film, "The Greatest Game Ever Played."
Lights, camera, action. It's time for a sequel.
Channeling his inner Ouimet, 22-year-old Irishman Shane Lowry defeated Robert Rock in a playoff at the Irish Open on Sunday, becoming the first amateur to win the event and just the third to claim a European Tour title.
"I can't describe what I'm feeling at this minute," Lowry said just after being swallowed by a partisan crowd at Co. Louth GC in Baltray. "Just shocked more than anything else. You know, I came into this week, got an invite to play my first tour event. Would have been happy enough to make the cut and went out and shot 62 on Friday and after that, I thought, right, this is my week. I can win. You know, I still it can't believe it."
That's right. Just in case the movie wasn't unbelievable enough already, Lowry was competing in his first career Euro Tour-sponsored event.
Oh, and there's a good role for a young, bushy-haired actor to play rising star Rory McIlroy, who hung around through the rain and cold to witness his buddy win the big one.
And lest we forget, there's the matter of exactly how it all went down. Agonizing, thrilling, enthralling. I laughed, I cried, I'd see it again and again!
Needing to sink a simple 4-footer for birdie on the tournament's 72nd hole, Lowry pulled the putt and never scared the hole, dropping into a tie with Rock and heading to a sudden-death playoff. The film almost had a tragic ending for our hero, as Rock had a 9-foot birdie putt to seal the deal ... only he missed, as well.
Back to the 18th tee yet again -- and this time it was Lowry's turn for more anguish and heartache. The amateur knocked a fairway wood close and with his opponent in a greenside bunker, the happy ending appeared imminent. Instead, he 2-putted and Rock got up-and-down for an improbable birdie, forcing a third extra hole.
Sobel's On Twitter
Want to know what ESPN.com's Jason Sobel is up to? Sign up to track him on Twitter.
Follow him
Each player drove his ball well right off the tee, meaning recovery shots from the muck would be needed. And then, finally, just when you couldn't take it anymore, when the producers had provided so many twists and turns to the dramatic plot that it made "Happy Gilmore" seem realistic by comparison, the movie reached its climactic conclusion, as a par was enough to clinch the title for Lowry, who was then surrounded -- no, mobbed -- by the home folks in celebration.
"It's going to take a long time to sink in," Lowry said afterward. "I just can't believe it happened. I can't believe it."
If the story had come straight from Hollywood, we wouldn't have believed it, either, Shane.
2 Zach Johnson.
At the end of each season, the PGA Tour bestows honors for player of the year, best rookie and top comeback performance, all as voted on by the membership.
Unlike, say, the NBA, there is no award for the most improved player. Which is bad news for Johnson, who may very well own that distinction so far this year.
It isn't often that a former Masters champ can be considered the man who has most turned his game up a few notches, but that's very much been the case for Zach. On the heels of his victory at last year's Texas Open during the Fall Finish, he now owns two wins this season and has vaulted into the top spot on the FedEx Cup list.
While he's earned a rep as a closer over the past five seasons -- including a tough-as-nails win at the Sony Open back in January -- Johnson came to La Cantera just two weeks removed from a Quail Hollow Championship appearance in which he entered the final round with a 3-stroke lead, only to shoot 4-over 76 and finish in a share of 11th place.
"My confidence, I don't want to say it was shattered, but it was a shock to my system, that Sunday in Charlotte. I mean, I was obviously playing good golf, and that Sunday didn't go my way," he said after the win in Texas. "Today was great. I woke up, had a lot of sleep. Fortunately getting done yesterday was big. And you know, just tried to rely on what got me here. There's no reason to change things or fix things. I'm not going to go out there and try to manipulate my game for some reason. I can only do one thing and that's hit fairways and greens and try to make putts.
"Yeah, struggling was a good learning lesson. I was a little rushed in Charlotte and today I remained patient and good things happened."
The last part of that statement may serve as a pertinent slogan for Johnson's game. Oh, and on the heels of his sixth career victory, there's more good news, too: Even though the PGA Tour doesn't hand out honors for most improved player, he's very much in the mix for that player of the year trophy.
3 Ji Young Oh.
"Oh, yes!" "Oh, wow!" "Oh, my goodness!"
Pick your favorite name-derived headline for Oh's sparkling 4-stroke victory at the Sybase Classic on Sunday, but with rounds of 66-69-69-70, the 20-year-old third-year LPGA vet deserves all the accolades she receives in the oversized font.
"Everything was so right," she said during the post-round trophy presentation. "I'm so happy I won today."
That she won the tourney by holding off fellow 54-hole co-leader and current No. 6-ranked player Suzann Pettersen is impressive enough. That she did so on the heels of what can only be described as a mediocre season to date makes it all the more extraordinary.
Consider these results in seven starts entering the festivities in the Garden State: T-37, T-39, T-6, T-49, T-36, MC, T-47. Oh owned only three sub-70 scores in 25 rounds this season; she matched that number during the first three days at the Sybase. And that $300,000 winner's check? Looks pretty good compared with the $83,247 she had earned coming into the week.
Oh, my goodness, indeed.
4Europe's Ryder Cup team.

I wish I could say Europe's tweak to its Ryder Cup selection process was a surprise ... but it wasn't. It was announced this week that current European captain Colin Montgomerie would be granted three captain's picks prior to next year's competition -- one fewer than he had reportedly requested, but one more than in previous years.
It's a strategy ripped straight from the pages of the PGA of America's how-to manual, as recent U.S. captain Paul Azinger was given extra selections -- cutting back the number of automatic qualifiers from 10 to eight -- and turned such change into victory last year at Valhalla.
The world of professional golf is a copycat endeavor. If a player wins while swinging a square-headed driver, a dozen more will wield one the next week; if one tournament course is hailed as successful for tightening its fairways and limiting the rough, others will soon follow suit.
And so it hardly comes as a shock that Monty took notice of Azinger's blueprint and wanted to make a carbon copy. Fact is, the only curiosity in the whole matter remains why the committee that oversees the team didn't let the captain have his full wishes and allow him two more selections than in past years rather than just one.
Even so, it's the right move for the Europeans. Last year, Nick Faldo's two picks -- Ian Poulter (4-1-0) and Paul Casey (0-1-2) -- combined for five of the team's 11½ points. Perhaps if the previous captain had more of his own selections on the roster, the final result would have been much closer than it was.
5 Breaking 60.
Al Geiberger, Chip Beck and David Duval are still searching for a final member to round out their foursome.
Those three men remain the only players to shoot golf's magic number of 59 in a competitive PGA Tour round, although a few contenders tried to show up at the tee box as a single this week in hopes of joining them.
On Thursday, Paul Goydos was 8-under through 13 holes at the par-70 La Cantera GC, only to finish with four pars and a bogey, hardly scaring the all-time record.
Two days later, Zach Johnson made a more valiant effort, getting things to 10-under with one hole to play. He had a 19-foot birdie opportunity for 59, but didn't get it there, settling for par and a 60 instead.
(Let that be a lesson to you, kids: Never leave your putt for 59 short.)
Johnson now owns the unlikely distinction of shooting each of the past two 60s on the PGA Tour; in fact, he's the only player in history to post two such rounds during his career. Back at the 2007 Tour Championship, he needed a birdie on the devilish par-3 final hole at East Lake GC, but couldn't convert a -- get this -- 50-foot, 9-inch bunker shot.
Even so, the two close calls give Johnson a unique perspective on what it takes to match the score of Geiberger, Beck and Duval -- not to mention Annika Sorenstam (LPGA), Notah Begay (Nationwide Tour), Harrison Frazar (Q-school), David Gossett (Q-school), Martin Kaymer (EPD Tour), Shigeki Maruyama (58 in U.S. Open qualifying) and others.
So, what's the secret, Zach?
"To shoot that, you have to putt well," he said after his most recent near-miss. "I mean, you have to make probably three 20-footers, three putts over 15 feet. ... Obviously that's what you've got to do. I know I played shots. I know I had to get up and down twice for even par. ... I don't think I missed a lot of greens. Really just allowed me to free it up when I had an opportunity to hit the ball."
Johnson is now the lone member of the PGA Tour's 60-60 Club, but the 59ers remain a threesome ... for now.
6 Bob Tway.
Prior to his first career appearance on the Champions Tour, Tway -- who turned 50 on May 4 -- spoke about his comfort level on the senior circuit.
"I didn't really know what to expect," said the eight-time PGA Tour champion. "Everyone kept asking me, 'Are you excited?' and this and that. I couldn't really give an answer. Then yesterday, walking to the lunch room, I saw 15 guys that I hadn't seen in awhile -- some of whom I'd kept up with, some of whom I hadn't -- but most of the guys I've played with throughout my career until the last few years. It was quite special, actually. It brought a smile to my face."
Not bringing a smile to Tway's face was his play in this debut performance. With MCs in each of his past five PGA Tour starts, he wasn't exactly setting the world afire on that circuit. That inconsistency only continued on the 50-and-over tour.
Tway shot 76-72 to beat only six other competitors in the Regions Charity Classic field, finishing T-68 at the no-cut event that was limited to 36 holes due to weather issues. That total left him a shocking 16 strokes behind eventual winner Keith Fergus.
Here's guessing that spot at the end of the tournament didn't leave him very comfortable anymore.
7 Alex Cejka.
When last we saw Cejka, the Players Championship 54-hole leader was turning a 5-stroke lead into an 8-stroke deficit, shooting a final-round 7-over 79 to finish in a share of ninth place.
"It's a positive thing," he said after that round with Tiger Woods. "It doesn't matter what I shoot. I still finished top-10. It's good. Obviously I was leading by a couple. I played with the best golfer in the world, and I didn't play well and neither did he, but he kind of saved it. Short game, be more patient, you know? I was just unlucky."
Whether it was more bad luck or the negative momentum from the final 18 holes carried over to the Valero Texas Open, the Germany-raised Las Vegas resident shot 73-73 to miss the cut by 7 shots this week. He posted just four birdies -- two each round -- against eight bogeys and a double, failing to break par by 3 strokes on both Thursday and Friday. And after wearing out the fairways at TPC Sawgrass, he hit just half of 'em at La Cantera, while recording 31 putts on each day.
Consider it only a minor blip for Cejka, though, who has finished 13th or better in four of his past eight PGA Tour starts while in the midst of undergoing treatment for a pinched nerve in his neck. This is a guy who has won 11 times worldwide and proved that -- for a few rounds, at least -- he can play dominant golf. If Cejka remains healthy throughout the rest of the season, expect more top-10 finishes and fewer MCs.
• In a sport that has been around for hundreds of years, there aren't many folks who can claim they were first to do something. Bob Rosburg, who passed away this past week at the age of 82, was one of those few. The first on-course television reporter, he was a pioneer for a role that has developed into second nature on golf telecasts.
Best Rosburg story: At the age of 12, he defeated Ty Cobb -- yes, that Ty Cobb -- in the club championship at The Olympic Club.
• Wow, James Driscoll. Where did that come from? Entering this week, he had MC'd in four of six starts, had a season-best T-57 result and had only broken 70 in one of 15 rounds.
Following rounds of 67-69-67, Driscoll shot a bogey-free 8-under 62 on Sunday that included an eagle and six birdies. How surprising was that? Entering the day, he had zero eagles and 59 birdies (3.28 per round) in 18 total rounds.
After losing with a par on the first playoff hole, he had some pretty good perspective on the events that had unfolded: "[Zach Johnson] made a good birdie. I mean, what are you going to do? If that was just a regular hole throughout the tournament, I would have said I played the hole OK. It's not like I totally screwed it up or anything. I hit it 25, 30 feet and gave a decent run at it. I didn't do as well as I would have liked, but he made a nice birdie. He made a great birdie, so what are you going to do?"
• The USGA has launched an online memory book in which it will collect fans' personal stories of Arnold Palmer. According to the organization, "the very best submissions [will be placed] into a bound volume, for presentation to Arnold as an 80th birthday present."
• A recent poll on Annika Sorenstam's personal blog showed that 68 percent of respondents believed that the former No. 1-ranked player is pregnant with a baby girl ... and those 68 percent proved to be right, as Annika announced the news last week.
No truth to the rumor that Sam Alexis Woods has already text-messaged the unborn child with a playful on-course challenge.
• So, you don't like the FedEx Cup? You think it's a contrived format that isn't a real playoff anyway? Fine. But at least the sponsor has weathered the major economic storm. Not so much on the European Tour, where Leisurecorp, the company which is partnering to contest the first-ever Race to Dubai, has been taken over by the United Arab Emirates government, putting the long-term future of the system very much in doubt.
• When I spent time at a Nationwide Tour event in late 2007, I asked numerous players and officials which one player was most worth watching in future PGA Tour events. Every single one of 'em gave the same response: "Jason Day." Through his first 35 starts in the big leagues, though, Day has failed to make a huge splash, reaching the weekend just 18 times. He did post a T-2 at the Puerto Rico Open two months ago, but MC'd in Texas this past week after rounds of 76-70.
• Speaking of the Nationwide circuit, here's guessing that if I asked the same question right now, I'd get one singular answer once again: "Michael Sim." With a playoff win at the BMW Charity Pro-Am on Sunday, his season record now includes a pair of victories, a solo second, solo third and T-4 in seven starts so far.
The Scotland-born, Australia-raised Sim now stands just one title away from an instant in-season promotion to the PGA Tour. Though it's difficult to surmise how Nationwide success will transfer to the main tour, his recent track record suggests he could be at least a top-50 player right now.
• Nobody -- and I mean nobody -- walked more holes on the PGA Tour last year than D.J. Gregory, a 31-year-old with cerebral palsy who has not only served as motivation to so many players; he's become a good friend to them, too. Gregory's story is now available in his autobiographical tale, "Walking with Friends: An Inspirational Year on the PGA Tour."
• Seriously, folks: If you're gonna stand just behind the gallery ropes when Charles Barkley is teeing off, you're asking to be plunked.
Opened the inbox up to the Tweeting crowd this week and it worked so well, it might become a staple of the W18. Let's get to a few separate tweets ...
Brianscottf@JasonSobel with the weak field this week, why wouldn't Valero offer a local hero like [Tony] Romo a sponsor invite?
Interesting idea -- and one that isn't unprecedented. Back in 1992, the old Kemper Open granted a sponsor's exemption to Washington Redskins quarterback Mark Rypien ... and he shot about half a million. Since then, the PGA Tour has frowned upon special offers to athletes from other sports and celebs, but it's not against the rules. From the PGA Tour:
Standard tournaments like this week in San Antonio have eight sponsor exemptions as follows: 1. Four unrestricted exemptions that can go to any professional or amateurs with a USGA handicap of 0.0 or better; 2. Two restricted sponsor exemptions for PGA Tour members not otherwise in the field; 3. Two restricted sponsor exemptions for players in the Nationwide Tour/Q-school graduates category, not otherwise in the field. If the field is such that all players in this category are all in the field (like this week in San Antonio), these two exemptions convert to unrestricted sponsor exemptions.
With an index at somewhere between 1.2 and 6 (depending on the source), Michael Jordan, for example, wouldn't qualify; Tony Romo, however, at 0.0, would certainly be eligible.
Getting back to your question, I don't know why a sponsor like Valero wouldn't offer a spot to the local NFL quarterback, other than not wanting the resulting circus to take away from the actual tournament. In today's economic age, though, it might only be a matter of time until the lure of bringing in amateur celebs is too much to ignore.
Bert_Stewart@JasonSobel which moment will be henrik stenson's most memorable in 09? Awesome sunday at TPC or stripping to play that shot early this yr?
It should be the Players Championship. It should be his greatest title to date, a masterful final-round performance on a difficult course that was chewing up and spitting out so many of his competitors. It should be. And yet ...
More people will remember him for stripping down to his Bjorn Borg boxer-briefs at Doral than his victory. Think about it: You know that guy in the next cubicle who doesn't really follow golf? Even he was talking about the underwear incident -- but not the Players triumph. The local sports radio screamer? He definitely devoted more attention to Stenson's de-pantsing of himself than the collective wedgie he gave the field in Ponte Vedra Beach. Your mom? Yeah, as much as you don't want to think about it, even she saw the whole story on the nightly news -- the only thing she'll remember about golf all year.
So yeah, while there are plenty of us diehards who will recall the Players win more than the brief swim, the latter will remain more memorable among the masses -- and it's not even close.
Yamzz@JasonSobel every Tiger swing change produced a down year then a monster year, this is basically a swing change, down year '09, monster '10?
When I sat down with Woods late last year, I asked him whether the knee surgery would force any unplanned changes to his swing. "I've been trying to make swing changes for years," he told me. "You're always making swing changes. It is what it is. That's golf. You're always tinkering."
He still has yet to confirm that any work in the months since should be considered any work that he wouldn't ordinarily be doing anyway, so I'm hesitant to refer to what he's undergoing currently as a "swing change" in the purest sense of the term. That said, there are definitely parts of the move that he is working on. Could it result in a monster year in 2010? Very possible, though I'm not ready to write him off this season just yet, either.
Wanna be considered for future W18 columns? Hit me at Jason.Sobel@espn3.com or follow along on Twitter.
Henrik Stenson's top-five placement in the OWGR is deserved.
Just over two years ago, when Stenson won his first professional title on U.S. soil at the WGC-Accenture Match Play Championship, I wrote this column, at once criticizing both the player's lack of credentials and the number-crunching process itself that led to a guy without a career top-10 at a major reaching such a lofty designation in the rankings.
Not anymore.
Based on the strength of his recent Players Championship victory, plus a T-3 at last year's British Open, a T-4 at the PGA Championship and a pair of top-5s on the Euro Tour already this season, Stenson has established himself as one of the world's elite players, indicative of his leap from No. 9 to fifth after his latest triumph.
I don't need a stat-packed computer to tell me this, either; I'll just use a little common sense, thanks. Ask me to list the world's best current players -- based both on talent and recent accomplishments -- and I'll take Tiger Woods, Phil Mickelson, Geoff Ogilvy and Stenson, then replace the one odd man in, Sergio Garcia, with Padraig Harrington, who has only won three of the past seven majors. Kenny Perry and his four victories in the past calendar year are knocking at the door, too.
The point is, Stenson was no fluky champion at TPC Sawgrass and he's no fluky returnee to the world's top five this time around. The game's best players have an innate ability to conform to their surroundings; the long-bombing Swede proved he could change his spots if the course warranted, blasting 3-woods into the fairways at a rate of 93 percent during the weekend rounds.
Even though the OWGR has everything to do with statistics and nothing to do with the ol' eyeball test, the calculations got it right this time. The above statement is FACT.
Jason Sobel is a golf writer for ESPN.com. He can be reached at Jason.Sobel@espn3.com.
I have some sad news to report: The recent media day outing at Bethpage Black, the upcoming U.S. Open venue which was to ostensibly swallow every golf ball I've ever owned in its dense rough, was canceled due to poor weather conditions. I know, I know -- thank you for your condolences. And yes, this may have been the very definition of "blessing in disguise."

(On a much happier note, I can also report that while not as menacing as its big brother, the Blue Course is a fun and formidable track that worked as a more-than-adequate second option.)
Just because the round was washed out, though, didn't mean the day was a complete wash. Among the USGA brass who spoke to the assembled media (plus defending champion Tiger Woods, who was made available via conference call) was senior director of rules and competitions Mike Davis, the whiz in charge of course setup for all of the organization's championships.
Davis spoke for a while on a variety of topics regarding the Black, but perhaps the most interesting and informative words came in regard to how the course will play differently than it did back in 2002. Specifically, he addressed changes to 11 total holes, four of which I'll analyze here:
• No. 4: "One of the things we felt was not quite right in 2002 was that behind the green was a closely mown area that fell away from the green, and we didn't see many players going for the green in 2, simply because there was way too much risk for the reward. So that closely mown area has been softened a little bit, and the trees behind that green, there were some white pines that were removed."
In recent years, the USGA has shown a propensity for offering more risk-reward holes and No. 4 should fit the bill once again. Davis contends this hole will be "tremendously exciting" for the Open, which is pretty much the way a par-5 should play.
• No. 8: "The green was brought down right to the pond's edge, and we looked back at some old photographs of when [A.W.] Tillinghast first designed the course, and that's the way the green used to be. So for this go-around we will have a couple hole locations right down at the front that very much brings the pond into play, and really, you would have to hit a horrendous shot in '02 to hit it in the pond. It's in play now."
Interesting nod to Tillinghast, the original course designer. Davis isn't the first official to set up a course based on its original specifications, but it's nice to see that the initial design is still being treated as the right way for the course to be played.
• No. 9: "Probably the biggest change we have made at Bethpage. There was a tee put some 40 yards back that really changed the drive zone. Nine was the easiest hole, easiest par 4, for the 2002 U.S. Open. We did not necessarily change the hole just because it was the easiest. We changed it because we thought that it would give some options in terms of trying to drive over the left bunker. It's almost a cross-bunker up top, and leave yourself with a wedge, very easy wedge in, or try to hit it to the right of this bunker and be on a very sloping fairway."
Prior to Davis' taking over this role a few years ago, there was speculation -- including from many players -- that the USGA only wanted each hole to play as difficult as possible. So it's worthwhile to note that while major changes have been made to what was the easiest hole in 2002, Davis has gone out of his way to allow that these shifts weren't done to simply increase difficulty.
• No. 12: "We changed the fairway contour there where we brought fairway right up against that left cross-bunker on the drive. So if you drive it over that bunker now, you are going to hit fairway. In 2002, you would have landed in the rough, so we think that hole is going to play better."
Expect this one to bring a major, "Hallelujah!" from some of the shorter hitters in the tourney.
Seven years ago, many players couldn't carry the bunker off the tee, and if they did, it was still a crapshoot as to whether they would have a decent lie in the rough. Extending the fairway gives players a better option off the tee while forcing them to think about the hole more so than in the past.
As the PGA Tour enters Week 2 of its recently rejuvenated three-week Texas Swing, let's examine the best players ever from the Lone Star State.
With a special nod to Kathy Whitworth and apologies to Lloyd Mangrum, Jackie Burke, Tom Kite, Lanny Wadkins and Justin Leonard, this week's edition of The List ranks the top five Texans in PGA Tour history.
5. Ben Crenshaw: Like Kite, owns 19 career PGA Tour victories, but two green jackets trump one U.S. Open trophy.
4. Jimmy Demaret: Houston native won 31 times, including three romps at Augusta National.
3. Lee Trevino: The Merry Mex is one of only five players (along with Hagen, Player, Nicklaus and Woods) to win three of the four majors multiple times.
2. Byron Nelson: In just about every other state, Nelson would rank head and shoulders above all others, but not when The Hawk is in consideration.
1. Ben Hogan: Sweetest swing ever, nine major wins, comeback from a near-fatal car accident ... tough to debate this one.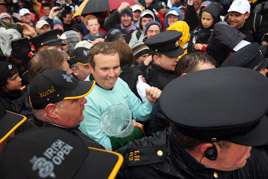 Ross Kinnaird/Getty Images
Earlier in the W18, I compared Shane Lowry's victory to that of Francis Ouimet. Well, consider this the visual proof.
After all, how often do you see a player win a professional golf tournament, only to be mobbed by his fellow countrymen on the final green? Only in Hollywood -- and at the Irish Open on Sunday, where Lowry's triumph was by all means a win for the people.
In a sport that needs as many personalities at the top professional level as possible, consider PGA Tour rookie James Nitties a much-needed breath of fresh air.
The Melbourne, Australia, native has made the cut in seven of 14 starts so far this season, with five top-25s. But it's his individuality that separates him from the pack. Nitties brings a unique perspective to the tour, which only makes sense since his hobbies include, well, just keep reading ...

Q: Under "special interests" in your official PGA Tour bio, you list clubbing. I assume you're not talking about using a 6-iron instead of a 7?
A: No, it's clubbing as in having a bit of time off from golf. It's going into a club or bar and having a couple of beers, hanging out with mates and chasing the occasional girl here and there.
Q: How's the clubbing scene on tour? You get some of the other guys to go with you or is it usually a solo mission?
A: Well, taking away from my bio a little bit, I haven't really been out much, because whenever I'm playing I sort of lay low. But yeah, it's good. I mean, most of the cities on the PGA Tour are in good places, fun places, so if I miss a cut or have a week off, I'll often venture out and see what's happening.
Q: You also list movies as an interest. Seen any good ones lately?
A: "Slumdog Millionaire" was pretty good. "Taken" was pretty good. Yeah, I'll probably go about twice a week. There hasn't been a bunch of good ones out lately, but there's a few coming up in the next couple of months, so I'll definitely be hitting the movies here and there.
Q: Same question for your third interest: girls. Seen any good ones lately?
A: [Laughs] My interest is girls -- yes, that's true -- it's pretty much an interest of every single 26-year-old, I'd like to believe. Any good ones? I don't know, we might have to keep that between you and me.
Q: Good answer. Along those lines, I was at the FBR Open earlier this year when fans took to yelling, "Show us your Nitties!" every time they saw you. Was that a new one or had you heard that before?
A: Oh man, I've heard plenty. I've heard that one before, but that's pretty good -- I like it. The FBR is that sort of crowd, where they're going to yell out that sort of stuff. I thought it was pretty cool. It's a fun last name to have, let's put it that way.
Q: I've talked to Fred Funk about the same subject before and he acknowledges he has a lot more fans because his name isn't Fred Smith.
A: [Laughs] Yeah, that's a pretty good one, too. He can use that to his advantage, I'm sure.
Q: OK, let's talk golf. Are you pleased with your rookie season so far?
A: Yeah, I mean, it's always a mystery when you think about going to the PGA Tour for the first time and wondering how you'd start, but it's been good. I knew I was good enough to be out here, but you always have that needling sort of feeling, like, "How am I going to play up to the other players?" But yeah, it's been good. I haven't played my best golf yet and I've still put myself into position to win tournaments, so if I can play well, who knows what can happen?
Q: Is there sort of a fraternity among the rookie class, since you share a common bond with each of those guys?
A: Yeah, I hang out with most of the rookies, but it's not just because we're rookies on the PGA Tour; it's because I've grown up knowing a lot of the guys, like Marc Leishman and Aron Price and Peter Tomasulo and all those guys. You sort of come up through the ranks on mini-tours and the Nationwide Tour. You know those guys more. I was never going to make it if I was going to come out here and try to play practice rounds out here with all the best players in the world. I just sort of hang low and hang out with my mates -- try to make it as much fun as possible.
Q: Have you leaned on any veteran players for advice?
A: Not really. I've spoken to a few of the Aussie players, played a couple of practice rounds with guys like Peter Lonard and Mat Goggin and Aaron Baddeley. You sort of get a little bit of advice here and there, but not to the point where I'll go and seek out someone and try to have dinner with them, pick their brain.
Q: How nerve-wracking is Q-school? You finished second this past year after a bunch of times when you didn't make it through.
A: Q-school is probably the most nerve-wracking time of my life. It's weird to say this, but I was never really that nervous on the golf course; it was more at the hotel, having a full night to think about where you are and what the outcome might be. Once I got out on the golf course, I could sort of go through my routine, just warming up and playing my round. But when you get home for the night and you're actually doing well, you're always thinking, "I could be on the PGA Tour." That was probably the hardest thing, just trying not to let my mind wander to the opportunities.
Q: You were diagnosed with reactive arthritis in 2005. That doesn't sound like a good condition for a professional golfer.
A: No, it's got a few different names, actually. It's probably better off known as juvenile arthritis, because it happens to a lot of babies and a lot of young people under 30. It's one of those things that just hits you. When I got hit, we didn't know what it was for like a week and a half. I was in the hospital, in America, and it made me look like a really old guy. You know, I'm a fit dude and I pride myself on being pretty fit. It was really tough mentally and physically. I wasn't able to walk for about six weeks, then I was on crutches for another six weeks. It's one of those things that I wouldn't want anyone to have, definitely knocked me back most of a year. But it's all good now, no excuses. It's in remission and my specialist and I think as long as I keep my medication up, there's no chance it's going to come back as bad as it did, so it's always positive to hear that.
Q: Will it come back at all?
A: I've got it for life. I've had a couple of events where -- it usually hits me in my hip. If I feel it coming on, I'll usually increase my medication and within a week it's sort of back to normal. But it's to the point where I can't do any long-term damage, so if I can play through the pain, it's fine.
It's never been that bad where I wasn't able to play through it. A little bit was there in Hawaii, that was my first event of the year, but I think it's because I had about a three-week break coming off Q-school and went straight back into hard work on the golf course again. If I keep my eye on it, it's never going to get to the point where I'm going to be out a couple of weeks or months or anything, so that's the positive side of it.
Though he missed the cut, Lance Ten Broeck defeated Jesper Parnevik by 3 strokes in Texas.
In itself, that hardly sounds like a brilliant stat -- until you realize that Ten Broeck also serves as Parnevik's caddie.
While the story has already made the rounds, here's the quick version: A former PGA Tour member, Ten Broeck regularly commits to events in hopes that a late WD will lead to an open spot in the field with no other potential alternates still on site.
That's what happened at the Texas Open, as David Berganio bowed out late on Thursday and Ten Broeck went from toting his boss' bag in the morning to competing in the afternoon, firing a more-than-respectable-under-the-circumstances 1-over 71. The next day, he went out in the morning and fared 1 stroke better ... then was back looping for Parnevik in the afternoon.
"It's something I always wanted to do," said Ten Broeck, who missed the cut by 2 shots. "I was happy I was able to do it this week. I wasn't going to pass that up."
PGA Tour media officials said they were "99.9 percent sure" that Ten Broeck was the first player-caddie to pull off this rarest of double-doubles.
David Toms considers Colonial CC his favorite PGA Tour venue and has come close to winning there on a few separate occasions. So it's only reasonable that Toms is my pick to win this week ... at the Byron Nelson Championship.
Call it reverse psychology. After all, it's not that my season-long predictions have been poor picks; it's just that I've been off by a week or two each time. So instead of saving Toms for Colonial, where I'd like to choose him, I figured I'd outsmart myself and jump the gun by taking him at the Nelson. Makes sense ... uh, right?
Besides, it's not as if Toms doesn't own a strong record at TPC Four Seasons, too. Though he hasn't competed there since 2004, he owns four top-20 finishes in five appearances this decade. And after a down year in 2008, he already has five top-10s in 11 starts this season. So yeah, even though I like Toms at Colonial, I'm pretty confident he can make some noise at the Nelson one week earlier.
Slick maneuver? Or a classic case of overthinking? We'll find out soon enough.
"Golf. My God, that's a mysterious occupation. I know people who are -- good friends -- who are absolutely smitten, practicing their swing and talking about it. I can understand some sort of sport where your body got a benefit, like marathon running or bicycle racing. That's not golf. And not only that, but the whole business of standing in the sun -- my God. That's like torture."
-- actor Christopher Walken, in the current issue of Esquire.
Ironic postscript: Walken lists his residence as Wilton, Conn. -- which just happens to be home base for Golf Digest and GolfWorld magazines.