Tiger needs to have some fun
Updated:
August 13, 2004, 9:51 PM ET
By
Ron Sirak
| Golf World
There are two ways to look at the remarkable rally by Tiger Woods in the second round of the PGA Championship to make the cut by a single stroke. Yes it was, in many ways, classic Tiger. But that he had to finish with three birdies in the final six holes merely to make the cut is further indication that there is something seriously wrong in Tigerland.
He is, after all, nine strokes off the lead. More and more, Woods' constant refrain of "I'm close" rings with very little believability.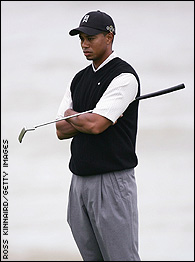 Maybe Tiger needs to release his inner Arnie and play by feel, like he used to.
The truth is Woods is not close to being what he once was. Something is terribly wrong.
Woods needs to do two things: First, admit all is not well and that he is concerned. Second, send out a search party to find the kid who loves the game and once walked the fairways with cocky character. That was the guy who showed up for the final six holes Friday.
Is there really any doubt that the best player in the world right now is not Tiger Woods? In fact, based on current form, Woods is at best third behind Ernie Els and Phil Mickelson and perhaps fourth behind Vijay Singh. This is not to say that Woods is not the most talented player on the planet. He is. It is merely to say that he is not playing that way at this time.
Once upon a time, Woods possessed an ability to seemingly will things to happen. The big shot was always there when he needed it. The important putt always dropped. Now he is merely another talented player dueling with the demons that haunt all who try to master a sport incapable of being tamed. Woods was like a salmon swimming upstream in Friday's second round. Somehow, despite the missed fairways, he made it to the weekend.
Theories about where the real Tiger went are as numerous as his wayward drives over the past two years. Take your pick:
He needs to go back to Butch Harmon.
His knee operation caused swing flaws he has yet to correct.
He has bulked up too much and his shoulders are now too big to keep up with his lightning-fast hip turn, causing him to lose the ball right.
He has mixed the swing philosophies of two different coaches whose styles are not compatible.
He has found true love and lost his focus on the golf course.
He's too rich and doesn't care.

I was busy sorting through all those possibilities for an answer after Woods shot 69 on Friday to finish 36 holes at even-par 144, one stroke under the cut line, when I went back to an e-mail I had received earlier in the day from Rick Plonka, the person with whom I have played more holes of golf than anyone else -- all between the ages of 10 and 18 many years ago. Rick, a feel player with a keen eye for the golf swing, had an analysis with a real ring of truth to it.

"The more I watch Tiger, he appears to be striving for that perfect mechanical golf swing where Steve [Williams, his caddie,] will just set the knob for 172 fade and Tiger will then stand over it and pull the trigger," Rick wrote. "He has become very mechanical and really can out-think himself. He is one of the most talented feel players ever, a gifted artist. Michelangelo did not paint by numbers, and Tiger shouldn't either. He can get up and down from the ball washer, but is so careful not to short-side himself. His personality is more like [Arnold] Palmer but in the majors he is all Jack Nicklaus. Today [Friday] he needs to be Arnie (or even better -- Lanny Wadkins) and let the chips fall where they may."

What a novel notion. Tiger Woods is really Palmer but is trying to be Nicklaus. And what an interesting irony that in a year when Mickelson finally figured out he had to be more like Nicklaus -- better course management -- it may be that Woods has to allow himself to be more like Palmer and forget the mechanical thoughts and just follow his amazing feel.

When Tiger was Tiger he was, after all, so compelling because of his attitude as because of his ability. Remember that putt at Valhalla in the 2000 PGA Championship when he started running after the ball, pointing a finger at it, when it was barely halfway to the hole? Maybe Tiger needs to forget all the teachers and just let his inner self find his true swing. Certainly, it seemed on Friday that when his back was to the wall coming down the stretch and he was faced with missing the cut -- something he hasn't done in seven years -- Woods relied more on instinct than theory and found his form. Maybe that's what he needs to do more often.

Of all the theories about Woods, the ones I totally reject involve a lack of motivation or focus. I have no doubt he still burns with the desire to be regarded as the best ever to play the game. Whether you consider the greatest ever to be Bobby Jones or Ben Hogan or Nicklaus, the truth is Woods has yet to play his way into their league. There is more work to be done. The first bit of work is for Woods to quit saying he is close to being his old self and to admit that he is disappointed and pained by his current level of play. It was always the tragic flaw of Greg Norman that he was never able to admit how much all those near misses hurt. The first step to recovery is to admit your pain.

Somewhere, lost in a cluttered head packed with swing planes, arm angles and spine positions, is the raw, natural talent that is the genius of Tiger Woods. Maybe what Woods needs is to forget all that stuff about how to swing the club, collect three of his pre-PGA Tour friends and just go play some giggle golf somewhere. Maybe he needs to remember that the real reason he became so good, the reason he put in all those hours practicing, was because he loves the game. This is not the real Tiger Woods at Whistling Straits. That guy is lost. And the harder Woods looks for him the more elusive he becomes.

Somewhere along the line fear replaced fun for Woods. Here's a tip Tiger: Let your inner Arnie out. Forget the paint by numbers and just play with your heart -- just like you did on the last six holes on Friday. Remember, you can get up and down from the ball washer.

And remember how much fun that is.

Ron Sirak is the Executive Editor of Golf World magazine

Subscribe to:
SPONSORED HEADLINES
MORE GOLF HEADLINES
MOST SENT STORIES ON ESPN.COM
EDITORS' PICKS
Whaley's election puts her in line to influence much in golf.
Fields »

Tiger Woods opened his first golf course design Tuesday.
Harig »

The Bryan Brothers turned their artistry with golf clubs into a charitable cause.
Story »