Mickelson earns respect, adoration of fans
Originally Published:
June 19, 2005
By
Wayne Drehs
| ESPN.com
SPRINGFIELD, N.J. -- As the 25-foot eagle putt fell and the dimple-cheeked hero climbed to 6 under, the gallery behind the 18th green at Baltusrol's Lower Course erupted.
The race was on.
Like ants scurrying along the ground in search of a left-behind Twizzler, the golf nuts scampered between the TV towers, grandstands, practice greens and golf carts, trying to get from the 18th green to the first tee as quickly as they could. Waiting for them was Phil Mickelson's next shot, some 75 yards away. Pushing, shoving, tripping -- it was all fair game.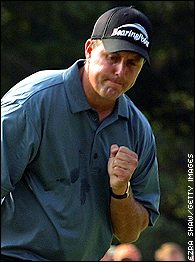 With every birdie Mickelson made -- and there were six of 'em, plus an eagle on Friday -- the cheers grew even louder.
Even Mickelson himself struggled, running into a power-hungry guard who refused entry to a closed-off walkway. When Mickelson improvised, climbing a short fence to reach the path and make it to the first tee, the fans again roared, defending their hero.
"Now, c'mon! Do you know who that is?" an onlooker yelled. "You're going to make him climb a fence? Move the damn rope. Let him through."
The guard just shrugged, said he was doing his job. But the message was clear: Be it good or bad, positive or negative, folks in the tri-state area have Phil Mickelson's back. It's a love affair that started at Bethpage Black in Long Island three years ago and has continued here in sweltering, tree-covered northern New Jersey, some 60 miles away.
"I love the feel that the people here provide," Mickelson said. "I love coming out and playing in front of everybody here. It's just an incredible feeling."
Part of it had to do with his game, as Mickelson drained three putts from beyond 20 feet, shooting a 5-under 65 to put him at 8 under for the tournament. But first place or last place, something says Mickelson Mania would still be there.
Friday was just the latest chapter. No, it wasn't quite Bethpage, when the grandstands rocked and rolled like a Yankees-Red Sox Sunday night game, but on every tee box, in every fairway and on every green, Mickelson couldn't move without someone yelling his name.
They didn't yell, "Mickelson!" They didn't dare try to start the nickname, "Mick!" They just called out, "Phil!" like an old drinking buddy who grew up around the corner. Pick your favorite motivational phrase, tack on the simple one-syllable name and that's the never-ending chirp when Mickelson's playing in a New York-area major.
"C'mon, Phil!"
"Yeah, Phil!"
"Keep it going, Phil!"
"You're the man, Phil!"
"You're the best, Phil!"
"Let's go, Phil!"
But why? Why the infatuation with a sweet-swinging lefty from California? Why the attention for somebody who doesn't look like them, doesn't sound like them and certainly doesn't drip with New York personality?
Tiger Woods makes sense. He's the greatest player in the game today, maybe the greatest ever. John Daly, too, because his up-and-down professional and private life is something most fans can relate to.
But Mickelson? He carries the excitement of a librarian reading The Starr Report. On Friday, his black slacks and solid blue shirt may as well have been camouflage next to playing partner Sergio Garcia's Santa Claus-red pants.
But none of that seems to matter. Perhaps because Mickelson seems to listen to them, feed off them and even respond to them. There he was Friday, on the fifth hole, walking down the middle of the fairway, when a fan yelled out: "How about a little smile, Phil?" So Mickelson looked down and grinned.
The fan, a grown man in his late-30s, turned to his friends and giggled, like a teenage girl who had just crossed paths with her crush from geometry class.
"I love that guy," the man said, apologizing to his buds with a shrug. "What else can I say? The guy is great."
Later, on the sixth hole, another fan discovered a quiet second to belt out his deafening encouragement. "Atta boy, Phil! Right on top the leaderboard where you belong!"
The roar had to have been heard two or three holes away. Mickelson chuckled, shook his head and kept walking. The guy then turned to his friends. "See, you guys laughed, but that's why you wear the orange shirt. He remembers me."
On seven, a fan asks for a wave. He gets a smile.
As Mickelson continues on, a funny thing happens to almost every fan standing outside the ropes. As they clap their hands, as they yell his name, they smile. From hole No. 1 to 18, the mere sight of Mickelson starts a wave-like reaction of kid-in-a-candy-store grins.
Mickelson's reaction to all the attention? A sheepish, almost embarrassed, I-can't-believe-they-keep-yelling-my-name grin of his own that he just can't seem to wipe off his face.
"It just feels great," he said. "It's great to be able to play in front of people that treat the players so well. It's just a great feeling."
Wayne Drehs is a staff writer for ESPN.com. He can be reached at Wayne.Drehs@espn3.com
Senior writer for ESPN.com
Written for ESPN.com since 2000
Three-time Sports Emmy Award winner
SPONSORED HEADLINES
MORE GOLF HEADLINES
MOST SENT STORIES ON ESPN.COM
EDITORS' PICKS
Our experts tackle a wild weekend at Tiger's tournament.
Four-Ball »

Just add a playoff loss to a tumultuous 2013 for Tiger.
Harig »

Lydia Ko, 16, walked away with $150,000 for winning the Swinging Skirts.
Recap »