Donald should feel pressure in final round
Updated:
August 19, 2006, 10:12 PM ET
By
Bob Harig
| Special to ESPN.com
MEDINAH, Ill. -- Sometimes the best way to deal with pressure is to deflect it. Say you've got nothing to lose. Say that the other guy has plenty at stake, too. Say that maybe you'll just sneak by and claim the trophy.
The problem with that plan is that winning a major championship is a huge goal for Luke Donald, too.
The Englishman who now lives in Chicago put himself in position to win the PGA Championship by shooting 66 on Saturday at Medinah Country Club. That got him a Sunday pairing with Tiger Woods and history.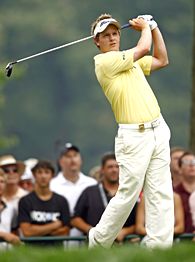 Mike Ehrmann/WireImage.comDonald shot a 6-under 66 during Saturday's third round.
Woods, of course, has never lost a major when leading heading into the final round. He shares the top spot with Donald, who is attempting to break Europe's seven-year drought in the majors.
Donald decided to take the approach that all of the expectations are on Woods.
"He doesn't want to ruin that record and he's going to be expecting to go out there and he'll have people expecting him to win," Donald said. "Maybe I can use that to my advantage and just kind of sneak by without anybody noticing and pick up the trophy."
No doubt, it would be a huge upset if Woods were not to follow through Sunday and win his 12th major. He is also 36-for-39 with 54-hole leads on the PGA Tour and 43 of 48 in tournaments worldwide. That is some impressive stuff.
But for several years, Donald, 28, has been among the great hopes of Europe, an Englishman hailed as the next great player. His resume is more modest than that hype, as he has just two PGA Tour victories, two on the European Tour, and a lone top-10 in a major.
"I think I've improved physically and on the mental side," he said. "My game seems to improve every year. I feel like I'm a more consistent player every year. I'm hitting a lot better shots."
Donald has made just two bogeys in the tournament, both coming Thursday. He's made 10 birdies the last two days. But can he handle the hoopla that comes with playing alongside Woods? Can he handle the stress of leading a major, no matter the opponent?
"I've got to stay positive no matter what happens," he said. "If I hit some loose shots, I've got to dismiss them right away. Just keep finding the next target. Obviously, [Sunday] is going to be a little bit different. A little bigger crowds and a little bit more noise.
"I'm sure I'll have some nerves. This is what we practice for."
These opportunities come along only so often, so there is definitely pressure on Donald, too.
Woods put it best earlier in the week when he was talking about Sergio Garcia, who has yet to win a major. But the same theory applies.
"You put yourself there enough times, you're going to get it done," Woods said. "There's probably no better example of that than Phil [Mickelson] right now. Once you learn how to win ... he's obviously won three of them now in a very short period. It's just a matter of getting over that first one. Sometimes the first one can be the most difficult."
Donald gets to see for himself, with the world's best closer playing beside him.
Bob Harig covers golf for the St. Petersburg Times and is a frequent contributor to ESPN.com. He can be reached at harig@sptimes.com.
88th PGA Championship
When:
Thursday-Sunday, Aug. 17-20
Where:
Medinah CC, No. 3; Medinah, Ill.
Yardage/Par:
7,561 yards; par 72
2006 champion:
Tiger Woods
Purse:
$6.5 million
Final-round coverage
• Woods wins third PGA title
• PGA Championship leaderboard
• Wojciechowski: Woods is greatest individual athlete ever
• Maisel: In easy victory, Woods is still riveting
• Sirak: The best is yet to come
• Sobel: If Tiger played tennis
• Harig: Woods will pass Nicklaus
• Rudy: Winners and losers
• Sobel: Will Pavin make RC roster?
• Stahlschmidt: Tempo, balance lead to consistency

Third-round coverage
• Woods makes his move
• Sobel: What the contenders need to do
• Maisel: Trophy isn't Tiger's ... yet
• Wojciechowski: Medinah too easy? Try Misery Links
• Harig: Pressure on Donald
• Wacker: Round 3 winners and losers
• ESPN.com photo gallery
• GolfDigest.com photo gallery
• Sindelar makes double eagle

Second-round coverage
• Andrade, Stenson, Herron, Donald lead PGA
• Wojciechowski: Love returns in a big way
• Maisel: Ogilvy holds his own
• Rosaforte: Andrade has "Why not me?" attitude
• Sobel: Taste of Medinah
• Harig: Donald, Stenson take different routes
• Wacker: Woods looks like same old self
• ESPN.com photo gallery
• GolfDigest.com photo gallery

First-round coverage
• Glover, Riley share Round 1 lead
• Wojciechowski: Tiger-Phil pairing lacks drama
• Maisel: Teary-eyed Mayfair returns with 69
• Sobel: Ogilvy relishes man in the middle role
• Harig: Medinah plays long, not difficult
• Rosaforte: Don't overreact to low numbers
• Rudy: Round 1 winners and losers
• ESPN.com photo gallery
• GolfDigest.com photo gallery

Preview coverage
• Sobel: Tiger, Phil need their Duel in the Sun
• Experts' predictions: Tiger or the field?
• Sobel: Ranking the PGA contenders, from 1-20
• Wacker: Mayfair makes his return
• Sirak: Why this will be a compelling PGA
• Wacker: Glory's last shot for Cup wannabes
• Harig: Tiger, Sergio take divergent paths
• Rosaforte: Why the PGA is the best major
• Verdi: Aussie Invasion
• Hawkins: Ogilvy making beautiful music
• Rosaforte/Antonini: A fair dinkum past
• Strege: The next Big Thing
• Callahan: Micheel's ordeal
• Alternate Shot: Should Lehman play?
• Whitten: The major course that almost wasn't
• Whitten: Medinah's 17th, Act IV

Facts
• Tee times
• 2006 PGA Championship field
• PGA Championship past champions
• Medinah No. 3 course map
• On The Tee tournament page