Commentary
Caddies can be the difference between winning and losing
Updated:
August 6, 2007, 6:39 PM ET
By
Bob Harig
| Special to ESPN.com
TULSA, Okla. -- The weight they carry with their player can be just as important as the clubs they lug around golf courses all over the world. Being a caddie in the high-tech, big-money realm of professional golf can mean many things, not the least of which can be acting as a policeman.
The year's fourth and final major championship is set to unfold this week at Southern Hills Country Club in Tulsa, and as sure as there will be heat and humidity in Oklahoma this time of year, there will be some tension between the ropes among players and caddies. And it is only heightened at a major championship. Come Sunday, the Wanamaker Trophy might be claimed based on the input given -- or not -- by a caddie.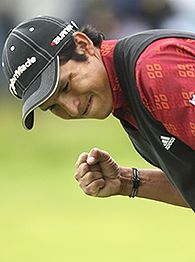 AP Photo/Peter MorrisonWith some better decisions down the stretch at Carnoustie, Romero might be the owner of a Claret Jug.
"Caddies are priceless," said Lin Strickler, a veteran of more than 30 years on the PGA and Champions tours. "You cannot do it with your friend, your father, your relative. The time to step up is right then and there. [Jean] Van de Velde's caddie at Carnoustie [in 1999] is now laying bricks. You're a hero for 71 holes and then look … there are just very few times that you have a chance to really make something happen."
There were more than a few caddies watching last month's British Open, wondering whether maybe their input might have made a difference and led to a second consecutive Argentine major champion. With a 2-shot lead and only two holes to play,
Andres Romero
tried to pull off a difficult shot that went terribly wrong. He pulled a 2-iron from his bag on Carnoustie's 17th hole and tried to hit a shot out of deep rough in which the ball could not even be seen. His ball snap-hooked out of the rough, failed to clear the Barry Burn less than 90 yards away, hit one of the bricks that holds up the wall, took a horrible turn to the right and went out of bounds, some 60 yards away. When Romero bogeyed the next hole, he ended up missing a playoff by 1 shot. Which makes you wonder: Could an experienced caddie have made a difference in that situation? Romero's caddie was his brother, Jose. There appeared to be no debate. Afterward, Romero said he never considered laying up or playing safe by hitting a more lofted club out of the tall grass. Maybe somebody with a bit more moxie would have made a compelling argument. "I think that was a very poor decision," said Damon Green, a veteran caddie who works for Masters champion
Zach Johnson
and was watching the end of the British Open on television with several European Tour caddies. "I would have to really stress to Zach in that situation, 'Hey, bogey is good right here. If we hit a perfect shot, we're still not going to get it on the green. Let's lay it up and try to wedge it close and have a chance at the par.' "I'm more conservative when it comes to having a lead. The finishing holes there were so hard. If you played 1-over, you're probably picking up shots on the field. I would have had to open my mouth there. I might have gotten fired, but we weren't going to hit something like that." What made it all the more agonizing for Romero -- who had just 88 yards to carry the burn and 234 yards to the pin -- was that after he took a drop in a better lie, he managed to hit a 3-wood onto the green and two-putted for his double-bogey 6. Later, he said he wished he had hit the 3-wood all along -- although most observers felt a smarter play was a lofted iron over the creek. "When I was watching that, I thought the announcers had the club wrong," said Lance Ten Broeck, who caddies for
Jesper Parnevik
. "I thought there was no way he was hitting a 2-iron out of that crap." The incident brought back a memory for Ten Broeck, who caddied for Parnevik in the 1999 Open at Carnoustie. They were in the second-to-last group on Saturday, and Ten Broeck said they were close to the same spot as Romero on the 17th hole. Parnevik pulled out a 5-wood, which is when Ten Broeck let loose with a couple of profanities. He had forgotten he was within range of a BBC microphone. "It appears that Jesper and his caddie are in a bit of a tizzy," broadcaster Peter Alliss quipped. Parnevik did chip out eventually and made a bogey. "When it comes to a major, the caddie needs to be experienced in that situation, as well as the player," Ten Broeck said. "Most top players who have good caddies who have been with them for a while, the caddie will assert themselves if they think it's the wrong thing to do. "The player knows what the lie is and if he thinks he can do it. Sometimes it's just plain stupid. You have to take your medicine. That's how you make big numbers. But these guys are so good that sometimes it's hard for them to admit that they can't pull off a shot." Ten Broeck, a former tour player who started caddying for Parnevik in '99, cited the example of 2001 PGA champion
David Toms
. Faced with a tough decision on the 72nd hole -- whether to go for the green with a wood or lay up in front of a water hazard -- caddie Scott Gneiser talked Toms into laying up and trying to make par by holing a putt instead of taking the risk. Toms did just that. He layed up, wedged onto the green, then holed the 10-footer to beat
Phil Mickelson
by a stroke. Could similar advice have helped Romero? "Most of it is the relationship between the player and the caddie," said veteran caddie
Brian Smith
, who works for
Justin Leonard
. "That gives you the ability to step in and say something. "I think if it was Joe [LaCava] and Fred [Couples] coming down the stretch, or Jim [Mackay] and Phil [Mickelson] … they've been together a long time, so obviously they respect what each other says. … But in the end, it's always going to be the player's decision. They know how they feel and what they want to do. The player is either going to have your respect and take it into consideration or is just going to do his thing. But I wouldn't just be throwing my opinion around." Strickler, who spent much of his career working for
Ben Crenshaw
and is now caddying for
Robert Gamez
, said he knows what he would have done had he been with Romero at Carnoustie. Or this week at Southern Hills. "I'd have that bag planted about a yard from the ball and wouldn't move it," he said. "I wouldn't say anything. My disapproval is without words. It's just leaving the bag right there."
Bob Harig is a frequent contributor to ESPN.com. He can be reached at BobHarig@gmail.com.
89TH PGA CHAMPIONSHIP
When:
Thursday-Sunday, August 9-12
Where:
Southern Hills CC, Tulsa, Okla.
Yardage/Par:
7,131 yards; par 70
2007 champion:
Tiger Woods
Final scores
• PGA Championship leaderboard
Round 4 coverage
• Recap: Woods challenged, but wins by two
• Harig: Woods does what it takes to win
• Photo gallery: Tiger Woods, round by round
• Notebook: Austin makes Presidents Cup team
• Sobel: Round 4 blog
Round 3 coverage
• Recap: Tiger leads by three
• Harig: Woods' round was perfectly boring
• Notebook: Woods, Ames set for rematch
• McDaniel: Woods corrects swing flaw
• Sobel: Round 3 blog
• Round 3 photo gallery
• Harig: Garcia has himself to blame for DQ
Round 2 coverage
• Recap: Tiger leads Verplank by two
• Harig: Woods finishes on the record
• Notebook: Wild Daly shoots 73
• Harig: Austin gets into contention
• Round 2 photo gallery
• Sobel: Round 2 blog
Round 1 coverage
• Recap: Storm takes early lead
• Harig: Daly a surprise among leaders
• Harig: Competitors get the heat treatment
• Sobel: Day 1 blog
• Harig notebook: Storm's 65 takes the cake
Preview coverage
• Sobel: PGA ranking, 1-20
• PGA Championship experts' predictions
• SportsNation: Your pick?
• Harig: Garcia still searching for first major
• Hawkins: My top 10 majors since '97
• Strege: Kim has come a long way
• Shackelford: Too close for comfort
• Seven things about Southern Hills
• Harig: Woods focused on final major
• Harig: PGA changes on the horizon?
• Fact or Fiction: Tiger's last shot
• Harig: Cink searches for redemption
• Alternate Shot: Previewing the PGA
• Wojciechowski: Beware of the Tiger
• Harig: Caddies can make all the difference
News
• Tee times
• Weather forecast: Hot, hot, hot
• Woods hints of design plans
• Langer withdraws with illness
• Woods draws Beem, Tway
• PGA past champions
ESPN.com video
• Round 4 highlights


• Tiger Woods post-victory news conference


• Round 1 interviews


• Round 1 analysis


• Tiger Woods press conference


• Sobel: Tiger will contend


• Sobel: Cink fits the mold

MOST SENT STORIES ON ESPN.COM