Commentary
Oakland Hills was rough, and it's only going to get tougher
Originally Published:
August 7, 2008
By
Bob Harig
| ESPN.com
BLOOMFIELD TOWNSHIP, Mich. -- Rain fell, but not horizontally. The wind blew, but it was a pleasant breeze, hardly a gale. Short sleeves and sunscreen were the norm, not raincoats and earmuffs.
It is a long way from Royal Birkdale to Oakland Hills, in terms of distance and discomfort.
Three weeks ago at the British Open, you could barely stand, let alone hit a golf shot, especially in the first round of the tournament. On Thursday at the PGA Championship, until rain and the threat of lightning suspended play late in the afternoon, you could not have asked for nicer playing conditions.
Yet it was hardly easy at the 90th PGA Championship.
Many players had predicted the toughest conditions of the year at the season's final major, and although the scores did not seem to indicate that was true, nobody was saying it was a pleasant stroll, either.
"I was surprised at the transition, how different it was from yesterday to today," said Phil Mickelson after shooting even-par 70, rebounding from bogeys on his first two holes. "I thought it would be a little firmer, a little faster, but it got a lot firmer and a lot faster ... That's going to make it play pretty difficult on the weekend unless we get some rain."
Any number of players made similar comments, despite some reasonable scores. Four players in the morning wave, led by Sweden's Robert Karlsson and India's Jeev Milkha Singh, broke par-70 on the 7,395-yard course that is one of the most legendary layouts in the country. There were seven players under par when play was suspended because of darkness.
That is what you would normally expect at the PGA Championship, known among the four majors for moderate course difficulty. No PGA champion has finished over par since Dave Stockton in 1976, the longest such stretch of any of the majors -- the others of which all have had over-par winners in the past two years.
[+] Enlarge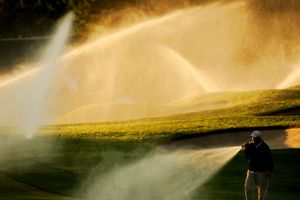 Stuart Franklin/Getty ImagesLater in the day, the PGA of America hosed down several greens while play was still going on. Above, a greenskeeper waters the Oakland Hills course at the end of the day.
Still, there was some doom and gloom heading into the championship, and not much of it subsided Thursday, when players apparently were greeted by a different golf course from the one they saw in practice.
"This stuff happens in major championships," said
Billy Mayfair
, who opened the tournament with a 69. "Augusta National is famous for that, drying the golf course out on Wednesday afternoon. I don't think the PGA tried to do this. I think they tried to make it a little harder than it was in the practice rounds and it might have gotten a little away from them."
Perhaps that explains the up and down nature of the leaderboard. Karlsson, who has finished among the top eight in each of the three previous majors this year, opened the tournament with a double-bogey, then birdied three straight holes, managed to get to 4 under par, then finished with a 68.
Retief Goosen also got to 4 under, through seven holes, but dropped two shots to par by the turn. British Open champion Padraig Harrington jumped out to a quick start, making birdie on two of his first three holes, but was even through 14 and finished with a 71.
"I find it pretty easy to let this golf course intimidate you," said Sean O'Hair, who first played it last year in a qualifier for the British Open. "This is one of those courses where you look at it and it's visually intimidating. The fairways are slopy and tight, the greens are firm, but it's still golf. If you hit it in the right spots, you should be fine.
"It's just one of those old-school, challenging golf courses where once you're on the green, it doesn't mean that it's over. You still have kind of a roller coaster on the greens."
And that says nothing about the rough, which had Lee Westwood scratching his head. One of the pre-tournament favorites, the Englishman shot 77 without making a birdie.
"I didn't do a lot wrong," he said. "The fairways are narrow and, unfortunately, if you miss by a foot, you are worse off than if you miss by 20 yards -- which you need to take different people's opinions as to whether that is fair.
"It is a difficult course anyway with the green and the pin positions to protect it, I am not sure you need rough as long as it is, and you certainly don't need to sweep it back towards the tee the night before the tournament when we have played it as it is in the practice rounds."
Westwood said he could not recall a time when course workers had raked the rough back toward the tee -- in essence, making it more difficult to play shots toward the green.
"I can't think of a reason they would do it other than to irritate the players as that is all it does," he said. "Especially when you play practice rounds as it is. It is 5 inches long, why brush it back to us? It makes no sense to me. People want to see birdies, and they have not seen me make any.
"I sound as if I am moaning, which I am, but it is a great shame as it is a fantastic golf course, they are great greens and they are playable, but there is no need to play it as it is."
Sour grapes? Perhaps. But he wasn't alone.
"Fortunately, we played nine holes yesterday afternoon, late afternoon, and the greens were getting quite crispy," said Sergio Garcia, who shot 69. "I didn't expect to see the greens as firm this morning, and I can only imagine how they are going to get this afternoon."
Tough enough that some of them needed water. Three of the greens had become so dry that PGA of America officials felt the need to hand-water them. They did it at the first, ninth and 18th greens.
That wasn't an issue later as the weather delay led to some on-and-off rain before play was resumed in the early evening.
But that also doesn't mean it was any easier.
Bob Harig covers golf for ESPN.com. He can be reached at BobHarig@gmail.com.
90th PGA CHAMPIONSHIP
Where:
Oakland Hills CC; Bloomfield Township, Michigan
Yardage; Par:
7,395 yards; par 70
2008 champion:
Padraig Harrington
Fourth round
•
Harig: Harrington won without his best stuff
•
Sobel: Don't shed a tear for Sergio
•
Harrington putts way to PGA Championship win
•
Final leaderboard
|
Final-round photos
•
Jason Sobel's PGA Championship blog
•
Thatcher: Harrington now world's second best
•
Watch:
Sobel, Harig dissect Paddy's triumph
•
Watch:
Harrington details his third major win
•
Watch:
Garcia says 'No Carnoustie here'
•
Watch:
Harrington on the clinching putt
Third round
•
Harig/Sobel: Field could go low Sunday

•
Curtis owns 54-hole lead
|
Saturday photos
•
Harig: Rain changes complexion of PGA
•
Harig: Romero was down, but don't count him out
•
Thatcher: Weather delays help some, hurt others
•
Sobel's third round PGA Championship blog
•
Romero surprises with 65 before play suspended
•
Watch:
Get ready for some Sunday fireworks
•
Watch:
Rinaldi on the weather woes at 90th PGA
Second round
•
Holmes only player under par
|
Photos
•
Harig: Hang on for wild ride at 90th PGA
•
Harig: A game within a game for Rose, Holmes
•
3 Up, 3 Down: Curtis, Goydos make the list
•
Thatcher: 'The number' looms on Friday
•
Monty matches his worst round in a major
•
Jason Sobel's Round 2 PGA blog
•
On The Tee: Sobel, Harig weekend picks

•
Chat wrap: ESPN.com's Harig from the PGA

•
Watch:
Sobel, Harig break down Round 2
•
Watch:
Baddeley on his pair of 71s
First round
•
Harig: Oakland Hills was rough, will get tougher
•
Harig: Karlsson becoming a major player
•
Karlsson, Singh share first-round lead
•
PGA Championship leaderboard
|
Round 1 photos
•
3 Up, 3 Down: Singhs make the list
•
Thatcher: Luck of the draw can decide fate
•
Jason Sobel's PGA Championship blog
•
On The Tee: Can Round 1 leaders hang on?

•
ESPN.com's Bob Harig: Thursday chat wrap

•
Watch:
Sobel, Harig on treacherous conditions
•
Watch:
Harrington on his putting struggles
•
Watch:
Els discusses 'beast' of a course
News
•
Eye injury forces Perry out of PGA Championship
•
Mickelson paired with Love, Beem at PGA
•
First, second round PGA Championship tee times
•
Lefty readies for PGA at revamped Oakland Hills
•
Norman turns down PGA Championship invitation