Commentary
Rose, Holmes know more is at stake than just a major
Originally Published:
August 8, 2008
By
Bob Harig
| ESPN.com
BLOOMFIELD TOWNSHIP, Mich. -- Typically not the boastful or boisterous type, Justin Rose stepped out of character, if just for a moment, after shooting one of the two lowest rounds so far at the PGA Championship.
[+] Enlarge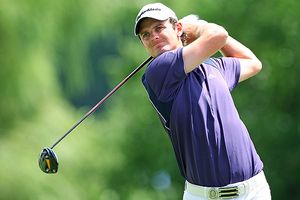 Stuart Franklin/Getty ImagesA strong final 36 holes would likely clinch a first Ryder Cup team berth for England's Justin Rose.
The Englishman is not only in pursuit of his first major title, but also his first spot on a European Ryder Cup team. As the qualifying process comes down to the final weeks, he is hanging onto the final position. Breathing down his neck is friend and countryman
Ian Poulter
, who made a big jump in the standings three weeks ago when he finished second at the British Open. So it was Friday that Rose put together an impressive round one that included just 25 putts, with just 11 on the back nine. Playing in the group behind him with nearly a front-row seat to the action was Poulter, able to witness all that was going on before him. "It must have been tricky for him today playing behind me and keep seeing my backside in the air, picking the ball out of the hole," Rose said, smiling. Indeed, while Rose was shooting 3-under-par 67 -- matching
Ben Curtis
' day's work Friday for low round of the week at Oakland Hills Country Club -- Poulter managed 71 and trails his countryman by five shots.
Winning the year's final major is the first priority for the Europeans and Americans who are in the mix for their respective Ryder Cup squads, as the PGA Championship offers a tournament within the tournament.
The PGA is the last qualifying event in the United States system that will have eight players make the team, with four captain's selections for
Paul Azinger
to be announced Sept. 2. The European team will not be finalized until after the Johnnie Walker Championship at Gleneagles on Aug. 31, when captain
Nick Faldo
will name his two at-large selections. Nonetheless, more prize money and world rankings are offered at the PGA, making it a crucial tournament outside of the obvious ramifications. "I knew this week was key to the Ryder Cup," said Rose, 28, who won Europe's money title last year. "And it still is key. There's two days to go here, but the key for me to play good golf is not get ahead of myself and think about the Ryder Cup and all these things. It's important, but today I was really in the moment and that's clearly my goal for the weekend. A good performance here really helps out with the Ryder Cup." Rose's 67 helped him bounce back from an opening 73 and put him at 140, even par, and just a shot behind American
J.B. Holmes
, who has his own Ryder Cup aspirations. Holmes is the 36-hole leader at 139, 1 under par, after a 68 that inlcuded three straight birdies on the back nine. "That would be huge for me," said Holmes of the Ryder Cup, which will be played next month in his home state of Kentucky. "They have been supporting me all year in Kentucky. And they have always done well, especially this year with the Ryder Cup, so I put myself in a pretty good situation and I just got to go out there and play and hopefully it will happen." It didn't happen this week for
Woody Austin
, who entered the tournament in ninth position, one spot out of qualifying automatically. He shot 79-79 to miss the 36-hole cut by a wide margin. He'll now have to rely on a captain's pick if he is to make his first Ryder Cup. The same is true for
Hunter Mahan
, who was in 10th position on the points list and on his way to a missed cut.
D.J. Trahan
,
Rocco Mediate
,
Sean O'Hair
,
Zach Johnson
and
Brandt Snedeker
are all in front of Holmes, who is 16th in the standings and could get an automatic spot on the team with a finish as low as fifth -- depending on what others do in front of him. Curtis is 20th in the Ryder Cup standings, aided greatly by a tie for seventh last month at the British Open, and also has a shot with a top-3 finish. "I'm not even thinking about it, to be honest with you," said Curtis, a three-time PGA Tour winner who captured the 2003 British Open. "It would obviously mean the world to me to play, but I'm not going to live this weekend thinking about it. I've got this tournament to worry about. And I have to finish pretty high to get in." "The goal at the beginning of the year was to make the Ryder Cup team," said Holmes, who won the FBR Open in February. "I've put myself in a situation where I have a chance. It would be a dream come true to be able to play in my home state. I don't think a whole lot of people even have the opportunity to do that. You can play for your country, and to do it in your home state, that would be a dream come true." Azinger has said he wants to field a hot team, but Holmes has been anything but since his victory over
Phil Mickelson
in a playoff. He has two top-10 finishes, but the last came at the Players Championship in May. He missed the cut at both the U.S. Open and the British Open. But there is no denying Holmes' appeal: the long ball. He is one of the biggest hitters in the game. He ranks second on the PGA Tour averaging 311 yards per drive -- three yards less than
Bubba Watson
. That kind of length off the tee can be particularly desirable -- and intimidating -- in the team matches at the Ryder Cup. Holmes, 26, has two wins in his three-year career. He knew he had game as a teenager that dominated his age division. "I went out and watched Tiger [Woods], probably my senior year of high school, and a lot of players said they hit the ball really long," Holmes said. "And they did, but it was like, that's not much farther than me, if at all. That's when I realized they don't hit it any farther than I do." Whether that length can help him win a major championship remains to be seen. The rough at Oakland Hills is treacherous, and if you are playing from the thick stuff, it doesn't matter how far the drive traveled. "If I hit it straight, it's a big advantage," Holmes said. "But when the wind is blowing like this, it's harder to hit fairways. And you can't really attack these greens from the rough. If you get it going in the rough, you can maybe get it on the green, where some [shorter hitters] can't. But you still can't get it close."
Bob Harig covers golf for ESPN.com. He can be reached at BobHarig@gmail.com.
SPONSORED HEADLINES
MORE GOLF HEADLINES
MOST SENT STORIES ON ESPN.COM
90th PGA CHAMPIONSHIP
Where:
Oakland Hills CC; Bloomfield Township, Michigan
Yardage; Par:
7,395 yards; par 70
2008 champion:
Padraig Harrington
Fourth round
•
Harig: Harrington won without his best stuff
•
Sobel: Don't shed a tear for Sergio
•
Harrington putts way to PGA Championship win
•
Final leaderboard
|
Final-round photos
•
Jason Sobel's PGA Championship blog
•
Thatcher: Harrington now world's second best
•
Watch:
Sobel, Harig dissect Paddy's triumph
•
Watch:
Harrington details his third major win
•
Watch:
Garcia says 'No Carnoustie here'
•
Watch:
Harrington on the clinching putt
Third round
•
Harig/Sobel: Field could go low Sunday

•
Curtis owns 54-hole lead
|
Saturday photos
•
Harig: Rain changes complexion of PGA
•
Harig: Romero was down, but don't count him out
•
Thatcher: Weather delays help some, hurt others
•
Sobel's third round PGA Championship blog
•
Romero surprises with 65 before play suspended
•
Watch:
Get ready for some Sunday fireworks
•
Watch:
Rinaldi on the weather woes at 90th PGA
Second round
•
Holmes only player under par
|
Photos
•
Harig: Hang on for wild ride at 90th PGA
•
Harig: A game within a game for Rose, Holmes
•
3 Up, 3 Down: Curtis, Goydos make the list
•
Thatcher: 'The number' looms on Friday
•
Monty matches his worst round in a major
•
Jason Sobel's Round 2 PGA blog
•
On The Tee: Sobel, Harig weekend picks

•
Chat wrap: ESPN.com's Harig from the PGA

•
Watch:
Sobel, Harig break down Round 2
•
Watch:
Baddeley on his pair of 71s
First round
•
Harig: Oakland Hills was rough, will get tougher
•
Harig: Karlsson becoming a major player
•
Karlsson, Singh share first-round lead
•
PGA Championship leaderboard
|
Round 1 photos
•
3 Up, 3 Down: Singhs make the list
•
Thatcher: Luck of the draw can decide fate
•
Jason Sobel's PGA Championship blog
•
On The Tee: Can Round 1 leaders hang on?

•
ESPN.com's Bob Harig: Thursday chat wrap

•
Watch:
Sobel, Harig on treacherous conditions
•
Watch:
Harrington on his putting struggles
•
Watch:
Els discusses 'beast' of a course
News
•
Eye injury forces Perry out of PGA Championship
•
Mickelson paired with Love, Beem at PGA
•
First, second round PGA Championship tee times
•
Lefty readies for PGA at revamped Oakland Hills
•
Norman turns down PGA Championship invitation