Commentary
Perry calls Oakland Hills a 'brutal test' for 90th PGA Championship
Originally Published:
August 5, 2008
By
Jason Sobel
| ESPN.com
BLOOMFIELD TOWNSHIP, Mich. -- Playing in the final pairing on Sunday at The Players Championship three months ago, Kenny Perry shot a 9-over 81 and fell into a share of 15th place. He was disappointed -- not as much for what the round did to his personal status but for how it adversely affected his standing on the Ryder Cup points list.
Critics Motivate Perry

Kenny Perry's first appearance at a major this year comes at the PGA Championship. But the Kentucky native, whose main goal for the year was to make the Ryder Cup team, has used all the criticism to his advantage. Bob Harig
"A lot of guys, after the round, would have probably packed it in and been frustrated," he said soon afterward, "but, shoot, I'm determined." Turns out, he was right. Perry lost in a playoff the next week at the AT&T Classic, but followed with victories at the Memorial Tournament, Buick Open and John Deere Classic to clinch his spot on the U.S. team come September. We put the soon-to-be 48-year-old on the Hot Seat to discuss a Ryder Cup homecoming, his decision to skip a major and this week's PGA Championship at Oakland Hills.
Q:
You just came off the course after a practice round. I'm not sure I've ever seen a player receive a standing ovation for signing autographs before.
A:
Well, you know what? If you don't sign, they call you some bad names, and I don't like being called the a-word. I've heard that a bit out there, so I just sign autographs and try to make everybody happy.
Q:
Your impressions of the course so far?
A:
Tremendous golf course. Brutal test. I've never hit woods into par-3s before, like I'm doing here. The greens, their own complexes themselves, are very difficult. We're hitting such long shots into them. Definitely over-par is going to win this week.
Q:
Having played here at the U.S. Open in 1996 and in 2004 at the Ryder Cup, does that give you a little bit more of an advantage coming into this week?
[+] Enlarge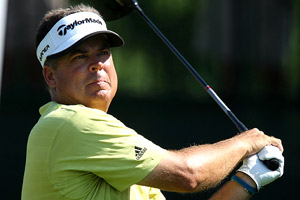 Jonathan Daniel/Getty ImagesWhen he steps on the first tee at Valhalla for the Ryder Cup in September, Kenny Perry "definitely" expects to have some butterflies.
A:
Well, they've changed it. They've added 10 or 11 new tee boxes. They've made the holes a lot longer. The greens are still the same, the rough is still the same, but I'm hitting different clubs into the greens now, so I'm going to have to kind of change my strategy up a little bit.
Q:
Three wins in the past two months. Did you see this coming?
A:
No. No. I had a dream to make the Ryder Cup team, worked hard, and it all fell into place for me.
Q:
What's been the difference for you lately?
A:
Putting. I've been making all the 5- and 6-footers to keep my rounds going the past two months.
Q:
When you're one of the longest and straightest drivers on tour, when you can make putts, everything kind of falls into place, doesn't it?
A:
That's kind of always been the story of my career. Whenever I putt well, I usually do well. I kept it together for three months. I putted very poorly last week at Akron [for the WGC-Bridgestone Invitational], so I'm pretty disappointed how I kind of lost that deal.
Q:
You've talked so much about wanting to compete on the Ryder Cup team in your native Kentucky. Will the butterflies be flapping around when you stand on the first tee at Valhalla?
A:
Oh definitely. Zinger [U.S. captain
Paul Azinger
] came up to me today and said, "You know what? You're probably going to have the most pressure of anybody on you that week." Then he said, "I loved your quote in the paper, saying you've got to be careful what you wish for." You know what? This is what I wanted. I'm expecting it. I'm expecting to feel a lot of heat and a lot of pressure and a lot of nervousness -- something I've never felt before. It will be totally different than the three Presidents Cup teams and one Ryder Cup team I was on. You know, I hope Cinderella gets the slipper. That's kind of my quote. I hope I don't just fall off and not win a point or anything and just do terrible. Hopefully, I can handle it and it will be a magical week for me.
Q:
What did you learn from playing on the team in 2004?
A:
Not a lot. We got killed, 18½-9½. It was a miserable week, not a lot of laughing and smiling going on. I just learned they putted better than we did. They got the momentum on their side and we never could turn 'em around. And that's the secret. Zinger's got a plan to get us to where we maybe can jump out early this year, and that way we can get a little pressure off of us, get a little momentum on our side.
Q:
You know I have to ask about your decisions to not try to qualify for the U.S. Open and not play in the British Open despite being qualified. Let's start with the U.S. Open. Was it a case of not wanting to play 36 holes in one day or a lack of affinity for Torrey Pines?
A:
The timing was bad. I won Memorial and then the next day -- how would you like to win a PGA Tour event and then the next day get up and have to play 36 holes? It was just bad timing, on that part.
On the Hot Seat
Who else has appeared on ESPN.com's Hot Seat to discuss golf? Everyone from Tiger Woods to Annika Sorenstam. Click here to find the entire list.
Hot Seat guests
Q:
How about the British -- when you made the call to skip it and compete in Milwaukee, that was before winning the Buick Open and John Deere Classic, right?
A:
Right, and that was the one I was exempted into. The U.S. Open I was not exempt into; I had to try to qualify. The British Open I was, and I took a lot of flak for that. But it was OK. You know, I set my goals at the beginning of the year and I stuck to my guns. People criticized me for it, but it got me the ultimate goal of making the Ryder Cup team, and that's what I wanted.
Q:
Did you expect as much criticism as you received?
A:
No. I've said, in 22 years, nobody ever cared when or where I played golf. It's kind of funny. I considered it more a compliment than anything else.
Q:
What have some of your fellow players said to you?
A:
They said I was the smartest guy in the world.
Pat Perez
told me today, he was on the first tee and the rain was blowing 40 [mph] and sideways into his face. He shot 82 in the opening round. He actually told the press that I was the smartest guy in the world.
Q:
That's true; he did say that. How about the fans? What's been their reaction?
A:
You know, they haven't said a lot. I haven't heard much from the fans. I've had a few say, "We liked your decision." I committed to Milwaukee, and I stuck to my guns and I didn't bail out on that tournament. A lot of people were proud of me for doing that.
Q:
So, no regrets?
A:
No regrets.
Q:
Quick trivia question for you: Who is the oldest player to win a major championship?
A:
I think it was Julius Boros, right?
Q:
That's right. How old was he?
A:
I think he was 48.
Q:
Right again. And how old are you going to be on Sunday?
A:
48.
Q:
You see what I'm getting at?
A:
He'll still be older, though [laughs].
Q:
Are you thinking about that at all?
A:
No, but I did hear the stat that I was the oldest guy ever to win three in a year, so I've got that in the history books right now, which is pretty cool.
Q:
Kenny Perry, you are off the ESPN.com Hot Seat.
A:
You got it. Thank you.
Jason Sobel covers golf for ESPN.com. He can be reached at Jason.Sobel@espn3.com.
Golf Editor, ESPN.com
Jason Sobel, who joined ESPN in 1997, earned four Sports Emmy awards as a member of ESPN's Studio Production department. He became ESPN.com's golf editor in July 2004.
90th PGA CHAMPIONSHIP
Where:
Oakland Hills CC; Bloomfield Township, Michigan
Yardage; Par:
7,395 yards; par 70
2008 champion:
Padraig Harrington
Fourth round
•
Harig: Harrington won without his best stuff
•
Sobel: Don't shed a tear for Sergio
•
Harrington putts way to PGA Championship win
•
Final leaderboard
|
Final-round photos
•
Jason Sobel's PGA Championship blog
•
Thatcher: Harrington now world's second best
•
Watch:
Sobel, Harig dissect Paddy's triumph
•
Watch:
Harrington details his third major win
•
Watch:
Garcia says 'No Carnoustie here'
•
Watch:
Harrington on the clinching putt
Third round
•
Harig/Sobel: Field could go low Sunday

•
Curtis owns 54-hole lead
|
Saturday photos
•
Harig: Rain changes complexion of PGA
•
Harig: Romero was down, but don't count him out
•
Thatcher: Weather delays help some, hurt others
•
Sobel's third round PGA Championship blog
•
Romero surprises with 65 before play suspended
•
Watch:
Get ready for some Sunday fireworks
•
Watch:
Rinaldi on the weather woes at 90th PGA
Second round
•
Holmes only player under par
|
Photos
•
Harig: Hang on for wild ride at 90th PGA
•
Harig: A game within a game for Rose, Holmes
•
3 Up, 3 Down: Curtis, Goydos make the list
•
Thatcher: 'The number' looms on Friday
•
Monty matches his worst round in a major
•
Jason Sobel's Round 2 PGA blog
•
On The Tee: Sobel, Harig weekend picks

•
Chat wrap: ESPN.com's Harig from the PGA

•
Watch:
Sobel, Harig break down Round 2
•
Watch:
Baddeley on his pair of 71s
First round
•
Harig: Oakland Hills was rough, will get tougher
•
Harig: Karlsson becoming a major player
•
Karlsson, Singh share first-round lead
•
PGA Championship leaderboard
|
Round 1 photos
•
3 Up, 3 Down: Singhs make the list
•
Thatcher: Luck of the draw can decide fate
•
Jason Sobel's PGA Championship blog
•
On The Tee: Can Round 1 leaders hang on?

•
ESPN.com's Bob Harig: Thursday chat wrap

•
Watch:
Sobel, Harig on treacherous conditions
•
Watch:
Harrington on his putting struggles
•
Watch:
Els discusses 'beast' of a course
News
•
Eye injury forces Perry out of PGA Championship
•
Mickelson paired with Love, Beem at PGA
•
First, second round PGA Championship tee times
•
Lefty readies for PGA at revamped Oakland Hills
•
Norman turns down PGA Championship invitation
MOST SENT STORIES ON ESPN.COM