Commentary
Garcia's reaction after loss at Oakland Hills tells story of a changed man
Originally Published:
August 6, 2008
By
Jason Sobel
| ESPN.com
BLOOMFIELD TOWNSHIP, Mich. -- Shoulders slumped, scowl on his face, another major championship dream turned a nightmare, Sergio Garcia chose not to hang around the final green while Padraig Harrington mugged for the cameras while kissing the silver trophy to gleeful applause. Instead, Garcia trudged into the interview room, massive chip on his shoulder, blaming higher powers for his latest disappointment. "I'm playing against a lot of guys out there," he intoned. "More than the field."
More than one year after that fateful day at Carnoustie Golf Links, a day when Garcia lost the British Open in a playoff to Harrington, his major aspirations have still yet to be fulfilled. While the circumstances of the 90th PGA Championship looked roughly similar on the surface -- with the Irishman besting his counterpart in a tightly contested finish on Sunday -- it was a different Garcia who walked off the course in defeat.
"It's not disappointing," he said. "Every time you're out there trying to win a major, you know, what can you do? There can only be one winner. I'm fine." Garcia wasn't just paying the situation lip service, either. This time around, in the minutes following Harrington's clinching 15-foot par save at Oakland Hills, the 28-year-old Spaniard soaked in the moment rather than trying to wish it away. Truth is, he didn't lose this tournament as much as Harrington won it -- and sometimes that can make all the difference. Examine only the final result and it's easy to conclude the PGA was simply the latest in a long line of major titles that have slipped through Garcia's oh-so-delicate grasp. Listen to him, though, watch his body language, and it becomes clear that he viewed this latest close call in a much more positive light. Call it a major attitude adjustment.
[+] Enlarge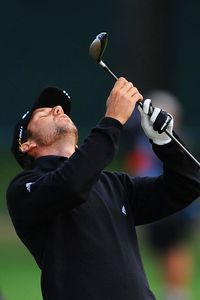 Stan Honda/AFP/Getty ImagesSergio Garcia felt like he played well enough to win Sunday. A final-round 68 came up two strokes short.
"You know, that's the way it goes," said Garcia, who finished in a share of second place with Ben Curtis at 1 under par for the tournament. "The good thing about it is I feel good out there. I felt like I played good. I definitely feel like I played well enough to win. But unfortunately it didn't happen. So that's pretty much all I can ask myself to do." This was not the same old Garcia. Scratch that. It was exactly like the old Garcia. His enthusiasm, ebullience and effervescence recalled his performance in this tournament nine years ago, when as a 19-year-old he smiled and scissor-kicked his way to a runner-up result. Like that week at Medinah during which he lost to Tiger Woods by 1 stroke, there would be no blame, no taunting of the golf gods for a formidable performance gone awry. Strange thing is, you might actually excuse Garcia for such conduct after Sunday's final round. He was in sole possession of the tournament lead with the final threesome heading to Oakland Hills' back nine on Sunday afternoon. He led again heading to the 15th tee, the Wanamaker Trophy within in his sights. From there, he hit the flagstick with his approach shot on 15 -- only to miss the birdie putt. He opted not to aim for the fat of the green on 16, instead going at the hole and winding up in a greenside water hazard. He hit his tee shot on the par-3 17th hole to within 5 feet -- but again missed the birdie putt. And once Harrington sank his winning par putt on 18, Garcia countered with a miss that would have only garnered a solo second. "I felt like I gave it my best," said Garcia, who now owns 14 career top-10s in 41 major appearances. "Obviously, what I'm not going to do is get on the 16th hole and try to hit it 40 yards left of the green. I mean, that's not the way I play. I tried to put a good, solid swing to the middle of the green and hopefully it goes there. If it drifts a little bit, perfect. Came out of it just a touch, and just went in the water. But then I hit a great putt on 17. I don't know why it didn't break. It lipped out. And then 18's just a tough hole. "I felt like I responded well and [Harrington] was obviously very good on the back nine and things just happened his way." That's more praise than Garcia publicly offered his playoff foe at Carnoustie in 2007, and it fell in line with his chipper demeanor throughout the week. While most players were grousing and grumbling about the course setup, he allowed only that it was "one of the toughest we've played" and "they have done a good job with it." If anything, Garcia's reinvigorated outlook might buy him some karma and a little more love from a growing fan base. One of the world's most popular players on a global scale, he has had a difficult time winning over U.S. galleries. Ryder Cup dominance for the European team doesn't help that cause, but being gracious in defeat surely will. "I think that as a sports fan, you're always going to feel sorry for the guy who finishes second," Harrington said. "That's human nature." Then again, don't expect Garcia to finish in second place forever. And when that initial major championship victory finally happens, it will be well-deserved. "I feel like I've played well enough to win more than, probably, two majors throughout my career," Garcia said. "Unfortunately, it hasn't happened. That doesn't mean that I'm not in the right track. So I'm looking forward to the challenges, and I just am going to keep giving it my best, and it's just a matter of time."
Jason Sobel is a golf writer for ESPN.com. He can be reached at Jason.Sobel@espn3.com.
Golf Editor, ESPN.com
Jason Sobel, who joined ESPN in 1997, earned four Sports Emmy awards as a member of ESPN's Studio Production department. He became ESPN.com's golf editor in July 2004.
SPONSORED HEADLINES
MORE GOLF HEADLINES
MOST SENT STORIES ON ESPN.COM
90th PGA CHAMPIONSHIP
Where:
Oakland Hills CC; Bloomfield Township, Michigan
Yardage; Par:
7,395 yards; par 70
2008 champion:
Padraig Harrington
Fourth round
•
Harig: Harrington won without his best stuff
•
Sobel: Don't shed a tear for Sergio
•
Harrington putts way to PGA Championship win
•
Final leaderboard
|
Final-round photos
•
Jason Sobel's PGA Championship blog
•
Thatcher: Harrington now world's second best
•
Watch:
Sobel, Harig dissect Paddy's triumph
•
Watch:
Harrington details his third major win
•
Watch:
Garcia says 'No Carnoustie here'
•
Watch:
Harrington on the clinching putt
Third round
•
Harig/Sobel: Field could go low Sunday

•
Curtis owns 54-hole lead
|
Saturday photos
•
Harig: Rain changes complexion of PGA
•
Harig: Romero was down, but don't count him out
•
Thatcher: Weather delays help some, hurt others
•
Sobel's third round PGA Championship blog
•
Romero surprises with 65 before play suspended
•
Watch:
Get ready for some Sunday fireworks
•
Watch:
Rinaldi on the weather woes at 90th PGA
Second round
•
Holmes only player under par
|
Photos
•
Harig: Hang on for wild ride at 90th PGA
•
Harig: A game within a game for Rose, Holmes
•
3 Up, 3 Down: Curtis, Goydos make the list
•
Thatcher: 'The number' looms on Friday
•
Monty matches his worst round in a major
•
Jason Sobel's Round 2 PGA blog
•
On The Tee: Sobel, Harig weekend picks

•
Chat wrap: ESPN.com's Harig from the PGA

•
Watch:
Sobel, Harig break down Round 2
•
Watch:
Baddeley on his pair of 71s
First round
•
Harig: Oakland Hills was rough, will get tougher
•
Harig: Karlsson becoming a major player
•
Karlsson, Singh share first-round lead
•
PGA Championship leaderboard
|
Round 1 photos
•
3 Up, 3 Down: Singhs make the list
•
Thatcher: Luck of the draw can decide fate
•
Jason Sobel's PGA Championship blog
•
On The Tee: Can Round 1 leaders hang on?

•
ESPN.com's Bob Harig: Thursday chat wrap

•
Watch:
Sobel, Harig on treacherous conditions
•
Watch:
Harrington on his putting struggles
•
Watch:
Els discusses 'beast' of a course
News
•
Eye injury forces Perry out of PGA Championship
•
Mickelson paired with Love, Beem at PGA
•
First, second round PGA Championship tee times
•
Lefty readies for PGA at revamped Oakland Hills
•
Norman turns down PGA Championship invitation