Owen, Ames prove resiliency is golden
Updated:
March 28, 2006, 11:12 AM ET
By
Jason Sobel
| ESPN.com
PONTE VEDRA BEACH, Fla. -- Chances are, you've had a Greg Owen moment. That one lamentable instant when everything you work so diligently for just -- poof! -- disappears in the blink of an eye, when dogged determination gives way to plain ol' carelessness. It later permeates your thoughts, leaving you cringing time and again.
For Owen, that moment came last Sunday in the final round of the Bay Hill Invitational, when he needed three putts to urge a golf ball into a hole from 40 inches away. Avoiding such calamity was potentially worth a cool half-million bucks and a two-year PGA Tour exemption. Instead, the 34-year-old veteran was relegated to a sleepless night, consummated by washing his car at 5:30 a.m.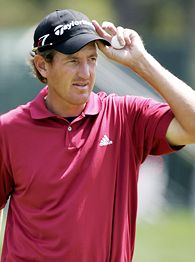 Ross Kinnaird/Getty ImagesFive days after his frightful gaffe at Bay Hill, Owen is again in contention at the Players.
Speaking of onerous occasions, you've likely encountered a Stephen Ames moment, too. It's a slip of the tongue at an inopportune time. Perhaps a lighthearted comment gone awry, the reaction unequal, and very opposite, to the intended action.
You'll recall that was the case for Ames in the first round of last month's Accenture Match Play Championship. Ames put his foot in his mouth with comments about upcoming opponent Tiger Woods -- "Anything can happen. Especially where he's hitting the ball," he said -- then promptly was disposed of in the quickest way possible by the game's top-ranked player.
No person is immune to the moments of distress endured by Owen and Ames. It is human nature to be afflicted by such pratfalls in the course of life. But it is the aftereffects of such instances that truly demonstrate our resiliency.
On Friday, both golfers continued to vanquish those recent events, proving their buoyancy on the TPC-Sawgrass Stadium Course. Ames shot a 6-under 66 in the second round of The Players Championship to move into a share of second place; Owen's 4-under 68 left him two strokes further back.
"I'm proud of myself to play well this week, because it was tough last week," said Owen, who lost to Rod Pampling by one stroke at Bay Hill. "I knew I was playing well and I was hoping to keep up the same form, but you still wake up and you think of the worst things that happened."
Owen is to be commended for the exemplary attitude he's displayed ever since last Sunday. He easily could have turned misanthropic, but instead faced the press, spoke of his misfortune, and dealt with his demons before they dealt with him.
No matter what else Owen accomplishes in his career, his blunder forever will be compared, albeit on a smaller scale, with those of Doug Sanders and Jean Van de Velde, players whose famous gaffes each occurred in the British Open, the world's oldest and, perhaps, most prestigious golf tournament. And yet, he soldiers on, preferring to accentuate the positives of the situation, such as the widespread compassion that has cascaded from fellow touring professionals.
"Nearly every player has said, 'Well played.' It's been unbelievable," Owen said. "Tiger came up to me this morning, shook my hand and said, 'Well played last week.' That's all he said. That's great."
Though Woods was less obsequious in his elucidations for Ames following their dust-up -- "9 and 8," was all he proffered when asked about Ames' comments, referring to the final score of their match -- perhaps he also provided motivation for the offending party.
When Ames was questioned Wednesday on whether he had learned a lesson about always speaking his mind, he said with a wry smile, "No comment." His on-course confidence also remains intact, as he's parlayed the incident into a pair of top-20 finishes entering the Players.
Adversity is part of life. Resiliency, however, is a component of every person's individual fortitude. So far this week, Greg Owen and Stephen Ames have proven that comeback stories really do come true.
Jason Sobel is ESPN.com's golf editor. He can be reached at Jason.Sobel@espn3.com
Golf Editor, ESPN.com
Jason Sobel, who joined ESPN in 1997, earned four Sports Emmy awards as a member of ESPN's Studio Production department. He became ESPN.com's golf editor in July 2004.
EDITORS' PICKS
Ryder fallout

What did we learn at the 40th Ryder Cup?
Maguire »

One idea for the next U.S. captain might ruffle a few feathers.
Evans »