Tiger's the favorite, but he's no lock at Players
Originally Published:
May 9, 2007
By
Bob Harig
| Special to ESPN.com
PONTE VEDRA BEACH, Fla. -- You feel a bit silly, suggesting Tiger Woods might not win. You look at those words, then look again, and wonder what you are saying. The man has won nine of his last 12 PGA Tour events. You could pick him every week he plays and nobody would flinch.
But picking him this week is not so easy.
Sure, Woods is the prohibitive favorite every time he tees it up, and nobody would be surprised if he were not standing on the 18th green Sunday at TPC-Sawgrass as the winner of The Players Championship.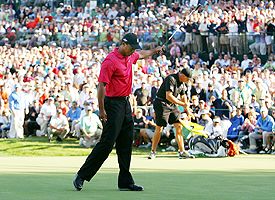 Streeter Lecka/Getty ImagesEven coming off a win at the Wachovia, Tiger is no lock at the Players.
And yet, he is far from a lock here, because the Stadium Course does not play favorites nor does it identify one type of player.
Just look at the winners in recent years. Stephen Ames. Fred Funk, Adam Scott, Davis Love. Craig Perks. That's about as diverse a group as it gets.
"Anyone can win here," said Woods, whose lone Players Championship victory came in 2001. "That's the beauty of this golf course. With all the different angles … we're all playing from about the same spot. There really is no advantage to taking out driver and bombing it down there because of, obviously, the trouble, but also how everything pitches in."
Woods' own record here suggests it is not a given that he will have success.
He won in 2001, the year he completed the TigerSlam by winning the Masters two weeks later for his fourth consecutive major championship. He finished second to Hal Sutton one year earlier. But those are Woods' only top-10s in 10 appearances. Since his victory in 2001, he has shot just four sub-70 rounds in five starts.
Then there is Funk, who has missed just one cut in 16 appearances, won two years ago and was tied for 10th in 2004. Funk, 50, also plays on the Champions Tour, but doesn't discount his chances here against one of the best fields of the year.
"This golf course has across-the-board-type games that have won," Funk said. "But if you look at the winners, they had a pretty good ball-striking week. This golf course you have to control your golf ball, so you can't fake it there."
"I think it should be wide open," said Scott, the 2004 champion, when asked about the course not favoring a particular type of player. "I think if a course is set up well and it's a well-designed golf course, it really shouldn't favor anyone; it should be playable no matter who you are."
Still to be seen is how the course changes and the move from March to May will affect play. The idea was to provide the Players with firmer, faster conditions -- maybe not as severe as we saw at last month's Masters, but with that idea in mind.
For too many years, the Players was plagued by rain and soft conditions. Ironically, rain is in the forecast for the entire tournament, although the refurbishing of fairways and the Sub-Air system installed under the greens to extract moisture should help keep the conditions firm.
That usually means only those who are on top of their games will contend.
Tiger, coming off a victory at the Wachovia Championship, is obviously on top of his game.
So you have to pick him. Uh, right?
QUICK TAKE
We often wonder why a player with immense skills and talent would ever contemplate a swing change. We certainly asked repeatedly about it when Tiger Woods switched from his long-time instructor, Butch Harmon, to Hank Haney a few years ago. The results -- four major championships and 17 PGA Tour titles -- since the start of 2005 would appear to justify it.

The same may ultimately true for Phil Mickelson. He recently made a highly-scrutinized switch to Harmon. This is the No. 3-ranked player in the world who last year won the Masters and who earlier this year finished first at Pebble Beach and second at the Nissan Open. And he wants to make a change?

Mickelson had an interesting take on it this week.

"I felt that in the last three years, as I improved from 150 yards in and I started to win golf tournaments because of my short game and improved iron play, if I could get more balls in the fairway and give me more of a those shots where I feel I've improved and I feel like I'm sharp, then I could shoot even lower scores and maybe win even more tournaments," he said.

It was a long-winded explanation, but it makes some sense. And he has consecutive top-three finishes since making the move.
MAILBAG: ASK BOB HARIG
Got a question about the PGA Tour? Ask ESPN.com golf writer Bob Harig, who will answer some inquiries in his column each week.
Q: Is Phil Mickelson still working with Dave Pelz?
Patrick Yocum
Hanover, Pa.
A: Yes. Although Mickelson has gone from working with Rick Smith to Butch Harmon on his swing, he is still employing Pelz for short-game work.
Q: Since Michelle Wie has turned pro, will she be able to compete in NCAA tournaments when she enrolls in Stanford?
Randy
Port Chester, N.Y.
A: No, as a professional, Wie cannot compete in the same sport in NCAA events, which require you to be an amateur in that sport. If Wie, however, wanted to try her hand at, say, tennis, she could compete as an amateur in that sport.
Q: Who of the current active players on the PGA Tour are most likely going to make it to the World Golf Hall of Fame?
Tim
Sioux Falls, S.D.
A: There is no doubt about Tiger Woods and Phil Mickelson. Ernie Els is almost assuredly a lock, too. Of the players who are already at the age of 40 which makes them eligible, Davis Love III probably tops the list with 19 PGA Tour victories, including a major championship at the 1997 PGA and two Players Championship victories. Jose Maria Olazabal has just six PGA Tour wins, but two of them were at the Masters and he also has 23 international titles. Colin Montgomerie, who is not a PGA Tour member, will make for an interesting candidate because he never won in the U.S. but did win eight European money titles. Same for Fred Couples, who has 15 wins, two Players and a Masters, but many believe he has underachieved.
Bob Harig covers golf for the St. Petersburg Times and is a frequent contributor to ESPN.com. He can be reached at harig@sptimes.com.
2007 Players Championship
When:
Thursday-Sunday, May 10-13
Where:
TPC-Sawgrass, Ponte Vedra Beach, Fla.
Yardage/Par:
7,215 yards; par 72
2007 champion:
Phil Mickelson
MOST SENT STORIES ON ESPN.COM