Why isn't there any Presidents Cup buzz?
Updated:
September 14, 2005, 12:22 PM ET
By
Bob Harig
| Special to ESPN.com
Say what you want about the conclusion to the last Presidents Cup, but at least it got people talking. And that's more than you could say about any of the previous competitions pitting a U.S. team against a conglomerate of international stars from outside of Europe.
When captains Jack Nicklaus and Gary Player basically forced a tie at the conclusion of the 2003 Presidents Cup in South Africa, it was viewed as being everything from a blatant bending of the rules to incredible sportsmanship.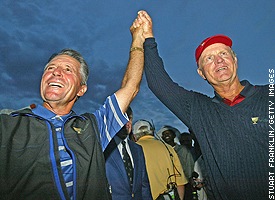 Stuart Franklin/Getty ImagesEven with legendary golfers Gary Player and Jack Nicklaus returning as captains, the Presidents Cup has failed to cause a major buzz.
There had been a provision in place for a sudden-death playoff, but after three riveting holes between Tiger Woods and Ernie Els, darkness halted play. Let's forget the very real fact that nobody wanted to come back the next day to decide things. So the captains came up with a tie -- even though there was no provision for one in the rule book -- making the Presidents Cup different than the Ryder Cup.
The "unfinished business" aspect of the Presidents Cup coaxed Nicklaus and Player into coming back as captains.
But unless you stand in the line of fire of the PGA Tour's hype machine, you would be hard-pressed to come up with the dates for the event.
Stumped? Well, it is next week.
The sixth version of the Presidents Cup begins on Sept. 22 at the Robert Trent Jones Golf Club, located less than an hour away from Washington, D.C.
Yep, there's not much of a buzz heading into the matches, whose worthiness is again in question.
If two of the greatest names in the game are unable to generate any excitement for it, what else is left?
And it's not like there is a lack of star power on both sides. The United States team will be led by Woods,Phil Mickelson, Chris DiMarco, Davis Love III and Fred Couples.
The International squad will be led by Vijay Singh, Retief Goosen, Adam Scott, Michael Campbell and Mike Weir. Losing Els to injury is a blow, but the team remains loaded.
And the possibility of a Woods-Singh showdown in Sunday singles will undoubtedly be worth watching.
So why all the yawns?
Could it be that the Presidents Cup is too much of a good thing?
It is not a secret that having a competition such as this every year takes some of the fun out of the festivities for U.S. team members. Players such as Woods, Mickelson and Love are part of the action every year. Maybe they should get over it and deal with with the situation, but it's not all about them.
The public doesn't seem to get into it, either.
We love the Ryder Cup, and some of it has to do with the history of the tournament. In the past 20 years, the Ryder Cup has become, perhaps, the biggest event in golf. When the Americans started losing, people started paying attention. There is no prize money at stake, but there is some serious choking that goes on in the event, and it can be riveting.
In Europe, they already are talking about next year's Ryder Cup. The process for making the team began two weeks ago in Switzerland, and it was already a big topic. Europeans love the Ryder Cup so much and the players buy into it.
Here, you could say the U.S. players tolerate the tournaments. They probably like the Presidents Cup more, but that is because there is less pressure, less going on outside of the event. If there is anything the players hate about the Ryder Cup, it is all of the required functions that dominate the week. It makes for an exhausting, pressure-filled week.
Nobody seems all that worked up about next week's Presidents Cup, but perhaps that will change. There was little buzz going into the Solheim Cup, either, and that turned out to be quite the showcase for women's golf.
We'll just have to wait and see whether the excitement ever materializes.
Five Things To Bank On
1.
This is a good week for Chris DiMarco to get his first victory in more than three years. DiMarco has three straight top 10s at the 84 Lumber Classic. He also has seven runner-up finishes over 98 starts since his last victory at the 2002 Phoenix Open.
2.
If he doesn't win, defending champion Vijay Singh should at least match a milestone. A top-10 finish would be his 52nd in a three-year span, which was last achieved by
Raymond Floyd
during 1981-83.
3.
The HSBC World Match Play loses some of its luster without defending champion Ernie Els and not a single American. But it does offer the richest first-prize in golf. It will be interesting to see whether Retief Goosen can continue his excellent play of late.
4.
Although her team lost,
Annika Sorenstam
had an excellent Solheim Cup and appears poised to post her first LPGA victory since June. She defends her title in Tulsa at the John Q. Hammons Hotel Classic this weekend.
5.
There is some reason to pay attention to the Champions Tour this week: Lee Trevino returns from surgery to play his first event of the year at the Constellation Energy Classic.
QUICK TAKE
| | |
| --- | --- |
| | |
| | Lehman |
Tom Lehman says he will be keeping a close eye on next week's Presidents Cup matches, hoping to gain some knowledge for his captaincy of the 2006 U.S. Ryder Cup team.

Perhaps all Lehman needs to do is put in a call to Nancy Lopez and pick her brain.

The LPGA Hall of Famer pulled all the right strings and pushed all the right buttons in her role as Solheim Cup captain as the U.S. defeated Europe this past weekend.

She somehow got several young players to mesh with women old enough to be their mothers. She preached unity and togetherness and team spirit. She even made sure the players got plenty of practice on the Crooked Stick course, using the homefield to their advantage.

Perhaps most remarkable of all, she got a bunch of millionaire golfers to ride a bus together from Ohio to Indiana for a practice round at Crooked Stick.

Before we get carried away, let's remember that winning the Solheim Cup -- or the Ryder Cup, or Presidents Cup -- is not strictly about bonding and friendship and being "a team."

The Europeans have reveled in waving that in the Americans' face during the Ryder Cup, and there is a good bit of truth to it.

But the European Solheim Cup team has plenty of unity and still lost.

The competition remains about playing good golf, making putts, finishing off matches. And Lehman will never get Tiger Woods and Phil Mickelson to ride on a bus together.

And yet, there are still some lessons to be learned from the U.S. Solheim Cup team.
MAILBAG: ASK BOB HARIG
Got a question about the PGA Tour? Ask ESPN.com golf writer Bob Harig, who will answer your inquiries in his column each week.
Q. Having followed Ryan Moore during his time at UNLV, I was wondering if you think he has any shot of finishing high enough on the money list to earn his card for next year?
Chris Johnson
Fullerton, Calif.
A. He has given himself a great shot after tying for second at the Canadian Open. The $440,000 gave him special temporary member status on the PGA Tour, meaning he can accept unlimited sponsor exemptions for the rest of the year. That is important, because non-members are only allowed seven. And he has earned enough money to put himself within shouting distance of the top 125. He'll probably need more than $600,000 total, but a strong finish should secure his card for 2006.
Q. Do many professional golfers require corrective lens or eyeglasses? Even on the Champions Tour, I do not see golfers wearing eyeglasses. Is their eyesight better or is there some reason eyeglasses are not seen on many professional golfers?
Philip Price
Arlington, Tenn.
A. Glasses can be difficult during rainy or steamy weather, so those who have not elected to have corrective surgery might be wearing contact lenses.
Q. If an amateur won a tour event or a major, would he get the same exemptions as if he were professional? Would he get to keep them if he turned professional?
Patrick Yocum
Hanover, Pa.
A. Basically, yes. An amateur who wins a PGA Tour event would get a two-year exemption, just like any other winner. He would not, however, get to keep the prize money from the event he won, nor would it count on the money list. This happened to Phil Mickelson in 1991. He won at Tucson as an amateur, but didn't turn pro until 1992 and was an exempt player. The only time an amateur is affected by turning professional is if he qualified for one of the major championships as an amateur through one of the amateur tournaments. In that case, he must then remain an amateur to use that exemption for the tournament.
Bob Harig covers golf for the St. Petersburg Times and is a frequent contributor to ESPN.com. He can be reached at harig@sptimes.com.
EDITORS' PICKS
Don't read too much into Rory McIlroy's missed cut.
Bob Harig »

Vikings WR Greg Jennings tries to squeeze a little golf into an otherwise crowded schedule.
Nicole Elliott »

What was up with Sergio's reaction at Riviera?
#AskESPNCaddie »
MOST SENT STORIES ON ESPN.COM