Toms could provide inspiration for U.S. squad
Updated:
September 20, 2005, 2:14 PM ET
By
Bob Harig
| Special to ESPN.com
Nobody would blame David Toms if he simply elected to go home to Louisiana and rest. After the scare he endured at the 84 Lumber Classic -- the shortness of breath, the brief status in critical condition, the news that he needs a procedure performed to control an irregular heartbeat -- Toms more than deserves a break. In fact, some might insist on it.
But Toms, 38, declared himself ready to play in the Presidents Cup this week. He wants to be a teammate to his fellow U.S. players. He believes he can help them defeat the International team.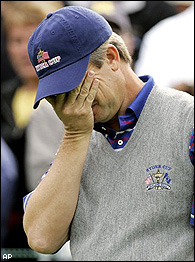 Toms, seen here at last year's Ryder Cup, is a longtime veteran of team competitions.
All in the name of the Presidents Cup?
Perhaps Toms has some misguided priorities, but it does say something about his desire to make the team and compete on it. Nobody gives the event much mind, but to many of the players, being part of it is a big deal.
"This is a very important week to me," Toms said on Monday. "I really do want to play.''
And maybe his teammates will want to play for him.
Let's face it, this has typically been a hard sell for the Americans, who basically have no choice but to play, if healthy. Imagine the backlash if Tiger Woods or Phil Mickelson declined their spot on the team? And yet, they get scrutinized and criticized for their play.
Having to play in a team competition every year (the Presidents Cup rotates every other year with the Ryder Cup) has caused some resentment. And whether you agree with it or not, it exists, and is not easily dismissed.
So maybe Toms provides some inspiration this week to his teammates. His presence adds perspective at a time when complaining about another week on the road, without pay, by millionaire golfers doesn't go very far. Toms, who is from Shreveport, La., has been heavily involved in the Hurricane Katrina relief effort. Any donations to his foundation will go directly to families who have evacuated the Gulf Coast.
It could be that Toms sees a higher calling here. By playing, he calls attention to himself, which calls attention to the David Toms Foundation, which is doing its part to help hurricane victims.
Toms, who has 11 PGA Tour titles and is fourth on the PGA Tour money list, also likes the competition. This will be his third Presidents Cup and he has played on two Ryder Cup teams.
He is sure to provide some motivation.
Five Things To Bank On
1.
Vijay Singh
for the International team and
Davis Love III
and Mickelson for the United States are the only players to compete in every previous Presidents Cup. Expect all three to see plenty of action.
2.
Tiger Woods is a lock to play in all five matches, but don't count on him in the four-ball competition. Amazingly, he is 0-6 in the format during the Presidents Cup.
3.
The International squad will miss
Ernie Els
(knee injury), who has won more matches than any International player other than Singh.
4.
While many of the world's top players take part in the Presidents Cup, an opportunity awaits at the Texas Open, the fifth-oldest stop on the PGA Tour.
Bart Bryant
was a first-time winner a year ago.
5.
Jason Gore
will be a huge favorite at the Albertsons Boise Open. Coming off his victory at the 84 Lumber Classic, Gore was given a special dispensation to compete in the Nationwide Tour event.
QUICK TAKE
| | |
| --- | --- |
| | |
| | Gore |
Everybody thought Jason Gore blew a beautiful opportunity when he shot 84 during the final round of the U.S. Open -- and understandably so.

He entered the final round tied for second place, paired in the final group with Retief Goosen. For a guy with no PGA Tour status, this was huge. A high finish guaranteed a return trip to the U.S. Open and next year's Masters. It would have all but secured his PGA Tour card for next year. So many dreams died with that 84.

But Gore did not go away. He won three times on the Nationwide Tour to earn his PGA Tour status for next year. It's doing it the hard way, but he did it. And then he won the 84 Lumber Classic on Sunday, guaranteeing a spot on the tour through 2007.

Again, all those perks come into play.

Gore rose from 318th to 88th in the Official World Golf Ranking. He also jumped to 81st on the PGA Tour money list. If he can move into the top 50 in the world by the end of the year, he'll earn an invitation to The Masters and the U.S. Open. A top-40 finish on the money list would get him to Augusta National, too.

The dreams are alive again.
MAILBAG: ASK BOB HARIG
Got a question about the PGA Tour? Ask ESPN.com golf writer Bob Harig, who will answer your inquiries in his column each week.
Q. If David Toms is unable to play in the Presidents Cup, will he be replaced or will his singles match be a forfeit?
Miller
Columbus, Ohio
A. If Toms is unable to play, he would be replaced by the next player in the points standings, Zach Johnson. If he is not feeling well once the competition begins, captain Jack Nicklaus can simply refigure his pairings without Toms. For Sunday's singles, one international player would sit out, with each team being awarded a half point.
Q. Who are the Presidents Cup captains?
Tommy
Hot Springs, Ark.
A. For the second straight Presidents Cup, Jack Nicklaus is the captain for the Americans, with Gary Player handling the duties for the International side. This is the sixth Presidents Cup, and Nicklaus' third captaincy. He also captained two U.S. Ryder Cup teams.
Q. Do appearance fees (which are allowed on the Euro and Asian Tours) have a clause where players who miss the cut receive a reduced fee?
Todd Royer
Newark, Del.
A. It all depends on the deal made by the sponsor and player. In some instances, it is a fee simply for showing up, regardless of how the player performs. But there are likely some contracts that stipulate a smaller payment if the player misses the cut.
Bob Harig covers golf for the St. Petersburg Times and is a frequent contributor to ESPN.com. He can be reached at harig@sptimes.com.
SPONSORED HEADLINES
MORE GOLF HEADLINES
MOST SENT STORIES ON ESPN.COM
EDITORS' PICKS
Thailand rolls

Worth a pick?

Tour pro Jarrod Lyle plays golf and fights cancer.
Farrell Evans »