Previewing Thursday's Foursomes
Updated:
September 21, 2005, 10:36 PM ET
By
Jason Sobel
| ESPN.com
GAINESVILLE, Va. -- When Tiger Woods speaks, people listen.
Well, one person listens, at least: U.S. captain Jack Nicklaus.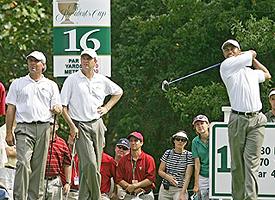 Stan Badz/WireImage.comCouples (left, with Davis Love) watches partner Tiger Woods tee off during a practice round this week.
One year after Ryder Cup captain Hal Sutton teamed Woods with Phil Mickelson to disasterous results, Nicklaus announced Wednesday that Tiger will be granted his recent wish, pairing him with Fred Couples in Foursomes competition when the Presidents Cup begins on Thursday.
Woods recently lobbied to be paired with Couples, who is making his first appearance in international team competition since 1998. The two have combined for a stellar record in Foursomes (alternate-shot match play), netting seven wins in nine total matches. They were paired together twice in Foursomes in '98, defeating Ernie Els and Vijay Singh, 5 and 4, on the first day and losing to Shigeki Maruyama and Craig Parry, 1-up, on the second day.
This time, the International team counters with two formidable foes in top-10 players Retief Goosen and Adam Scott, who will face Woods and Couples in the first match of the day at 1:10 p.m. ET.
"We've talked about playing with Tiger, which would be an ideal thing for me," Couples said earlier this week. "And there are a lot of guys that would not be ideal to play with me and I know that and they know that.
"Everyone thinks they can play with everybody and they all get along great, but when you're on the course, you have to know the guy pretty well because you're not going to win every single time you play, and you have to be able to say the right things and have some fun with it."
Have some fun? That's nothing new to Tiger, who had a little fun of his own when asked to describe his ideal partner.
"A guy that makes a lot of birdies," Woods joked. "If my partner makes a bunch of birdies, we're going to have a great time."
At last year's Ryder Cup, Woods didn't have much of a great time, teaming with Mickelson to lose both of their opening day matches. The result helped lead to a runaway victory for the European side.
But putting Woods off first, Nicklaus is hoping that the opening match once again sets the tone. Perhaps letting Tiger have his way is a critical first step.
Goosen might be the hottest golfer in the world, with wins on three separate tours in the past two months and Scott earned a seven-stroke victory in Singapore in his last start, but Team Tiger owns home-field advantage and a better overall Foursomes record. Expect the U.S. to start things off on the right foot.
EDGE: Woods/Couples
If the Americans do take an advantage after the first match, it may not last long. Singh is the only International player to compete in every Presidents Cup and with
Ernie Els
out due to a knee injury, he is the leader on this team. The fact that Hensby is paired with Singh validates his presence at this event; 10 years after sleeping in his car while playing mini-tours, the Aussie won last season's Western Open and has continued his solid play in '05. Funk and Furyk are two of the most accurate players around, but Funk has battled injuries for much of the summer. The U.S. duo will do well to keep this one close.
EDGE: Singh/Hensby
Most of the loud cheers and hearty applause at the Robert Trent Jones Golf Club will be for these two U.S. fan favorites. Mickelson always has the galleries behind him and DiMarco proved at last year's Ryder Cup that he's not afraid to pump his fist and get the crowd involved when he's playing well. Perhaps Nicklaus is looking to create One Magical Thursday with this pairing; their most famous day as playing partners was during last year's final round of The Masters, when Mickelson won his first career major title. They must beware the stoic International players, however. Clark has become one of the top ball-strikers in the world and O'Hern showed his match-play mettle by beating Woods,
Luke Donald
and
Charles Howell III
at La Costa earlier this year. Still, the Americans should feed off the fans in this one.
EDGE: Mickelson/DiMarco
The PGA Tour's Texas Open is taking place this week, but Leonard and Verplank -- both Dallas natives -- will play their own version of Lone Star golf in Virginia. Nobody tried harder to make the U.S. team than Verplank, who snuck in with the final automatic berth. Lonard and Appleby are each Aussies who have won on tour this season. Interestingly enough, if the wind kicks up at RTJ, both teams will feel comfortable; Leonard and Lonard are among the top low ball-flight players around. Give the slight advantage to the Internationals in this one, as Appleby's game has showed signs of coming around lately.
EDGE: Lonard/Appleby
Just a hunch, but Cabrera/Campbell could be a deadly duo that just might stick together for three or four matches this week. Each made it to the semifinals of last week's World Match Play Championship, with Campbell taking home the $1.8 million first-place prize for beating
Paul McGinley
in the final. Add that to his U.S. Open victory, and it's been a dream season so far for the Kiwi. Love is the all-time Presidents Cup points leader for the Americans, but he and Perry might have run into a couple of hot hands at the wrong time.
EDGE: Campbell/Cabrera
Toms was the victim of a scary moment at last week's 84 Lumber Classic, as he suffered a rapid heartbeat that left him in critical condition Thursday night. His decision to play in the Cup will forever be looked at one of two ways: Either it was a courageous move that helped inspire his teammates, or it left the U.S. squad without one player at the top of his game. The guess here is the former, as Toms has reportedly had no ill effects on the course since returning to practice rounds. This is a good matchup for the U.S. duo, as Immelman was a longshot to even make the team and Weir has played poorly for most of the season, dropping 24 places in the World Ranking since January.
EDGE: Cink/Toms
Jason Sobel is ESPN.com's golf editor. He can be reached at Jason.Sobel@espn3.com
Golf Editor, ESPN.com
Jason Sobel, who joined ESPN in 1997, earned four Sports Emmy awards as a member of ESPN's Studio Production department. He became ESPN.com's golf editor in July 2004.
EDITORS' PICKS
Before Bubba's Masters wins, he lost Doral by 1. Coincidence?
Harig »

Paula Creamer drained a bomb again, this time in heels.
Watch

How fast can Rory turn things around at Doral?
Four-Ball »
MOST SENT STORIES ON ESPN.COM