Europe, sparked by Clarke, cruises to Ryder Cup
Updated:
September 28, 2006, 12:40 PM ET
Associated Press
STRAFFAN, Ireland -- Even after the skies cleared over Ireland, it kept right on pouring. First came the tears of Darren Clarke, the inspiration of this Ryder Cup, and then a shower of champagne as the Europeans celebrated another romp.
Dublin Investigation

Hours after the Europeans defeated the Americans in the Ryder Dup, ESPN.com golf editor Jason Sobel walked into the Oliver St. John Gogarty pub in search of the answer to a question that seems to be asked every two years: Why don't the American players care about the Ryder Cup?

For the answer, click here.
Ian Woosnam
popped the cork off the first bottle, dousing his team on the 18th green and later drinking it so quickly that it shot up his nose. Clarke toasted the delirious Irish crowd by guzzling a pint of Guinness from a balcony and raising the empty glass like a trophy.
Even with Tiger Woods getting to pick his partner and finishing with a winning record for the first time in the Ryder Cup, it still didn't change the outcome from two years ago.
Europe 18½, United States 9½.
There's no doubt who owns the Ryder Cup -- and not just the shiny gold trophy.
"I don't know in the history of the Ryder Cup any European team that has played better than you guys," U.S. captain Tom Lehman told them at the closing ceremony Sunday after his American team endured its worst beating ever in the 12 singles matches.
The Europeans wanted to win this one for Clarke and the memory of his wife, Heather, who died of breast cancer six weeks ago to the day. They wanted to win for Woosnam, their pint-sized captain who made all the right moves once the tournament started.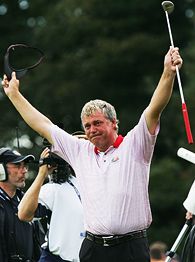 David Cannon/Getty ImagesDarren Clarke's emotions ran the gamut on Sunday as he helped Europe defend the Ryder Cup.
Mostly -- as always -- they wanted to win for each other.
"That's what we do on this team," said Colin Montgomerie, who tied a Ryder Cup record with his sixth singles victory. "We play for each other. We're all just thrilled. And yes, we're going to have a big party."
Luke Donald holed a 10-foot par putt on the 16th hole for Europe's 14th point, all it needed to keep the trophy. Moments later, Henrik Stenson won his match for an outright victory, the first European team to win three in a row.
"This is the pinnacle of my life," said Woosnam, a former Masters champion and once No. 1 in the world.
The celebration was well under way when Clarke won his match against Zach Johnson, and soon the tears flowed as Clarke cried on the shoulder of caddie Billy Foster, then in the arms of Woosnam, sobbing mixed with songs and cheers.
He didn't know if he would play -- if he could play -- in the Ryder Cup so soon after his wife died and left behind two young sons. But he accepted a captain's pick from Woosnam and was determined as ever to bring his best game.
Clarke won all three matches he played, carried along by some of the loudest cheers ever heard at this event.
| | | |
| --- | --- | --- |
| Year | Location | Result |
| 2006 | Kildare, Ireland | Europe 18½, U.S. 9½ |
| 2004 | Bloomfield Hills, Mich. | Europe 18½, U.S. 9½ |
| 2002 | Sutton Coldfield, England | Europe 15½, U.S. 12½ |
| 1999 | Brokline, Mass. | U.S. 14½, Europe 13½ |
| 1997 | Sotogrande, Spain | Europe 14½, U.S. 13½ |
| 1995 | Rochester, N.Y. | Europe 14½, U.S. 13½ |
| 1993 | Sutton Coldfield, England | U.S. 15, Europe 13 |
| 1991 | Kiawah Island, S.C. | U.S. 14½, Europe 13½ |
"It was like an 80,000-seat stadium around one tee box," Johnson said of the start of their match. "Frankly, it was like that on every tee box for him. Well deserved, too."
Clarke and Woosnam embraced for the longest time, and then Woosnam thrust his arm in the air.
"It's done a lot for me for people to show me how much they care," Clarke said. "And it's done a lot to show how much they cared about Heather, and that means a lot to me. It's been a difficult week. From the minute I got here, I was determined to get myself ready, and I was. I played the way Woosie wanted me to."
Clarke had help from every one of his teammates.
Montgomerie set the tone by beating David Toms in the opening match, holing a 4-foot birdie putt on the 18th hole to improve his singles record to 6-0-2. Paul Casey followed by beating Jim Furyk, the American's first loss in Ryder Cup singles.
The Europeans tied a Ryder Cup record by winning 8½ points from the 12 singles matches -- the total the Americans needed to pull off another comeback like they did in 1999 -- and they became the first team to win all five sessions since that format was adopted in 1979.
The Americans didn't stand a chance.
They tried to rally behind the memory of Brookline, when they trailed 10-6 and staged the greatest comeback in Ryder Cup history.
But that was Boston. This was Ireland.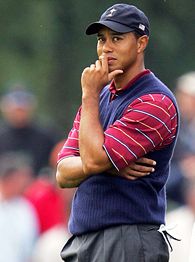 AP Photo/Alastair GrantTiger Woods was one of the few bright sports for the United States on Sunday.
That U.S. team was so strong that the only rookie was
David Duval
, who was No. 2 in the world. This team had four unheralded rookies and couldn't even rely on its stars. Of the top six players who qualified for the team, four didn't win a match all week. The biggest flop was Masters champion
Phil Mickelson
, who went 0-4-1 and has won only one match in his last two Ryder Cups.
The biggest difference was the color on the scoreboards.
The Americans needed them to be awash in red, hopeful that would inspire the back end of the lineup. Just like the first two days, however, European blue was in vogue.
Europe led in eight of the 12 matches on the front nine, and American spirits sagged.
The only signs of life for the U.S. came from Stewart Cink, who birdied four of his first five holes to hand Sergio Garcia his only loss at The K Club and end his unbeaten streak at nine matches; and from Woods, who beat Robert Karlsson to finish this Ryder Cup at 3-2-0.
Woods only looked at the U.S. record since he came along. The world's No. 1 player has won 12 majors and 53 times on the PGA Tour, but he has hoisted the Ryder Cup only once.
"What am I, 1-4 in Ryder Cups? It doesn't sit well," he said. "Nor should it."
The blowout might have been even greater if not for a gesture of sportsmanship from Paul McGinley. His match was all square with J.J. Henry when the Irishman blasted out of the bunker for a conceded birdie. Henry still had 25 feet for birdie, but after a streaker ran onto the green, McGinley conceded the long birdie.
Otherwise, Europe would have been the first team to reach 19 points since this format began in 1979.
"It was a remarkable thing he did," Johnson said. "I think it shows really what the spirit of this competition is all about."
Competition? That's debatable.
Europe now has captured the Ryder Cup five of the last six times, and eight of the last 11. The Americans now lead 24-10-2 in the overall series, but they no longer have to stump to be called the underdogs.
"It just shows the potential of European golf," Woosnam said. "I think we've got the strength and depth for a long time to come, and I think the future of the Ryder Cup is going to look great for Europe."
The American highlights were limited. Scott Verplank made a hole-in-one on the 14th hole while beating Padraig Harrington, giving him a 2-0 record this week but raising questions why Lehman made him a captain's pick and then used him only twice all week.
The other one was comical.
Woods hit 9-iron to the front edge of the seventh green, then handed the club to caddie Steve Williams. The caddie leaned over to dip his towel in the River Liffey, slipped on a rock and dropped the 9-iron into the murky water.
"It was either going to be him or the 9-iron," Woods said. "So he chose the 9-iron."
At that point, Woods could only laugh. He went the next seven holes with only 13 clubs, but it didn't matter.
No way Europe was going to lose its grip on the trophy.

Copyright 2006 by The Associated Press
2006 Ryder Cup
When:
Friday-Sunday, Sept. 22-24
Where:
The K Club, Palmer Course; Straffan, Ireland
Yardage/Par:
7,335 yards; par 72
2006 champion:
Europe
Scores
• Ryder Cup scoring

Day 3 coverage
• Wojciechowski: How to reverse Ryder Cup curse
• Fact or Fiction: Who is to blame for the U.S. loss?
• Sobel: Europe rides its 12 gold stars to victory
• Sirak: U.S. needs to make some changes
• Kreidler: Brother, can you spare a win for the U.S.?
• Sobel: Ryder report cards
• Europe gets quick start, wins Ryder Cup
• Sobel blog: Why U.S. players don't care

• Ryder Cup Day 3 analysis

• Emotions run high

• Water hazard: Caddie drops Woods' nine iron in pond
• Stalschmidt: Challenges of Match Play
• Sobel: Sunday singles preview

Day 2 coverage
• Wojciechowski: It's all over
• Sobel: Foursomes analysis
• Sobel: Fourballs analysis
• What's wrong with Tiger?

• Saturday Ryder Cup recap
• Sobel: Saturday fourballs preview

Day 1 coverage
• Wojciechowski: Still grieving, Clarke's a winner
• Kreidler: U.S. struggles a coincidence?
• Sirak: Europeans go deep
• Friday Ryder Cup recap
• Sobel: Friday fourballs analysis
• Sobel: Friday foursomes analysis
• Ryder Cup pairings: Woods teams with Furyk

Preview coverage
• Sobel: Why the U.S. will win
• Sirak: Why Europe will win
• Ryder Cup experts' predictions
• Burke: Why the U.S. keeps losing
• Turcotte: Time for the nastiness
• Wojciechowski: Team USA gets thumbs up from Team USA
• Wojciechowski: Woods' anger will lead to U.S. victory
• Sobel: If you can't beat 'em, join 'em
• Ryder Cup poll
• Sirak: For first time, U.S. is underdog
• Rosaforte: Irish eyes smiling on Harrington
• Huggan: Woosie's ready to rack 'em up
• Diaz: Lehman learns to face his fears
• Huggan: Stenson's been to hell and back
• Fields: Wake up the echoes
• Hawkins: Tiger brings renewed vigor to Cup
• On the Hot Seat: Zach Johnson
• Shedloski: U.S. rookies in the spotlight
• Weekly 18: Recent results won't matter
• Verdi: Furyk's advice to the U.S.
• Photo gallery: The K Club
• Barton: Money talks at The K Club
• ESPN Travel: Check out Dublin
• Sobel: Rookies will be key


Facts
• Captains agree to lift, clean and place if weather bad
• Magazine insulting Tiger's wife pulled from shelves
• Three people injured at windblown Ryder Cup
• Course map: the K Club
• Huggan: Ryder Cup viewer's guide
• On The Tee at the Ryder Cup
MOST SENT STORIES ON ESPN.COM