Commentary
Colin Montgomerie's reputation at stake
Originally Published:
September 30, 2010
By
Bob Harig
| ESPN.com
NEWPORT, Wales -- Perhaps it is fitting that the first Ryder Cup point Colin Montgomerie earned in what turned out to be a career filled with such victories came against Corey Pavin.
They are captains of their respective European and American Ryder Cup teams now, but back then, Pavin would have been hard-pressed to pick Monty out of a lineup.
[+] Enlarge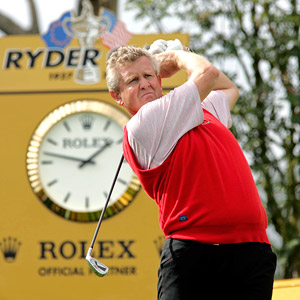 Glyn Kirk/Icon SMIColin Montgomerie's 23½ points total is the third highest of any European player in history.
He had yet to be derisively dubbed "Mrs. Doubtfire," had not drawn the ire and ridicule of U.S. fans for his spats with galleries, had not won the first of his record eight European Tour money titles.
The Scotsman was virtually unknown outside Europe, although he had attended college in the United States (Houston Baptist) and performed well enough to make the 1991 European Ryder Cup team. He had not yet even played in a major championship in America.
Of course, Montgomerie would be overshadowed by the likes of Seve Ballesteros and Bernhard Langer and Jose Maria Olazabal and Nick Faldo.
But on the second day, in a best-ball match with Langer against Pavin and Steve Pate, he helped Europe secure a point. A day later, he was involved in one of the most epic matches in Ryder Cup history, rallying from 4-down with four to play against Mark Calcavecchia -- who imploded -- to tie.
Although the Europeans lost that day at Kiawah Island, Monty's passion for the Ryder Cup was born, the start of an impressive run. He would play on eight European teams, five victorious. And he never lost in singles.
"He loves to be in control. He loves the one-on-one," said Padraig Harrington, a member of Monty's team this year who has partnered with him several times in previous years. "He loves being able to affect the other guy's play by hitting good shots. He loves that element of it.
"I think you can see every time he was selected No. 1, he would put up his chest and he would be two inches taller. He loves being the leader, but definitely, in an actual match-play format, he likes to control that; he hits it close, he puts pressure on the competition.
"It's tougher in stroke play because you can't control 156 guys. But I think in match play … he really got to put direct pressure on his competition, and I think he revels in that."
Colin Montgomerie's Ryder Cup Record
• Overall 20-9-7
• Total Points 23½
• Only 1½ points behind the record held by Nick Faldo, having played 10 fewer matches
Years: 1991-93-95-97-02-04-06
Highlights
• 1991: Came back from 4-down with 4 to play against Mark Calcavecchia to forge a tie.
• 1993: Partnered well with Nick Faldo, losing just 1 match out of 4.
• 1995: Earned crucial singles point and played on his first winning side.
• 1997: Went 3-1-1, the man of the match in Europe's 1-point victory.
• 1999: Heckled mercilessly at The Country Club, causing opponent Payne Stewart to intervene during Sunday singles.
• 2002: Tied heading into singles, Monty led the charge on the final day to another victory.
• 2004: A Bernhard Langer captain's pick, Monty came through to earn the winning point.
• 2006: By defeating David Toms, remained unbeaten in singles.
There is no doubt that Monty loves the Ryder Cup. Win or lose this week at Celtic Manor, the event has defined his career, even though he is a 31-time winner on the European Tour and an eight-time winner -- including seven in a row -- of the circuit's Order of Merit.
Montgomerie, 47 -- who famously has never won a major championship -- played a big part in European victories in 1995, 1997, 2002 and 2004, that last when he holed the clinching putt in a rout of the Americans at Oakland Hills.
He relished the format, winning six times in Sunday singles and taking two halves in his career. His 23½-point total is the third highest in European Tour history. For some reason, his best always came out at this event.
"I think putting in the Ryder Cup is most important, obviously," Montgomerie said. "You never putt for a loss of a hole, so you're obviously putting for a half or a win. I've always hit my putts slightly firmer in Ryder Cup play, and I'm trying to pass on that knowledge to the rookies, especially.
"I've been very lucky with the partners that I've had in my foursomes and four-ball play. When you think of the partners I've had, the Faldos and Langers and Harringtons of this world, it's allowed me the freedom to hit my putts firmer than I would have done normally, and it's amazing how many of them go in."
Yet that is about as far as Monty will go in discussing his personal success. At least this week.
Although over the years he has acknowledged being quite proud of his unblemished singles record, when asked to pinpoint a favorite memory, Montgomerie waxed poetic about the team aspect of the event.
"No personal highlight at all in the Ryder Cup, not one," he said. "But as a team, and as a European Tour [player], it means the world to me. I had ample opportunity to go to America and join the U.S. tour as a player when I was No. 1 in Europe. Never took it. Always supported the European Tour and the European cause, and that's why I'm here, for Europe. … Personally, nothing."
Perhaps that is a bit disingenuous, as surely the Ryder Cup has been a huge source of personal satisfaction for Montgomerie.
But his answer does provide some insight into the controversy surrounding his wild-card selections to a team for which he left both Paul Casey and Justin Rose at home. Both players compete primarily on the PGA Tour, a source of irritation to many on this side of the Atlantic who view loyalty to the European Tour as crucial to the success of the circuit and the Ryder Cup.
European Ryder Cup team

Colin Montgomerie's European team faces the defending champion American squad Oct. 1-3 at Celtic Manor in Wales:
| Player | Ryder Cup record |
| --- | --- |
| Lee Westwood | 14-10-5 |
| Rory McIlroy | First Ryder Cup |
| Martin Kaymer | First Ryder Cup |
| Graeme McDowell | 2-1-1 |
| Ian Poulter | 5-2-0 |
| Ross Fisher | First Ryder Cup |
| Francesco Molinari | First Ryder Cup |
| Peter Hanson | First Ryder Cup |
| Miguel Angel Jimenez | 2-7-3 |
| Padraig Harrington | 7-11-3 |
| Luke Donald | 5-1-1 |
| Edoardo Molinari | First Ryder Cup |
And regardless of his public stance, Monty's record and history with the event are bound to rub off on his team. And you can bet he is imparting every bit of wisdom gained through a wealth of experience.
"He's played some incredible golf, putted incredibly in the Ryder Cup," said Phil Mickelson, who, along with Tiger Woods, was on the losing end of a match against Montgomerie and Harrington that set the stage for a whipping by the Europeans in 2004. "Some of the best putting I've ever seen. I remember the Ryder Cup in '99 at Brookline when he was getting heckled a little bit by the crowd. And that was a bad idea because all he did was make putts left and right, put it right back on them.
"I thought his ability to bring his best golf out in this event was inspirational."
Unfortunately, Monty's legacy is on the line here. That is how the Ryder Cup works in Europe, where so much passion and angst go into the competition.
Faldo is still being assailed for his approach two years ago at Valhalla, and he is the most accomplished British golfer of all time. Never mind that Faldo's top players -- Lee Westwood, Sergio Garcia and Harrington -- underperformed.
So it is for Monty, a Ryder Cup hero to many, but one whose fate now resides in the hands of his players.
"It is right up there with the majors for me," he said. "I haven't won a major, but if you asked me whether I would swap the experiences I've had at the Ryder Cup over the years for a major win, I certainly wouldn't consider it. Many of the most memorable moments in my career have come from the Ryder Cup."
Bob Harig covers golf for ESPN.com. He can be reached at BobHarig@gmail.com.
SPONSORED HEADLINES
MORE GOLF HEADLINES
MOST SENT STORIES ON ESPN.COM
38TH MATCHES AT CELTIC MANOR
In his career, the Ryder Cup has meant everything to Colin Montgomerie. That's why leading the Europeans to victory Monday as captain stands as a crowning achievement. Bob Harig | Championship Central
Date:
Oct. 1-4, 2010
2010 champion:
Europe
Course:
Celtic Manor Twenty Ten Course
Where:
Newport, Wales, United Kingdom
Rosters:
United States
|
Europe
TUESDAY
MONDAY

SUNDAY

SATURDAY

FRIDAY