Commentary
Last half point crucial to U.S. cause
Originally Published:
October 3, 2010
By
Bob Harig
| ESPN.com
NEWPORT, Wales -- You didn't need to understand a word of the vowel-laden language of Welsh, or even know a thing about the vagaries of match play, to figure out what was happening on the final hole of the Twenty Ten course at Celtic Manor.
The sun actually had peeked through the clouds late Sunday afternoon, causing a glare that forced you to squint to see the par-5 green.
Up there, Europeans stood in the mud surrounding the hole, singing and chanting, the scoreboard off to the side telling the story.
The home team was victorious in five of the six Ryder Cup matches, with only Americans Stewart Cink and Matt Kuchar left on the course, leading Italian brothers Francesco and Edoardo Molinari 1-up.
[+] Enlarge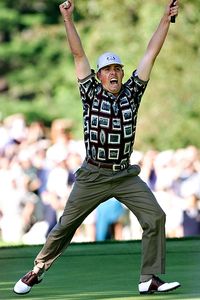 Jeff Haynes/Getty ImagesJustin Leonard's lengthy putt on the 17th hole at the Country Club at Brookline in the 1999 Ryder Cup set off a celebration as the United States rallied from a monumental deficit to claim victory over Europe.
As bad as things looked for most of the day, a victory here, a lone victory, would make the possibility of retaining the Ryder Cup at least worth discussing.
It would have meant a 9-7 deficit heading into Monday's singles matches, and that is certainly an advantage that can be overcome.
That is why Tiger Woods was there cheering them on. And Steve Stricker. And Jim Furyk. And Jeff Overton. And Bubba Watson.
All of them had failed to help earn the Americans a point earlier in the day. It was down to Cink and Kuchar, the heroes Saturday, and all they needed was to tie the hole to win the match, which would keep the Americans within two points.
But not even that could end happily for the Americans. Cink got into trouble off the tee, and while Kuchar positioned himself for a wedge to the green, Francesco Molinari stuck his in tight. When Kuchar missed and Molinari knocked his in, the Europeans erupted in glee again, a final kick in the teeth to Team USA.
The Americans had managed to earn a lousy half point in the third Ryder Cup session that included two foursomes matches and four four-balls.
That half point was not much, but it was all the Americans could cling too, and made what would have been a monumentally impossible comeback less so. There was little consolation in barely avoiding a clean sweep.
"I hope that half point we just got in the afternoon, I hope that matters," Cink said. "It's going to be an important first four or five matches [Monday], especially. They're all going to be important."
As bleak as it appears for Team USA, that half point earned by Cink and Kuchar does matter. It at least provides a glimmer of hope when there seemingly is none, a reason to check out the first Monday finish in the Ryder Cup's storied history that dates to 1927.
Why? Because, believe or not, 9½-7½ is different than 10-6, much more so than it would appear.
A 10-6 deficit is too much to overcome. The U.S. did it in 1999, but that was a different time and place. European captain Mark James had held out three of his players, all of whom were whipped during the final-day singles.
U.S. captain Ben Crenshaw had said he "had a feeling," and sure enough the Americans overcame the biggest deficit in Ryder Cup history, getting that across-the-green putt from Justin Leonard and numerous other fireworks.
Topics: The Ryder Cup
The Ryder Cup heads to Medinah, where the U.S. will try to win back the cup from Europe. ESPN.com Topics has full coverage. The Ryder Cup »
"We have done it before," Woods said. "And no reason why we can't do it again."
"We all know what happened at Brookline," Stricker said.
The Americans do have that to fall back on, and it would make sense that they do. It will take the same kind of comeback, one that produced a remarkable 14½-13½ victory 11 years ago.
In order to get it done this time, the U.S. team needs a total of 14 points to retain the cup, or 7½ more points. That is seven victories and a tie, or six victories and three ties or five victories and five ties.
With only 12 matches, there is not a lot of room for error.
And after the drubbing the Americans took over the final hours on Saturday and into Sunday's weather-delayed action, it will take some short memories and some incredible inspiration to pull off that kind of rally.
"This is a new set of matches," Cink said. "This thing is barely half over. We've got nothing to lose.
"If the first four or five guys go out and win, then it puts the importance on the last half. Every match is going to be important. We need to go out there, stay in the moment, take our time. Because every guy on the team down to the last guy I think is playing well."
Well, not exactly.
Phil Mickelson is 0-3 and has now lost more matches (17) than any player in American Ryder Cup history. Of course, Mickelson is playing in his eighth Ryder Cup, so he's put himself on the line more than most. (It should be noted that England's Nick Faldo, who has won more points than any European, has also lost 19 matches).
But Mickelson's lack of success in this event remains perplexing. If it matters, he will go against Sweden's Peter Hanson in the 10th match Monday.
Dustin Johnson has also come up empty. For all their fireworks, Jeff Overton and Bubba Watson are 1-2. Cink and Kuchar are the only Americans without a loss.
"We can't be hanging our heads now," Stricker said. "I think that's got to be the message, that it's not over yet. Three points is three matches, and that can turn it around in a heartbeat."
Stricker will be a big part of any comeback. He's got Lee Westwood, Europe's best player, in the first match. Cink goes off next against Rory McIlroy. Then it's Jim Furyk against Luke Donald. Furyk held off Donald at the Tour Championship a week ago, but can he do it in match play?
In the PGA Championship playoff matchup that didn't happen, Johnson gets Martin Kaymer in the fourth match. Then it's Kuchar against Ian Poulter followed by Overton against Ross Fisher and Watson against Miguel Angel Jimenez. Woods, who has not lost in singles since 1997, gets Francesco Molinari in the eighth match.
By then, we'll have a pretty good idea if this is going to be another rout -- the U.S. has lost two of the last three Ryder Cups by nine points -- or something that keeps fans on the edge of their seats.
Perhaps on Sunday night, Woods, Mickelson, and Furyk will regale their teammates with stories from that 1999 epic comeback.
Don't count on any inspirational speeches from captain Corey Pavin, who appears incapable of doing any such thing. "Ben's Ben and I'm me," was his perplexing answer to a question about drawing strength from Brookline.
Perhaps that scene at the 18th on Sunday will serve as motivation. All of the Americans were there to witness it, and save for a huge effort, they will be on the short end of it again on Monday.
"There have been special days," Mickelson said, "and we're going to need another one."
Bob Harig covers golf for ESPN.com. He can be reached at BobHarig@gmail.com.
38TH MATCHES AT CELTIC MANOR
In his career, the Ryder Cup has meant everything to Colin Montgomerie. That's why leading the Europeans to victory Monday as captain stands as a crowning achievement. Bob Harig | Championship Central
Date:
Oct. 1-4, 2010
2010 champion:
Europe
Course:
Celtic Manor Twenty Ten Course
Where:
Newport, Wales, United Kingdom
Rosters:
United States
|
Europe
TUESDAY
MONDAY

SUNDAY

SATURDAY

FRIDAY
MOST SENT STORIES ON ESPN.COM