Maruyama continues making name for himself
Updated:
May 14, 2002, 6:10 PM ET
Associated Press
IRVING, Texas -- The seeds for Asian success against the best golfers in the world might have taken root in the final half of the 1998 season.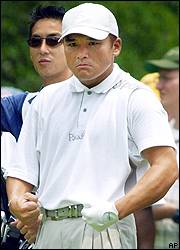 APMaruyama now has a pair of PGA Tour titles.
Shigeki Maruyama was one of the most unheralded players on the International team at the Presidents Cup in Melbourne, but not for long.
He was the only player to win all five of his matches, with a list of victims that included Tiger Woods, David Duval and Phil Mickelson.
"He became a world-stage player at that Presidents Cup," said Mike Bodney, a senior vice president at the PGA Tour who headed international affairs at the time. "He was playing alongside guys that he might not have been comfortable with, and I'm talking about his own teammates. That had to go a long way toward feeling accepted on an international stage."
Earlier that year, another unknown nearly captured the British Open.
Brian Watts, who had played the Japanese tour exclusively since 1993, took the lead in the second round at Royal Birkdale and got into a playoff with an improbable bunker save. He wound up losing to Mark O'Meara.
"I think that's when guys started believing," Watts said Tuesday. "Hey, here's a guy we've been playing against. Let's give it a shot."
Lately, they have been scoring direct hits.
K.J. Choi became the first South Korean to win on the PGA Tour when he captured the Compaq Classic in New Orleans last week.
"I believe it will influence a generation of Korean golfers to come to the U.S. and try out for the PGA Tour," Choi said. "In that sense, the win is very special."
Maruyama made it two in a row for Asians on Sunday, winning the Nelson Classic against a field that featured eight of the top 10 players. It was his second PGA Tour victory, making him the first Asian with multiple wins on tour.
"His first win was big because he showed he could do it," said Watts, who has known Maruyama since 1993. "Sunday was more important because he beat a stronger field. That gives other players hope that if they can get their game to where it has been before, they've got a chance to win out here."
Isao Aoki of Japan was the first Asian winner on the PGA Tour, holing out from the 18th fairway to win the Hawaiian Open in 1983. T.C. Chen of Taiwan recovered from his collapse at the 1985 U.S. Open to win in Los Angeles two years later.
Since then, there has been only a smattering of success.
Japanese players, such as Jumbo Ozaki, made only rare appearances in America and never stayed long enough to get a feel for the golf courses.
"You can't just come over here and play one tournament and go back home," Woods said. "The guys who have been committed to playing on our tour have done very well. It goes to show you what kind of talent pool they have in Asia."
Now, that is starting to change.
The year after his perfect Presidents Cup, Maruyama reached the quarterfinals of the Match Play Championship and tied for sixth in another World Golf Championship, the NEC Invitational at Firestone. That gave him enough money to earn his PGA Tour card.
He was 37th on the money list his first two seasons, and this year already has earned more money ($1.4 million) than all of last season.
"Japanese players wanted to be a part of the PGA Tour," Maruyama said. "Before Tiger showed up, we just participated in the tournament. We just drop it right there and then go home and not do anything -- no practicing after a tournament, we just take a rest. But we don't do that anymore."
It is starting to show, especially from the top Japanese players:
Hidemichi Tanaka was the 54-hole leader in the American Express Championship at Valderrama in 2000 before fading in the last round.
Toru Taniguchi beat Vijay Singh and Maruyama on his way to the semifinals of the Match Play Championship last year in Australia. He lost to eventual champion Steve Stricker, but bounced back to beat Ernie Els in the consolation match.
Toshi Izawa got into a six-man playoff at the Nissan Open last year, won by Robert Allenby. He tied for fourth at the Masters, the highest finish by a Japanese player at Augusta National.
Shingo Katayama finished fourth at the PGA Championship last year, where he delighted the crowds with his funky cowboy hats and emotional play.

David Duval went to Japan last year and won the Dunlop Phoenix.

"The players I played with were excellent," he said.

Woods tied for 15th at the Casio World Open at the end of the 1998 season, his first time playing in Japan. He has won tournaments in Thailand and Malaysia.

"There's a lot of good, solid players," he said. "When they come over here and commit themselves to our tour full-time, you're doing to see them doing very well."

It's already happening.


Copyright 2002 by The Associated Press
MOST SENT STORIES ON ESPN.COM