Woods' streak is a cut above the rest
Updated:
May 21, 2002, 8:22 PM ET
By
Bob Harig
| Special to ESPN.com
Deep down, it is probably not much of an achievement to Tiger Woods. He sets his goals so much higher, which might explain why making a 36-hole cut in a tournament is a kind of ho-hum, expected part of his job.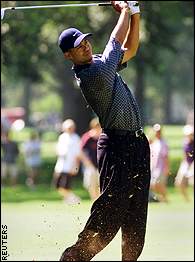 Woods' cut streak is intact since 1997.
Woods, as everyone knows, is all about victories (see his win in Germany earlier this week). At this week's Memorial Tournament, he will try to win the tournament for a fourth straight year and is coming off a victory in Germany, he'll also be trying to make the 36-hole cut for the 88th consecutive tournament.
How good is that? Consider that the next best cut streak on the PGA Tour is held by John Huston, who made his 20th in a row at the Colonial over the weekend. The next best after that is 19 for Nick Price, then 13 for Chris DiMarco.
Only 11 players currently have made 10 or more straight cuts.
Woods' streak is already the third-best in PGA Tour history. He trails Jack Nicklaus, who made 105 straight in the 1970s. The record is held by Byron Nelson, who made 113 in a row over an eight-year period in the 1940s.
In fact, for all his greatness, Nelson holds the cut streak most dear. He believes it was a true mark of consistency, especially in his era, when making a cut meant something different than it does today.
"That's one record I think mine would be better than, because 90 percent of the tournaments I played in only had 20 places,'' said Nelson, referring to the fact that when Nelson played, making the cut meant finishing in the money.
You can argue the issue back and forth. Certainly today's fields are deeper. Woods must take the best shot from a slew of players, week in and week out. This year, for example,, he is the only repeat winner on tour this year.
But Woods gets credit for making cuts at tournaments that have none, such as limited-field events like the Mercedes Championship, the World Golf Championship events and the Tour Championship. Nelson never had the benefit of such tournaments. And he never got credit for making a cut by finishing among the top 70 and ties after two rounds, as is the case in full-field events today.
When Nelson played, he basically had to finish among the top 20 to make a check and a cut. During his streak, he never finished worse than 17th.
"The consistency is the one thing I liked most about my game,'' Nelson said.
Woods takes pride in the streak as well, although he often says he never thinks about making the cut unless he's in danger of missing during the second round. There have been some close calls, as recently as the Byron Nelson two weeks ago, where Woods hovered around the cut line during the second round before getting hot on the back nine. He went on to finish third in the tournament.
And there is no question, Woods is held to a different standard in this regard. Just the thought of him missing a cut is cause for front-page news. Meanwhile, David Duval has missed three cuts this year. Phil Mickelson has missed two.
Since turning pro in 1996, Woods, amazingly, has missed just two cuts -- in six years -- and even one of those has an asterisk.
During the 1998 season, he was credited with a missed cut at the weather-delayed Pebble Beach Pro-Am, which had to be completed on a Monday in August, six months after the tournament's start. Woods did not return for the final round, which went down officially as withdrawal. So his current streak began after the '98 Pebble Beach tournament.
The only other cut Woods missed came during the 1997 season at the Canadian Open.
"There's no telling when he is ever going to miss the cut,'' Nelson said.
Trying again
Morgan Pressel, who at age 12 last year became the youngest player to qualify for the U.S. Women's Open by making it through an 18-hole qualifying round, is trying again. But this time, the journey is filled with more trouble.
The United States Golf Association changed the qualifying criteria -- some believer because of Pressel.
Last week, Pressel endured the first part, advancing out of local qualifying in Naples, Fla. But now she must endure a 36-hole qualifier on June 3 at the Country Club of Heathrow in Orlando. It is the same system used by the men for the U.S. Open, and one that is meant to weed out the hot-round wonders. Having to make it through two, separate qualifiers, including 36 holes in one day, is a test that should produce the best players.
Pressel, who is from Boca Raton, Fla., said she is not out to prove anything.
"I want to get back because it was awesome last year,'' said Pressel, who shot rounds of 77-77 to miss the cut a year ago.
Travel rules
If you're planning to take golf clubs on your next trip with Delta, beware. Last week, the airline began a new policy. It is only accepting clubs in either a hard-shell case or a Club Glove travel bag. Without either of those accessories, golf club-carrying passengers are now being required to put the bag in a "Delta golf box'' at check in, which comes with a $10 fee. Delta says the change is in the best interests of customers who have seen clubs damaged.
Bigger and better
Wasting no time, TaylorMade Golf was quick to unveil a new "hot'' driver, the R500 Series, which "bumps up against the new statute of .860,'' announced two weeks ago by the United States Golf Association and the Royal & Ancient Golf Club of St. Andrews, Scotland.
The .860 refers to the coefficient of restitution, a number that will be the limit for the "spring-like effect'' for drivers. The club will be deemed legal through 2008 for non-tour pros. The R500 series will be available in three models and will have the largest COR zone, or sweetspot, in golf, according to the company.
The club will begin shipping Aug. 1. The drivers will retail for $499.
Bob Harig, who covers golf for the St. Petersburg Times, writes a weekly column for ESPN.com.
SPONSORED HEADLINES
ESPN TOP HEADLINES
MOST SENT STORIES ON ESPN.COM