Palmer unbeaten as captain; Azinger holes bunker shot
Updated:
November 17, 2002, 5:03 PM ET
Associated Press
ST. SIMONS ISLAND, Ga. -- No one will ever confuse the UBS Warburg Cup for the Ryder Cup, although it sure looked familiar Sunday.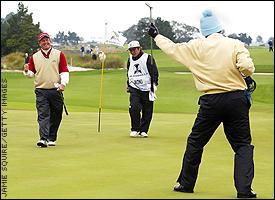 Fred Funk smiles as Isao Aoki makes a birdie on the 18th to halve their match Sunday.
Paul Azinger holed another dramatic bunker shot.
Scott Hoch had another strong performance go to waste when he ran into a European tour player who made just about every putt.
Curtis Strange and Sam Torrance mixed it up again, this time with clubs in their hands.
The big difference was the outcome -- the United States won.
Behind strong performances from Hale Irwin and Tom Lehman in some of the worst weather this year, the Americans easily retained the UBS Warburg Cup and kept Arnold Palmer undefeated as a captain in any cup competition.
The other big difference: No one got too wrapped up over who won the trophy.
''I've been captain of a couple of Ryder Cup teams, and there wasn't nearly as much warmth as it is now,'' Palmer said. ''That pleases me very much.''
The warmth came from the camaraderie, certainly not the weather.
The final score was 14½-9½ in matches between the United States and the Rest of the World. Half of the teams were from the 40-49 age group, the other half 50 and over.
Most of them have played long enough to know this was a tough day -- temperatures in the mid-40s with gusts up to 30 mph, strong enough to twice blow Eduardo Romero's ball off the green on the seventh hole.
''Thank you all for coming out. It was a miserable day for one and all,'' Irwin said.
It was more tolerable for the Americans.
Victory was never in doubt, even though World captain Gary Player atoned for his loss last year by whipping Palmer, 6 and 5, in the opening match.
Strange displayed a brilliant short game in a 4-and-3 victory over Torrance, remaining unbeaten in singles play against his fellow Ryder Cup captain. They halved their Warburg Cup match last year, and Strange beat him in a Shell's Wonderful World of Golf exhibition last year.
Has he ever lost to Torrance?
''Yeah, two months ago,'' Strange said. ''The only time it mattered.''
That would be the Ryder Cup, where Torrance guided the Europeans to a 15½-12½ victory at The Belfry.
The UBS Warburg Cup is not in the same league as the Ryder Cup, although some of the play was sure reminiscent.
Azinger kept alive American hopes at The Belfry by holing a dramatic bunker shot on the 18th hole. He was at it again Sunday at Sea Island Golf Club, holing out for eagle on the 15th hole that gave him a 4-and-3 victory over Bernhard Langer.
''You know he's going to get it real close to the hole or it may go in,'' Langer said. ''He proved that in the Ryder Cup. He's one of the greatest bunker players ever.''
Hoch had an even-par 70, which would have been good enough to get a point in any other match. He happened to play the one guy on the World team who broke par, Barry Lane, who birdied three straight holes down the stretch for a 1-up decision.
Palmer is now 5-0 as a captain -- twice in the Ryder Cup, once in the Presidents Cup and the last two years in the UBS Warburg Cup.
He found his support from all age groups -- Lehman (43), Raymond Floyd (60) and Irwin, who doesn't care what his birth certificate shows.
Irwin, who at 57 became the first player on the senior tour to win $3 million this year, made only one bogey on the day and seized control with an eagle from the bunker on No. 15. Irwin was 2 under in 17 holes.
''I don't think that was day that you can expect to play under par,'' Irwin said.
Floyd defeated Seiji Ebihara, 2 and 1, and joined Lehman as the only players to win all three matches this week.
Notes
Every member of the winning team received $150,000. The losing team each received $100,000. ... Torrance was the only player who failed to win a point at Sea Island. He halved his three Warburg Cup matches last year at Kiawah Island. ... Floyd's record in two Warburg Cups is 4-0-2. ... Five players in the field used broom-handled putters (Torrance, Lehman, Ian Woosnam, Langer and Davis), while two went with the belly putter (Azinger and Lane). ... Palmer, bundled in three layers of clothing, was asked after losing to Player in the opening match whether he would cheer on the rest of his U.S. team. ''Yeah, from somewhere warm,'' the King replied. He then retreated to the clubhouse for lunch.

Copyright 2002 by The Associated Press
SPONSORED HEADLINES
ESPN TOP HEADLINES
MOST SENT STORIES ON ESPN.COM