Young Aussie tied for Sony lead with Goosen
Updated:
January 18, 2003, 1:17 AM ET
Associated Press
HONOLULU -- Aaron Baddeley paid his dues. Now, the 21-year-old Aussie wants to show he belongs among the best players in golf at the Sony Open.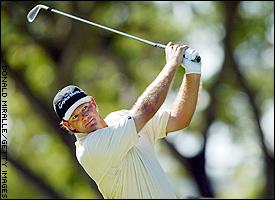 Retief Goosen is at 10-under after a second-round 66, but that's still not good enough for the outright lead.
With birdies on three of his last five holes at windy Waialae Country Club, Baddeley polished off a 6-under 64 to share the 36-hole lead with Retief Goosen.
''I love being in the last group,'' Baddeley said. ''It's where I want to be -- tied for the lead, and comfortable with my game.''
The pressure is nothing new. Baddeley won consecutive Australian Open titles as a teenager, and also beat Sergio Garcia in an Australasian tour event.
Still, it's the first time Baddeley has played in a PGA Tour event without having to get a sponsor's exemption. He earned his way on the tour by finishing 10th on the Buy.com Tour money list, and he looks like he's ready for bigger things.
''This is the way I dream of winning,'' he said. ''It's my first event with a tour card. I'm going to go out tomorrow and keep doing what I'm doing.''
He still has plenty of work left.
He and Goosen, a former U.S. Open champion and the fourth-ranked player in the world, finished at 10-under 130 on a Waialae course that puts a premium on accuracy because of the tight fairways that wind along tall, skinny palms that blow in the Pacific breeze.
And if that's not enough, he and Goosen might have to contend with the Big Easy.
Ernie Els, coming off a record performance last week at Kapalua when he won by eight strokes and set a PGA Tour record at 31-under par, showed no signs of letting up.
Despite missing two birdie putts inside six feet on his back nine, Els shot a 65 and was one stroke behind, along with Chris DiMarco (66) and Peter Lonard (65).
''I'm hitting the ball quite nicely,'' Goosen said. ''Ernie is hitting the ball slightly better than me. If he gets the putter going, he's the guy to beat for the weekend.''
Baddeley figures to have a say in that.
He was labeled a star at 18, when he held off Greg Norman and Colin Montgomerie to become the youngest champion of the Australian Open, the third-oldest championship in professional golf that dates to 1904.
He repeated the following year, then beat Garcia in a playoff at the Holden International in Australia.
''All those guys have won on tour,'' he said. ''It gives me confidence knowing that if I play well, I can win on the PGA Tour, as well.''
Still, it hasn't been easy so far.
Despite nearly 20 sponsor's exemptions, he rarely made the cut and never finished higher than a tie for 44th in the Reno-Tahoe Open.
He is only halfway home in this tournament, with plenty of others in the mix. The cut was at even-par 140, meaning only 10 strokes separate top to bottom. Eighteen players were as close as five shots of the lead going into the weekend.
DiMarco, a winner on tour each of the last three years, also finished with a birdie on the 551-yard 18th hole that showed how much the winds have increased along the shores north of Waikiki Beach.
He belted a driver off the tee, just right of the fairway, then followed with a 1-iron that still had 107 yards left to the hole. He selected an 8-iron.
''Smoked it,'' he said.
The ball landed about 20 feet beyond the pin, but helped by the wind and grain it finished a mere two feet from the hole.
Goosen played in the afternoon, when the Kona wind reached 20 mph. That hardly fazed him as he opened with three consecutive birdies.
Goosen finished with seven consecutive pars, and was lucky to get the last one. His drive on the par-5 ninth hole -- playing so short that Els reached the green with a wedge -- went left toward the driving range and stopped only a few feet from going out of bounds.
Els ran into problems on No. 1, his 10th hole, when he pushed his drive so far to the right that he hit a provision in case it went out of bounds. He stayed in by three feet, but had to grind to make bogey.
He made the rest look easy -- a 9-iron into 15 feet on No. 2, a 6-iron in five feet on No. 5, a sand wedge to two feet on No. 6. It might have been even better than that he not missed those two other short birdie putts.
Still, Els had few complaints.
He is trying to become the first player since Steve Jones in 1989 to win the first two events on the PGA Tour schedule, and he's in great position.
''You can't just get up there hit it as hard as you can,'' he said. ''Obviously, I prefer last week. But I also enjoy this, when it gets quite bunched up and you've got to grind it out. Sometimes par is a good score. If I keep playing like this, I'll like it.''
Notes
The biggest adjustment DiMarco had to make was playing for something Friday. In his previous four tournaments -- Tour Championship, Nedbank Challenge, Target World Challenge and the Mercedes -- there was no 36-hole cut. ... Scott Laycock opened with a 70 that could have better if not for his trip to the restroom. The 31-year-old Aussie was searching for a portable toilet on the second hole, when a marshal offered him a ride in the cart. He was told it was a penalty because it was not a dire emergency. ... Rory Sabbatini ended last year in style, getting married on New Year's Eve. The South African has decided to make his home in Dallas.

Copyright 2003 by The Associated Press
EDITORS' PICKS
Rory will likely miss the cut in his 2015 PGA Tour debut.
Harig »

What was up with Sergio's reaction at Riviera?
#AskESPNCaddie »

Can Rory McIlroy keep his impressive play going?
Bob Harig »