Hoch's big finish lands him in tie with Tway
Updated:
March 8, 2003, 7:44 PM ET
Associated Press
MIAMI -- Don't feel sorry for Scott Hoch the next time he complains of an injury.
Watch out for him.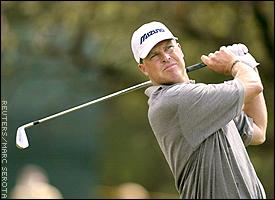 Bob Tway tees off at the second hole on Saturday. Tway parred the final eight holes.
Hoch was on the verge of withdrawing from the Ford Championship at Doral until he hit his final few practice balls on the range Thursday. He quit believing he could contend Saturday, unable to find a swing to compensate for his ailing left wrist.
By the end of a sweltering afternoon, he was tied for the lead with Bob Tway going into the final round on the Blue Monster.
"You've got to love it,'' Hoch said. "I feel great.''
No wonder.
Once he found a swing that worked and a putting stroke that couldn't fail, he birdied seven of his last 11 holes for a 6-under 66.
He was at 14-under 202 and tied with Tway (69), who parred the final eight holes.
"After five holes, I told my caddie, 'It doesn't look like we're going to get it done today.' I was trying different swings and it wasn't working,'' Hoch said. "All of a sudden, things clicked on No. 8 and I started hitting good shot after good shot.''
Hoch, 47, will need plenty more of those in sweltering south Florida.
Sunday is shaping up to be a shootout at Doral, with six others within three shots of the lead.
Tway sounded like he was taking Hoch's approach by keeping his expectations low.
"I'm probably not expected to win, but I know if I play well that I can,'' said Tway, a former PGA champion whose last PGA Tour victory was nearly eight years ago.
Jim Furyk, a winner at Doral three years ago, overcame two short misses with a good par save from the bunker on the 18th hole for a 69. He was one stroke out of the lead at 203 with Carlos Franco of Paraguay, who holed an 18-foot birdie putt on the last for a 68.
"The bad news is I shot 1 over par on the back nine,'' Furyk said. "The good news is I shot 1 over on Saturday, and I still have a chance to win the tournament.''
Right behind them was perhaps the most dangerous player in the field.
Mike Weir, who is starting to make a habit out of winning, surged into contention with a stunning finish -- a 40-foot birdie putt on the 15th, a 10-foot par save on the 16th and two wedge shots that were flawless.
The first hopped behind the hole and spun back in for an eagle on the 17th. The second wedge was to 3 feet on the 18th and allowed him to save par and shoot 67, leaving him only two strokes behind.
Weir won the Bob Hope Classic by making up a four-shot deficit on the final day, and he rallied from seven shots behind to win the Nissan Open in a playoff.
"I felt like my good shots didn't pan out very well,'' Weir said. "I told myself if I can just hang in there and give myself a shot tomorrow ... that's all I really wanted.''
That's what he gets -- him and about a dozen other guys.
Billy Mayfair was 7 under par during a six-hole stretch and shot 65. He was at 11-under 205 with Rod Pampling (70) and Cliff Kresge (68).
"If someone gets hot ... who knows what's going to happen?'' Hoch said.
The heat was unavoidable Saturday at Doral, where the wind was moderate and the temperatures approached 90 degrees.
And there were plenty of hot starts.
Nick Faldo birdied the first six holes and was two strokes out of the lead before Tway and Furyk even arrived at the practice range. He stumbled coming in and finished with a 69.
Tim Petrovic had seven straight birdies in the middle of his round, while playing partner Skip Kendall started eagle-birdie-birdie and was 5 under par through his first five holes.
No one sustained a good round like Mayfair.
He was lucky to get bogey on the third hole, was still even par for the day and losing ground when Mayfair played his next six holes in 7 under par. Despite a three-putt bogey on the 18th, he finished with a 65.
Still, Mayfair knew he would have a lot of ground to cover Sunday.
"That bogey on 18 hurt me a lot,'' Mayfair said.
No one knows pain like Hoch this week. He was on the verge of pulling out Thursday morning until he hit his final 10 balls on the practice range and felt good enough to start. Three days later, he has a good chance to win for the 11th time on tour.
"I'm as surprised as you are,'' Hoch said.
His last victory came at the 2001 Western Open, where Hoch's hand hurt so much he quit his practice round after 12 holes.
That might be his secret to winning, although a more logical explanation is good shots. Once Hoch got through the eighth hole with a birdie, he started hitting shots close and knocking in the putts.
"My key is how my hand feels,'' he said. "Hopefully, I won't have to make an adjustment or try to find the swing that works.''
Notes
Shigeki Maruyama, five strokes out of the lead going into the third round, withdrew because of a neck injury. ... Matt Peterson, a journeyman on the Nationwide Tour, Monday qualified and was in the lead through 12 holes Saturday. He took double bogey on two of the next four holes and finished with a bogey to finish at 8-under 208. ... Billy Mayfair appears to have lost the loop in his putting stroke, although he says the only change is his putter. ``The putter has a smaller head. My other one is heavier. Maybe that makes it look different going back and through,'' he said.

Copyright 2003 by The Associated Press
EDITORS' PICKS
The Masters is less than 10 days away, and Tiger Woods' status remains a mystery. Should he return to golf in Augusta? Bob Harig

The name is unfamiliar, but the year's first LPGA major still comes replete with its cherished traditions. Bill Fields »

The name is unfamiliar, but the year's first LPGA major still comes replete with its cherished traditions. Bill Fields »
MOST SENT STORIES ON ESPN.COM