Crane comes from six back to win; Janzen collapses
Updated:
April 8, 2003, 7:38 PM ET
Associated Press
DULUTH, Ga. -- Ben Crane stood on the 18th tee with a two-shot lead, his first PGA Tour victory within reach.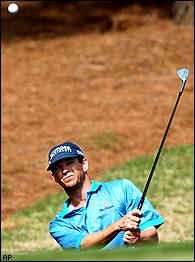 Having enough Pro-V1s to get through four rounds? Priceless.
He planned to play conservatively, but a 357-yard drive changed that strategy.
Crane made an eagle on the last hole Sunday and beat Bob Tway by four shots at the BellSouth Classic for his first victory in his 40th tour event.
''I am so thankful, I played great. I'm a little numb still,'' said Crane, the first first-time winner on the PGA Tour this year.
Crane's eagle at the 18th punctuated a 29 on the back nine, and his 63 tied the course record. His 127 total in the last two rounds is the lowest on tour this season.
At 5-foot-10 and 165 pounds, Crane doesn't look like a big hitter. But his drive on the par-5 18th carried just over the top of a hill, then bounded down the fairway and through a gallery crossing path.
The drive wound up 190 yards from the green, and Crane felt he couldn't afford to lay up.
What it could mean for Augusta ...
Most of the top players in the world usually take the week of the BellSouth off to prepare for The Masters, but recent history shows those who play well at Sugarloaf often carry that success down the road to Augusta.

Last year, Retief Goosen parlayed his BellSouth victory into a second-place showing the next week at The Masters. Phil Mickelson had third-place finishes at both events and Padraig Harrington was tied for eighth at the BellSouth and tied for fifth at Augusta.

In 2001, Mickelson again had third-place finishes at both events, and Chris DiMarco was in the top-10 in each as well. Mickelson won the BellSouth in 2001 and was tied for seventh at that year's Masters.

So what will this trend mean for 2003? Just five of the top 20 in the BellSouth will make the trip to Augusta, a group that includes Retief Goosen (T3), Chris DiMarco (T9) and Fred Couples (T13).

For more stats and analysis, check out our Weekend Wrapup.
''When you hit it there, you've got to go,'' he said. ''If you hit it on top of the hill, you have a one-shot lead, you lay up.''
He hit a 7-iron 20 feet behind the hole, then high-fived his caddy. Crane chose to make the walk up to the green with playing partner Stewart Cink, who lives inside the gates of the TPC at Sugarloaf.
When Crane rolled in the eagle putt, he flipped his putter in the air, then pumped his fists several times before hugging Cink.
''I've been struggling with the mental part of allowing myself to play well, and Stewart has become a very good, close friend,'' said Crane, whose previous best finish was a tie for 10th.
He walked to the scorer's tent and hugged his wife, Heather, then accepted congratulations from Steve Jones, who had finished his round three groups earlier.
Tway, who trailed leader Lee Janzen by two shots entering the final round, held the top spot for most of the day until a three-putt bogey at No. 15. Up ahead at No. 16, Crane made a birdie to take the lead.
''I could have hit a few closer shots, and I could have made a couple of putts there, but Ben shot a fabulous round,'' said Tway, who hasn't won in eight years. ''So I'm not going to kick myself in the rear, but I still have some improving to do.''
Janzen fared worse. Trying to end a five-year winless streak of his own, he shot 77 and finished eight shots behind Crane.
Still, he sought out the winner afterward and offered some kind words.
''He just said, 'Give me a hug, buddy,''' Crane said. ''Obviously, he's very disappointed that he didn't win, but to congratulate me like that was very nice.''
Defending champ Retief Goosen shot a 7-under 65 to tie for third with Jay Williamson and Hank Kuehne. Cink was among three players another stroke back.
Crane actually jump-started his round by making an 11-foot putt for bogey on the 9th hole, then made birdies on Nos. 10 and 11.
''That was big,'' Crane said of his bogey. ''It kind of got me excited. It wasn't a killer at all, by any means.''
After making another birdie at No. 13, Crane he trailed by just a shot. He chose not to look at the leaderboard for most of the round, but as he was walking to the 14th tee, a fan told him where he stood.
''I worked so hard not to look at the leaderboard all day, and I'm like, thanks, but it worked out good,'' Crane said.
He made routine par at 17 before finally looking at the leaderboard.
''I kind of wanted to have an idea of what I wanted to do on 18 going into the hole,'' Crane said. ''I looked at my caddie and he said, 'Well, if you make par, I think we're all right.'
''So I just stepped up there and ripped a driver, and it went all the way down to the bottom.''
Tway knew where he stood when he made the turn, but when he checked again after his bogey at 15, he was surprised at what he saw.
''I looked over and he was at 14, and I go, well, gee, he must have birdied some holes quickly,'' Tway said. ''It must have been a fabulous round. I'll have to watch the replay and see how he did it.''

Copyright 2003 by The Associated Press
SPONSORED HEADLINES
MORE GOLF HEADLINES
MOST SENT STORIES ON ESPN.COM
EDITORS' PICKS
You had Tiger questions, Michael Collins has answers.
#AskESPNCaddie »

Tiger's week went from bad to career-worst in Phoenix.
Harig »

Rory McIlroy rode a bogey-free 66 to a 4-shot lead in Dubai.
Leaderboard »