Couples finishes with a flurry to win in Houston
Updated:
April 29, 2003, 4:11 PM ET
Associated Press
HUMBLE, Texas -- Fred Couples was overwhelmed and nearly speechless after capping his first victory in five years with a birdie on the final hole of the Houston Open.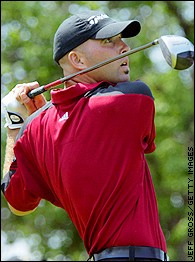 Hank Kuehne made a crucial mistake on the 18th Sunday, but still finsihed tied for second on a sponsor's exemption.
''I mumbled a few things, then basically wanted to get ... out of there,'' Couples said, after breaking into tears on the 18th green following Sunday's four-stroke win. ''I needed to regroup a little bit.
''It's different. I haven't won in five years. I haven't played really well in five years.''
He had at least a share of the lead for all four rounds of the tournament close to the University of Houston campus, where he played in college.
He shot 5-under 67 left him at 21-under 267 as he outdueled playing partner Mark Calcavecchia and held off challenges from Stuart Appleby and Hank Kuehne to break a winless string of 87 events going back to the 1998 Memorial Tournament.
Freddie's got his groove back
Forgive Fred Couples for cutting short his post-round TV interview Sunday. After stepping back to enjoy the view from the top of the mountain, he couldn't help but break down as he looked back at the long, steep trail that led there.

''I mumbled a few things, then basically wanted to get ... out of there,'' Couples said, after breaking into tears during the interview on the 18th green. ''I needed to regroup a little bit."

Regrouping has been the theme of 2003 for Couples, who rededicated himself this winter after all-but-disappearing the last few seasons. The 43-year-old Couples turned to non-nonsense swing coach Butch Harmon to help regain the form that earned him 14 PGA Tour victories and a money title.

The results have been evident all season. Before this week he had missed just one cut and had been in the top 13 in four events. By comparison, Couples had just seven top-10s in the three previous seasons combined while battling a bad back.

We've seen glimpses the Fred Couples of old in 2003, but not many expected this breakthrough. He ended a five-year, 87-tournament winless drought Sunday at the Houston Open, and did it just miles from where he played his college golf at the University of Houston.

Some facts and figures from Couples' week:

Couples did his best work on the greens, averaging a tournament-best 26.5 putts per round. His winding 61-footer for birdie on the par-3 eighth Sunday was the biggest, as it came a hole after he made double bogey.
He was in the fairway off the tee just 51 percent of the time this week, but was still able to hit over 80 percent of his greens in regulation.
Couples made a tournament-best 30 birdies this week, nearly matching his pars (35).

For more stats and analysis from this weekend, check out our Weekend Wrapup.
''I feel honored to win again,'' the 43-year-old Couples said, after looking like the golfer who was dominant in the 1990s. ''I played a very, very good round of golf.''
After stumbling midway through his round Sunday, including a double-bogey in the water at No. 7, he shut the door with four birdies on the final six holes, including three straight starting at the 14th. At the par-4 474-yard 16th hole, he left his second shot a foot from the pin, using the same 6-iron that had failed him at No. 7.
''I didn't know how close I was,'' Couples said. ''The people were going crazy.''
It was ''the shot of the day,'' he said.
Kuehne, Calcavecchia and Appleby, all holding at least a share of the lead after the turn, tied for second at 271, followed by Jay Haas at 272 and Jeff Maggert at 273. Maggert eagled the first hole and then went on to tie the course record with an 8-under 64.
''That's the best I've ever seen Fred play,'' said Calcavecchia, trying to end his own two-year winless streak. ''I will take out of this week that I know I am going to win again, eventually.''
Kuehne and Calcavecchia were doomed after finding the water late in their rounds and Appleby's bid was derailed by a bogey at the 16th hole after an errant tee shot.
Couples led by one over Calcavecchia heading into Sunday's final round and started with a birdie at No. 1.
Calcavecchia started fast, opening with a pair of birdies. His second shot at the par-4 427-yard second hole landed less than 3 feet from the pin. That put him back in a tie with Couples.
But on No. 4, a 401-yard par 4, Calcavecchia's second shot landed in the pond that fronts the green and led to a double-bogey. It was a three-stroke swing as Couples made an 18-foot birdie. Calcavecchia then made up a stroke with a 21-foot birdie putt on No. 5.
Couples returned the favor, going into the water for the second straight day at the seventh, which became the toughest hole of the week for the golfers, leaving him and Calcavecchia tied at 16-under.
Given the opening, Calcavecchia's drive at the par-3 eighth hole landed 2½ feet from the cup, leaving him an easy birdie attempt while Couples was 61 feet away. But Couples rolled in a perfect putt, throwing his putter into the air and doffing his visor as the huge crowd following the pair roared. Then Couples took the lead at 18-under with an 11-foot putt on No. 9 while Calcavecchia's 2-footer slipped by the side of the hole for par.
At 10, Couples' bogeyed and, when Calcavecchia birdie attempt from less than two feet rimmed off the cup, they were tied again.
Calcavecchia seized the lead on the 12th hole, two-putting for birdie while Couples made par, then gave it back with a bogey on 13.
''I watch (the leaderboard) all day, and it went up and it went down and then it went up again,'' he said.
Appleby, a winner in 1999 at this event when it was played at the TPC at The Woodlands, and Kuehne, the 1998 U.S. Amateur champion, were making moves.
''Calc went crazy, then Kuehne went nuts, then Appleby,'' Couples said. ''It was a lot of fun to be a part of it.''
Appleby started the day two shots behind Couples, but stayed close, making the turn at 1-under. after a bogey at 10, he birdied four of the next five holes, putting him in front, but the bad drive on No. 16 took him well off the fairway and led to a bogey while Couples and Calcavecchia were making birdie right behind him at 15.
Kuehne, who had a share of the lead after the second round, made the turn at 2-under for the day, birdied Nos. 10 and 12 and then had consecutive birdies at 15, 16 and 17 to hold the lead by one shot. But the 27-year-old from Dallas put his tee shot at the 18th hole into the water. After taking a drop, his next shot soared over the green, leaving him with his only bogey of the day.
''I just hit a bad shot,'' he said.
With Couples making birdies at Nos. 14, 15 and 16, Calcavecchia fell out of contention for good when his shot at the 17th hole stopped at the edge of the water and he waded in knee-deep to avoid a penalty drop. When his par attempt hung on the lip of the cup for bogey, Couples was home free.
This year the tournament, sponsored by Shell Oil Co., was moved from The Woodlands complex after a 28-year run to the new sprawling Redstone Golf Club, at 7,508 yards the fourth-longest course on the tour.
Notes
This tournament, first played in 1946 and now the 10th-oldest on the PGA Tour, has been won by six players in their 40s. Players in their 20s have won 22 times. ... Peter Jacobsen, who helped design the course, had a 69, finishing at 276, 12 under par.

Copyright 2003 by The Associated Press
EDITORS' PICKS
Derek Fathauer roars to lead at Web.com finale.
Story »

The R&A will now allow women members.
Story »

Carlos Ortiz carries a nation's hopes to the PGA Tour.
Farrell Evans »