Toms stumbles at 18, but earns first title since 2001
Updated:
May 14, 2003, 1:48 PM ET
Associated Press
CHARLOTTE, N.C. -- All that matters is that David Toms won the Wachovia Championship for his first victory in nearly 20 months.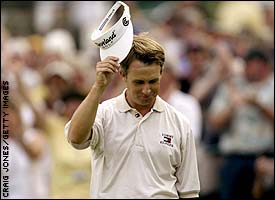 Photo by Craig Jones/Getty ImagesDavid Toms could have made a 9 on the final hole and still won. He made an 8.
All anyone wanted to talk about was the way he finished.
Toms was so dominant over four days on a difficult golf course that he could have made a quintuple-bogey 9 on the 18th hole and still won. He made an 8.
"My game plan to was make a birdie and finish off in style,'' Toms said Sunday after closing with a 1-over 73 for a two-shot victory at Quail Hollow. "I went from being in total control and picking my targets to trying to hang on and finish.''
In a sloppy finish to an otherwise spectacular week, Toms raised his arms in mock triumph after making a mockery of the final hole.
He didn't look anything like the guy who built a five-stroke lead going into the final round and never let anyone closer than three strokes until the very end.
His drive went 50 yards off line and into the trees. He tried to chip back toward the fairway and went into a hazard, just short of the creek. He laid up short of the green, then took four putts to get down from 45 feet.
Toms knows he'll hear about it from his peers.
Major stride for Toms?
When you can make a quadruple bogey on the 72nd hole and still walk away with a two-stroke victory, you know you've had a great week.

David Toms did just that Sunday in winning the inaugural Wachovia Championship. It was a fluky finish to an otherwise spectacular showing on a course that played U.S. Open-tough.

Some facts and figures from Toms' week:

He led the field in greens in regulation (80.6 percent), and ranked second in fairways hit off the tee (73.2 percent).
Before the dreaded snowman on the par-4 18th Sunday, Toms had gone 24 holes without a bogey, making five birdies in that span.
Toms did all his damage on the par-fives, playing them at 10-under. He was even-par on the rest of the holes.
The only time Toms took more than two putts on any of Quail Hollow's tough greens was on the final hole of the tournament, where he needed four shots to get down from 45 feet.

The victory is the first for Toms since his breakout season in 2001, when he won three events, including the PGA Championship. In the 41 tournaments between titles, Toms had 16 top-10 finishes, including 12 in 2002, when he was fourth on the money list. But he has struggled some in 2003, with just one top-10 and a runner-up finish at the Match Play in 11 events before this week.

Despite the early-season slump, Toms was 23rd on the money list before the Wachovia (he's sixth now) and eighth in the World Ranking. His dominant performance at Quail Hollow has to at least bring him into the conversation when identifying the top players on the PGA Tour.

Tiger Woods is obviously on a platform all his own, but does Toms warrant a spot on that second tier with Davis Love III, Ernie Els, Mike Weir and Vijay Singh?

Maybe. Maybe not. Better save that question for after the U.S. Open next month.

For more stats and analysis, check out our Weekend Wrapup.
''They're going to realize that I played a great round of golf until that last hole,'' he said. ''And they're going to stick it to me a little bit for the way I finished. But that's fine. I can take it. I've got the trophy and that big check.''
The bottom line was his 10-under 278, good enough for a two-stroke victory over Vijay Singh (68), Robert Gamez (70) and Brent Geiberger (69). Toms won $1,008,000, the largest payoff among his eight PGA Tour victories.
Gamez knew it was over when he three-putted for bogey on the par-5 10th, which dropped him five strokes behind.
As he spoke, Gamez glanced up at the television and watched Toms take his final two putts from 3 feet for an inauspicious ending to Charlotte's first PGA Tour event in 24 years.
Gamez smiled.
''It's tough seeing that,'' he said. ''If I could have done anything on the back ...''
Still, he knows that final hole only mattered in the record books. Gamez won his first PGA Tour event at Tucson in 1990 by four strokes, despite a double bogey on the last hole.
''You just let your guard down,'' he said. ''And 18 is not a hole where you can let your guard down. But he obviously putted well all week.''
Despite how it ended, this victory was important. Toms had not won since the Michelob Championship in October 2001, toward the end of a breakthrough year in which he won three times, including the PGA Championship.
He has been grinding ever since, frustrated by 11 finishes in the top five in his last 41 tournaments. Each close call only made his burden heavier.
''I finally got that monkey off my back,'' he said. ''It will be a week that I'll remember for a long time, just because of the way I played golf. It wasn't a fluke that I won, because I felt like I played great golf all week.''
He put it all together at Quail Hollow and gave the inaugural Wachovia Championship a worthy winner. The PGA Tour returned to Charlotte for the first time since the 1979 Kemper Open, and this tournament got rave reviews -- even from those who missed the cut.
Some players said Quail Hollow was good enough to host a major championship.
Indeed, the final hole was reminiscent of Jean Van de Velde in the 1999 British Open, when he made a comical triple bogey on the 18th hole at Carnousite and eventually lost in a three-man playoff.
Toms still got to hold the crystal trophy and cash a seven-figure check.
Lost amid the wacky finish was his great play, especially with a 33-minute rain delay and a couple of players who tried to make a run at him.
Nick Price closed with a 70. He and Gamez applied the most pressure, both getting within three strokes of the lead on the front nine.
Singh, who made 24 birdies at Quail Hollow, was at 10 under and four strokes behind when he tried to go at the pin on the peninsula-green 17th and landed in the water, taking a double bogey.
Gamez played like he had nothing to lose and went after the pins, making birdie on the first two holes. Toms was in the right bunker when Gamez made his second birdie, and he was in danger of having his five-stroke lead reduced to two after one hole.
But he blasted out to 4 feet and saved par, and never gave anyone else much hope. Even when he appeared to be in trouble, Toms kept his cool.
From under the trees on the third hole, he choked down on a 6-iron and kept the ball beneath the branches with a soft swing, running it up to 15 feet for birdie.
With Gamez and Price closing in on the lead, Toms answered with a nice two-putt from 80 feet on the par-5 seventh, then added a 10-foot birdie on the 10th hole.
As Toms walked up the ninth fairway, a fan called out, ''C'mon David, come back to the field a little bit and make it close.''
It never was, even though the final margin made it look that way.
Notes
Masters champion Mike Weir had a 69 but remained confounded by his putting. He had 119 putts this week, 15 more than when he won at Augusta National. Weir said he might withdraw from the Byron Nelson Classic next week to work on his game, then play three in a row, concluding with the U.S. Open. ... Fred Couples, one stroke out of the lead going into the weekend, finished with rounds of 74-76 while coping with a sore back. He tied for 34th.

Copyright 2003 by The Associated Press
SPONSORED HEADLINES
MORE GOLF HEADLINES
MOST SENT STORIES ON ESPN.COM
EDITORS' PICKS
Two of 2014's most compelling moments came off the course.
Farrell Evans »

Whaley's election puts her in line to influence much in golf.
Fields »

Tiger Woods opened his first golf course design Tuesday.
Harig »