Annika cruises at Kellogg
Updated:
June 1, 2003, 11:36 PM ET
Associated Press
AURORA, Ill. -- Annika Sorenstam followed history with a victory.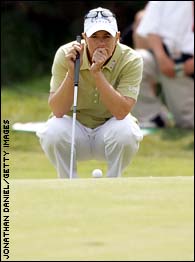 Photo by Jonathan Daniel/Getty ImagesAnnika Sorenstam bogeyed her final two holes, but had built a big enough lead that it hardly mattered.
Sorenstam never broke stride as she returned to the LPGA Tour after her historic rounds at the Colonial. Despite bogeying her final two holes, she breezed to a three-stroke victory in the Kellogg-Keebler Classic on Sunday.
''No, no letdown at all,'' she said. ''On the contrary. When I came here, I thought everybody was so positive and energetic that I was back. Especially the fans. I thought they were pulling for me all week. It was great.''
So was she, leading the tournament wire-to-wire to win it for a second straight year. Her 1-under 71 on Sunday gave her 17-under 199 for the 54-hole tournament.
It was her second victory of the year on the LPGA Tour -- her 44th overall. She earned $180,000 with the win, putting her back in first place on the money list with $734,501.
''Obviously, I'm very, very pleased,'' she said. ''It's been a great week. To come back and perform the way I did was pretty much incredible with everything going on last week.''
Mhairi McKay had four birdies on the back nine -- including three in a row -- but a triple-bogey on the front had all but ended her chances. McKay shot even par, finishing three strokes back at 14-under 202.
''I sort of had not the best start, so to finish this way is a great feeling,'' said McKay, who also was second last year. ''I'm kind of a bit disappointed at the same time, because I really wanted to push Annika today.
''But I'm proud of myself for hanging up there and finishing strong.''
Though Sorenstam missed the cut at the Colonial, her grace under unbelievable pressure won her millions of fans worldwide. And many were out in force Sunday.
More than 22,000 people came out for the final round -- most just to see Sorenstam. They wore the now-familiar ''Go Annika!'' buttons, and followed her from hole to hole as if she was the Pied Piper.
As she walked up the fairway on the fourth hole, a group of kids on the balcony of one of the huge homes lining the course screamed, ''We love you, Annika!'' Sorenstam grinned and waved at them as the crowd laughed.
Even tournament volunteers got in on the lovefest. They followed her up the 18th fairway, a sea of red the backdrop for her victory.
''I always feel so welcome coming here,'' Sorenstam said. ''That plays a big part, just to come to a place where you like it so you can play your best. And then I got off to such a great start again, 10 under. I was just on a roll after that.''
Sorenstam ran away with the inaugural Kellogg-Keebler Classic last year, winning by 11 strokes and matching the tour record for relation to par in a 54-hole event with a 21-under 195. She looked as if she was going to shatter that record Sunday, making birdies on her first two holes.
Counting the five she made to close her round Saturday, she had seven birdies in a row.
''I was thinking last year I was 21 under, my goal was to get to 23,'' she said.
But then, just as she did Saturday, she struggled with her putting. On the par-3 No. 3, she landed about 10 feet above the hole with her tee shot, almost a certain gimme. But the ball slid by the edge of the cup, running a foot long.
On the par-4 No. 7, she misfired on her second shot and landed in some thick rough inches above a bunker next to the green. She got within 10 feet of the pin on her next shot, but her par putt was long by about 18 inches and she had her first bogey of the day.
It was the first time this week she had a bogey on the front nine.
She got to 19 under after chipping within two inches on the par-5 14th, but things got rough after that. She missed her birdie putt on the 15th, and three-putted for a bogey on the 17th.
She pushed her tee shot on the 18th into fescue off of the left side of the fairway, and took a stroke for an unplayable lie. Hitting from a bunker, she got back out into the fairway only to misfire on her next shot and land in a greenside bunker.
She blasted out and it looked as if it might drop into the cup. She waved it along as if to give it an extra push, but it stopped about eight feet short of the hole.
She rolled it in for a bogey. She skipped backward a couple of steps with a big grin on her face, then turned and tossed her ball into the roaring crowd.
''It was a little more adventurous than I wanted it to be,'' she said. ''But obviously I'm glad I made the putt and finished on a high note.''
And with a lead that climbed as high as eight strokes, it was more than good enough for a win.
''I always got the feeling that she had something else left in reserve,'' McKay said. ''She had a fairly sizeable lead and I think had she needed to pull a couple more birdies, then she would have done just that.''
McKay began the day two strokes back, but any chance she had of catching Sorenstam ended with her triple-bogey on the par-4 No. 4.
She overflew the green on her second shot, yelling, ''Sit, sit, please sit!'' as the ball sailed forward. Her pleas didn't do any good, though, as the ball landed in some deep rough and bushes down a slope behind the green.
She took a drop but then duffed her chip shot, moving it only about 20 feet. She chipped on within a foot and made the putt, but went from five strokes behind Sorenstam to eight back.
From there, it wasn't a question of whether Sorenstam would win, but by how much.
''I thought I played really well, except not the last few holes,'' she said. ''It was a very good week.''

Copyright 2003 by The Associated Press
EDITORS' PICKS
How fast can Rory turn things around at Doral?
Four-Ball »

Harrington counts his blessings after Honda win.
Harig »

Scott Van Pelt updates the old caddie credo.
Listen
MOST SENT STORIES ON ESPN.COM