Not every course is a links
Updated:
June 14, 2004, 2:35 PM ET
By
Ron Whitten
| Golf Digest
Decades from now, golf fans will tell their grandchildren about the magical summer of '04, when the planets fell into alignment and tree-lined, waterlogged, gussied-up major championship courses disappeared from view, eclipsed by a trio of rugged, windblown, weather-beaten links: Shinnecock Hills, Royal Troon and Whistling Straits. Great men played in the U.S. Open, British Open and PGA Championship that summer, it will be said, but they were dominated by Mother Nature and Lady Luck.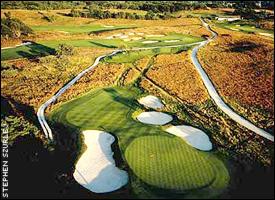 The par-3 17th, now 179 yards, is typical of Shinnecock's landscape.
So forget about a Grand Slam this year. The next three majors are on links, considered by some to be unattractive, by others as unpredictable, and by even the best players in the world as unrelenting in their demands.


Unfortunately, some golfers think every golf course is a links. But the two terms are not interchangeable. A links is a small, special category of golf courses. The classic definition: a course on oceanside sand dunes that were formed by a receding sea and covered by fertile soil from a river estuary.


Of the three, that describes only Royal Troon. But we consider Shinnecock and Whistling Straits to be genuine links as well, for our classification relies not on mere proximity to the sea, but instead upon the particular kind of game needed to succeed on such courses. It's a game that involves less of an aerial assault and more of a ground attack: low, penetrating drives, knockdown shots, run-up approaches and putters from well off the green.


Which are links?
Never judge a links by its label.

Some of the best-known courses in America have long been labeled "links," but not in our book, because they lack one or more of the essential ingredients: firm and fast conditions, punishing rough, constant wind. Other courses admirably fit our description of a links, yet are only occasionally recognized as such.

See if you can identify which of the following we consider as links. Here's one clue: Don't be swayed by location.


Harbour Town Golf Links, Hilton Head Island, S.C.

The Links at Spanish Bay, Pebble Beach, Calif.

The Links of North Dakota, Ray, N.D.

The Maidstone Club, East Hampton, N.Y.

National Golf Links of America, Southampton, N.Y.

Newport (R.I.) C.C.

Pebble Beach (Calif.) Golf Links

The Ocean Course, Kiawah Island, S.C.

Pacific Dunes, Bandon, Ore.

Prairie Dunes C.C., Hutchinson, Kan.

Rich Harvest Links, Sugar Grove, Ill.

Sand Hills G.C., Mullen, Neb.

The answers:
All are links except Harbour Town (too many trees, lagoons and condos in place of rough), Pebble Beach (hardly an opportunity to bounce the ball anywhere on the course) and Rich Harvest Links (breezy, yes, but it's a cornfield made opulent by bent-grass fairways and rock-lined ponds).
For our purposes, a links is any course -- by an ocean or not -- built on well-drained, sandy soil that offers firm and fast fairways and greens, has uneven ground, an infinite variety of stances and lies, very few trees, punishing rough of native grasses and deep, recessed bunkers. Most of all, a links in our book must have ever-present wind, whipping from many points on the compass, the kind of breezes, zephyrs, gusts and gales that can affect not just tee shots and approach shots, but even putts -- the kind of wind that can blow sand clean out of bunkers (which is why links bunkers are normally recessed into the earth).


Links golf is more than just a definition. It's also an experience. Tour pros who have abandoned persimmon woods and wound balls will be facing the architectural equivalent of yesterday's equipment during the next three months and will find it far less user-friendly than their favorite PGA Tour stop. In an era when championship golfers play point-to-point golf, Shinnecock, Royal Troon and Whistling Straits will force even the best players to create shots.


Part of that experience is a reminder of the past, as well as a glimpse of the possible future. Before automatic irrigation systems and memorial tree-planting committees, a majority of American courses looked more or less like links: wide open and treeless, with dry turf and hard greens when it didn't rain, and shaggy fairways and receptive greens when it did. But most courses weren't built on sandy soil, which is why innovations were made in greens mix, drainage, agronomy and the like.


Over time, American courses became modest versions of Augusta National. But trees planted 50 years ago as wind buffers are now choking out sunlight and air to golf holes, so they're being removed in massive numbers (see "Is Your Course Overtreed?" October 2002). To reduce escalating costs of fuel and labor, polished roughs have been turned into ragged, unmaintained areas. Many country clubs (and new courses) are looking more and more like links these days (public-relations firms certainly call them links) even if they don't quite play the same. But that could change, too, if government-imposed water restrictions leave no choice but to go firm and fast.


Links golf is also an attitude, of patience and perseverance in the face of bad bounces and hideous lies. Remember the final round of last year's British Open, when a dozen players, including Tiger Woods and third-round leader Thomas Bjorn, stumbled across the dry knobs and barren hollows of Royal St. George's, leaving Ben Curtis as the astonished, and astonishing, winner? Sure, stuff like that happens at the Open, because it's always played on a links. But this summer that could happen in triplicate.


Especially if the wind is up. "That's what affects scoring most on the tour, both here and in Europe," says Mark O'Meara, the 1998 British Open winner at Royal Birkdale. "If you don't have the wind, these guys are so good they're going to shoot low scores. But if you get wind, that's when you make them work for a living."


The work will start in June on New York's Long Island, at the U.S. Open at Shinnecock Hills Golf Club, which O'Meara calls "about as linksy as you can get for an American-style course." Emerging from high ground of an isthmus between the Atlantic Ocean and Great Peconic Bay, Shinnecock's fairways tumble off high ridges and slide through narrow valleys. Its smallish greens slant and cant at aggravating angles. It has more bunkers than trees, especially after last year's aggressive chain-saw massacre of pines, oaks, bushes and underbrush. It also has hay-like rough that can snap a golf shaft and swallow a golf bag.


Shinnecock features clusters of holes in triangles, so that no more than two consecutive shots are in the same direction. Golfers must play Shinnecock the way sailors tack against the wind, from side to side.


On calm days Shinnecock is still a genuine test. In inclement conditions it can be a brute. During its two most recent Opens (1986 and 1995), players faced only a single day of blustery Long Island weather each time, yet the winning scores were Ray Floyd's one under and Corey Pavin's even par.


You might be playing a links if ...
1. You've never seen a puddle in a fairway. (give yourself 10 points for each "yes")
2. There are no sprinkler heads in the rough.
3. Your preferred ball-flight trajectory is quail-high.
4. Your bunker sand is an earthy color, not bright white.
5. The faces of the bunkers are stacked sod.
6. Your secondary rough is knee-high by the fourth of July.
7. You once aced a par 3 after landing your ball 50 yards short.
8. They sell stocking caps in the golf shop.
9. You call bad bounces "rub of the brown."
10. You can play the course forward and backward.

Score
0: You play exclusively at a TPC.
10-40: Your course is at least budget-minded.
50-90: Your course is indeed a links.
100: Your regular game must be at the Old Course at St. Andrews.
In July, it's over to the west coast of Scotland for the British Open at Royal Troon Golf Club, a links Jesper Parnevik describes as "two different courses -- you take your chances on the front nine and hang on for dear life on the back."
Stretched along the rumpled coast of the Firth of Clyde leading to the Irish Sea, Troon is the game's equivalent of a wind tunnel. On its out-and-back routing, it's the longer second nine that's usually dead into the ocean gales.


There's a bunker, legend has it, for every day of the year, 365 in all. Some players can experience a week's worth or two in a single round. Still, Royal Troon is relatively flat and, with the exception of a few blind tee shots and hidden bunkers, very fair. "If you hit a good shot in the fairway," says Darren Clarke, "it's going to stay on the fairway."


Most of Troon's greens are accessible by low bump-and-run shots. The notable exception is the tiny "Postage Stamp" eighth, 123 yards to a surface just nine to 15 yards wide and less than 30 yards deep. In the final round in 1997, Tiger Woods dashed any chance of a charge by triple-bogeying the eighth.


If the world's best players haven't been thoroughly whiplashed by early August, they certainly will be by the conclusion of this year's PGA Championship on the Straits Course at Whistling Straits Golf Club near Sheboygan, Wis. It's a nouveau links by architect Pete Dye, who transformed an abandoned military base on a Lake Michigan bluff into a bombed-out portion of Afghanistan, with jagged hills, vast craters and huge hunks of land slumping to the shoreline. It has eight holes right along the lake's edge, nearly as many cliffhangers as at famed Pebble Beach. There are estimates of some 500 pot bunkers on the Straits, but it's tough to determine just what to call the pockmarks pitting the two miles of sand dunes that Dye conjured up and piled high.


For this last leg in this triple crown of championship links, we must thank the PGA of America, which four years ago dropped Valhalla, the previously scheduled host of this year's event, to make room for Whistling Straits. That move got the jump on the U.S. Golf Association, which had wanted to play the 2005 U.S. Open on the same course. Such is the recent passion for links golf among the game's governing bodies in America.


Too bad the PGA of America didn't boot Oakland Hills in favor of the Ocean Course on Kiawah Island for this fall's Ryder Cup. That would have given us four consecutive major events on links.


But three in a row isn't bad. Were it not for pastoral Augusta National, the old school of golf architecture would have hit for the cycle in 2004. Arguably, it still did. When originally designed, the now-plush Augusta National was patterned after the Old Course at St. Andrews, which is the oldest, hoariest, crustiest links of them all.
Subscribe to:
SPONSORED HEADLINES
MORE GOLF HEADLINES
MOST SENT STORIES ON ESPN.COM
EDITORS' PICKS
Tiger's article likely produced the opposite intended effect.
Harig »

Park, Lewis are unquestionably the top two LPGA Tour players.
Voepel »