Consistent swing has Garcia ready for U.S. Open
Updated:
June 16, 2004, 1:34 AM ET
By
Peter Lawrence-Riddell
| ESPN.com
SOUTHAMPTON, N.Y. -- Welcome to the party, Sergio Garcia. With most of the talk centering on Ernie Els, Vijay Singh and Phil Mickelson catching Tiger Woods, Garcia has crept back into the picture.
With two wins in his last five starts on the PGA Tour, Garcia heads to Shinnecock Hills Golf Club for the 2004 U.S. Open as one of the hottest golfers in the world and has to be considered one of the favorites.
Wonder Boy
Golf World's John Hawkins has more on the up-and-down career of Sergio Garcia. Garcia has the talent, determination and charisma to be golf's next superstar. Does he have the maturity?
"I feel like I'm pretty comfortable with my game," Garcia said after his Tuesday practice round with Els,
Adam Scott
and
Thomas Bjorn
. "I really feel like I have more confidence in myself to try to do something here."
When Garcia burst on to the scene as a PGA Tour rookie at the 1999 PGA Championship at Medinah Country Club, he was expected to provide the golf world with its next great rivalry. But while Garcia has been very good, he never reached the level Woods was on. With his game stuck in neutral, Garcia made the drastic decision to change his swing after the 2002 season. As could be expected, Garcia had a terrible 2003 season, recording just two top 10s in 20 events and finishing No. 95 on the money list.
But gradually, Garcia's swing has rounded into shape. While Garcia pointed to the American Express Championship near the end of last season as a point when his swing changes finally started to take shape, a turning point in the 2004 season had to be his play Sunday at The Masters. Standing at 3-over heading into the final round, Garcia fired a 66, jumping all the way up to a tie for fourth. His two wins at the Byron Nelson Classic and Westchester followed in his next five events, giving him multiple wins in a season for the second time in his career.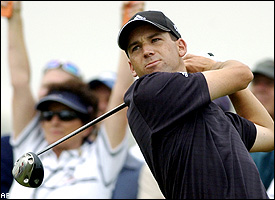 Sergio Garcia ranks No. 12 on the PGA Tour in driving distance (296.9 yards).
Garcia's new swing features better posture and less lag at the top. The result has been a more consistent swing that is easier to repeat.
"Now the start is a bit more in line and the club is much better on top, it's not aiming so far left. From there, I don't have to make as much movement coming down to get it back on the right path. So that's given me more consistency and taken a lot of movement out of the swing."
The area where Garcia's improved play has really been noticeable is in the number of greens that he is hitting. Garcia is currently No. 2 in greens in regulation on the PGA Tour after finishing No. 77 last season and No. 130 in 2002.
That laser-like iron play has to make him confident this week. Last year's champion, Jim Furyk, was No. 1 in greens in regulation for the week.
"This year, I've done something that I don't think I've ever done in my career, and that's finishing first or tied for first in greens in regulation in three or four tournaments already," Garcia said. "So that shows a lot and gives you a lot of confidence."
While precise iron shots will be a necessity, the way the areas around the greens are set up could turn this year's Open into a chipping contest, and that should play right into one of the strongest aspects of Garcia's game.
"I'm making a lot more putts, and my chipping has been a lot better," Garcia said. "I think that that's probably one of the main reasons for my improved play.
| | | |
| --- | --- | --- |
| | " | I feel like I'm pretty comfortable with my game. I really feel like I have more confidence in myself to try to do something here. " |
| | | — Sergio Garcia |
"Your short game has to be on this week. Even hitting good shots, you're going to miss greens. You've just got to manage to get a couple of ups-and-downs here and there that can really get you going, because that almost feels like a birdie.
While Garcia's game is rounding into form, it remains to be seen whether his maturity is where it needs to be to grind out four days at a U.S. Open. That the championship is being held on Long Island is certainly ironic for Garcia. In 2002 at Bethpage, Garcia had an eventful week that included whining about weather conditions, dissing Tiger, an obscene gesture toward the fans, more waggles than even the most nervous hacker at the local muni, and a final-round 74 that destroyed any chance he had to win. But while the 2002 U.S. Open had to be one of his most trying weeks as a pro, Garcia insists that he harbors no ill will.
"Probably, that week gave me the experience of handling it [heckling from the gallery] better than I did at that moment," Garcia said. "I'd say that it doesn't affect me as much as it used to and that I can block it out better."
Garcia's penchant for petulance is not something that plays well at a U.S. Open, where fighting through adversity, and not succumbing to it, is the key to winning. It's something that he clearly understands. He talked consistently during his Tuesday news conference about the need to be patient.
"There's going to be some times when you're going to struggle," he said. "But you've got to get through those times and hopefully do the best you can.
At some point during the week, something isn't going to go Garcia's way. Will he react the way he did at Bethpage in 2002, or will he find a way to fight through it? That ultimately could decide whether Garcia is ready to win a major championship.
In 2002, Garcia left Long Island all wet. But with a new swing and control of his emotions, this could be the week that the sun shines on El Nino.
Peter Lawrence-Riddell is an editor for ESPN.com. He can be reached at peter.lawrence-riddell@espn3.com.
SPONSORED HEADLINES
MORE GOLF HEADLINES
MOST SENT STORIES ON ESPN.COM
EDITORS' PICKS
No caddies in the HOF? That's appalling.
Michael Collins »

As far as the course design business, Tiger and Jack are on different paths.
Bob Harig »

Need help finding a present for that golfer you know?
Gift Guide »