Mickelson, Daly provide some early theater
Updated:
June 19, 2005, 8:10 PM ET
By
David Kraft
| ESPN.com
PINEHURST, N.C. -- The "People's Pairing" was sent on its way, appropriately or unfortunately, with dueling "You Da Man" yells.
The first came at precisely 11:20 a.m. ET and was for Phil Mickelson. It was full-throated and enthusiastic.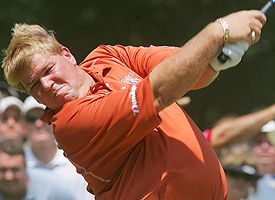 Gerry Broome/AP PhotoJohn Daly's driver was wayward more often than he would have liked Saturday.
The next came seconds later -- John Daly doesn't mess around on the golf course, especially on the first tee. It wasn't quite as loud and not quite as genuine.
You Da Men. You Da Pairing -- the 20th of 42 on Saturday in the second round of the U.S. Open at Pinehurst No. 2. Daly with a Texas Longhorn-orange shirt with a Hooters logo (among plenty of others) and his blue-and-gold golf bag adorned with logos for his Lion Merchandise and Redneck. Mickelson with his pressed white shirt and a simple Ford patch on the chest, gray pants and stately black-and-white Callaway bag.
The battle -- and we use the term loosely for two men who entered play a combined 12 over par -- was joined.
Tee times are a funny thing in golf. Sometimes they're traditional (the defending U.S. Open, U.S. Amateur and British Open champs play together in the first two rounds). Sometimes they're with a sense of recent history (Masters champ Tiger Woods played with runner-up Chris DiMarco and third-place finisher Luke Donald). Sometimes they're fun (see this week's pairing of accidental major champs Ben Curtis, Rich Beem and Shaun Micheel).
The weekends, however, are happenstance. Luck of the draw. Made by a score and the time a player finished his previous round (last in, first out).
Out of that metric came Daly and Mickelson -- the best pairing of 84 over the weekend at the U.S. Open. And out of the woodwork came the galleries and the sense of electricity usually reserved for players in contention -- or Sunday's final round.
Neither seemed particularly thrilled to be playing three hours and 40 minutes before the leaders teed off Saturday -- especially Mickelson, who had high hopes to win his first U.S. Open as recently as 24 hours earlier (before his second-round 77). His first two shots were evidence -- a drive into the left rough (a place he's become quite familiar with this week) and a hack out short of the green.
Daly, golf's most notorious man of the people, spent as much time as he could with the people. His first drive went into the gallery. So did his second, third and fourth (he hit only two of his first 10 fairways Saturday).
Daly was equal opportunity with his misses, playing army golf.
Left ... right ... left ... right.
At least he didn't hurt anybody. On Thursday, Daly's drive on the third hole hit a man in the chest and fell into the man's beer. The man got a ball as a souvenir (to go along with his bruise). Daly chose to take a drop rather than play it where it lay. He made par.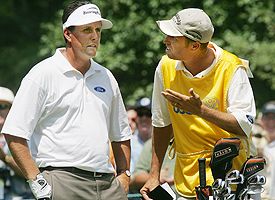 Gerry Broome/AP PhotoPhil Mickelson and caddie Jim MacKay decided to hit driver on the third hole.
On the short, par-4 third hole Saturday, Daly arrived first and promptly took out his driver, sending the fans into an uproar. Mickelson, who had the honor on the tee, thought for a second and pulled out a driver of his own, to another loud cheer.
Mickelson hit the fairway. Daly drove it into the trees. When it was over, both men made par, though in vastly different way. Mickelson had made birdie on the third hole Friday by hitting an iron off the tee.
If Mickelson had any hopes of a Saturday charge, they died on the par-5 fourth hole. Mickelson hit his tee shot out of bounds into a backyard festooned with white tables and white umbrellas, ready for an afternoon party to salute the leaders. He hit his provisional drive into a bunker, his fourth shot into the thick rough, his fifth shot about 75 yards (despite using a utility metal) into more thick rough, his sixth shot to about 20 feet from the pin, his seventh shot right past the hole and finally holed his eighth to card a triple-bogey eight.
A garden-variety snowman -- the first of the tournament on the easiest hole on the course. Prior to it, there had been only one double bogey through 348 players on the hole this week.
Mickelson then hooked his drive in to the gallery on the next hole -- the par-4 fifth -- but saved par from in front of another awful lie. Daly made his first bogey of the day on the hole, and followed it up with a three-putt bogey on the sixth hole.
Through it all, the galleries didn't seem to care. "Go get 'em, Phhheeeeel," a man yelled after one up-and-down. "San Diego loves you," a woman in a pink San Diego Padres tank top said as he walked to the sixth tee.
Mickelson just kept staring straight ahead, trademark sheepish grin in place, but looking forced. Daly, who hears cries for "J.D." more than a liquor store salesman, stopped for a bathroom break and a smoke.
And so it went for the People's Pairing. They played out of the trees. They played off the pine needles. The saw lots of sand. They saved par from remarkable locations. And they kept the galleries entertained, if not enthralled.
Mickelson recovered from the triple-bogey with a birdie at the nasty par-4 16th and shot a respectable 72 (he made 16 pars on the day). Daly, meanwhile, staggered in with a 77.
Mickelson finished tied for 33rd at 12 over. Daly shot 76 on Sunday and finished tied for 75th.
"We had a good time in this," Mickelson said Saturday. "We were so far ahead of the leaders that we are able to get some nice support before the leaders teed off and [the fans] went and followed them around."
But it just didn't matter to most. When Daly made birdie at No. 7, the gallery exploded like he'd just won another major. About 20 yards away, Paul Claxton and Ted Purdy -- both within shouting distance of the leaders -- walked down the second fairway with all the fanfare of a librarians convention.
You Da Man? Early Saturday, Mickelson and Daly played the part. If not always the game.
David Kraft is a senior coordinating editor at ESPN.com. You can e-mail him at david.s.kraft@espn3.com
SPONSORED HEADLINES
MORE GOLF HEADLINES
MOST SENT STORIES ON ESPN.COM
EDITORS' PICKS
As far as the course design business, Tiger and Jack are on different paths.
Bob Harig »

Two of 2014's most compelling moments came off the course.
Farrell Evans »

Need help finding a present for that golfer you know?
Gift Guide »