What to watch for in the second half
Updated:
June 24, 2005, 5:40 PM ET
By
Jason Sobel
| ESPN.com
PINEHURST, N.C. -- Annika, we apologize.
You, Ms. Sorenstam, Queen of Golf, Breaker of All Records, are the biggest story going in golf. No questions asked.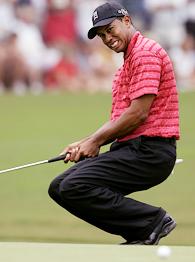 Woods shot a final-round 1-under 69, but fell two strokes shy of his 10th career major.
But with the U.S. Open coming to a close, we have now reached the unofficial midway point of the PGA Tour season. Halftime, if you will. And so it is time to review the 18 biggest questions surrounding the men's tour during the next five months. And, like most other lists, this one begins with a couple of fellows named Tiger and Vijay.
1.
Which one is 1?
Recently, Golf World's Tim Rosaforte wrote a piece about
the friendly rivalry
between the world's top golfers of either gender. But he states that it's more of a
Tiger Woods
and
Annika Sorenstam
sort of relationship, as opposed to Tiger Woods
vs.
Annika Sorenstam. Well, as far as the top two male golfers are concerned, it's Woods
vs.
Singh every time. They have spent much of the past nine months flip-flopping at 1-2 in the World Ranking. Will either get a solid leg up on the other anytime soon? Give Tiger the edge in the two majors, but Vijay plays a lot more -- and, as a result, might win a lot more, too.
2.
Moore of the same?
He's won the U.S. Amateur, the NCAA Championship and the Western Amateur. Now
Ryan Moore
brings his act to the big leagues, turning professional for this week's Barclays Classic. There's no doubt he'll receive the maximum seven sponsor's exemptions allowed by the tour. Tournament directors are salivating at the thought of having the phenom tee it up at their event, but will he earn enough cash to keep his card?
3.
What will Phil do next?
Sure, it's a tagline from a cheesy series of television advertisements, but it's an appropriate question to ask of the rest of the season. Mickelson has won three times already, and for most players that would be enough -- to pack it in and call it a season. But if Phil wants to reach Tiger/Vijay territory both on the course and in the World Ranking, he'll need to win about two or three more this year and maybe another big one. After all, how long until he feels shackled by the title of Best Player to Win Only One Major?
4.
Where Els will he win?
Ernie Els
has won in the United Arab Emirates, Qatar and China so far this year, but he has yet to win in the United States. By sheer coincidence, the PGA Tour -- the world's best test of professional golf -- just happens to play most of its events in the U.S. So here's what we're getting at: Will the world's No. 3-ranked player actually come through at a tour venue sometime in '05? The smart money says yes, but he's running out of time.
5.
The Massacre at Manassas?
The Europeans were huge underdogs in last year's Ryder Cup at Oakland Hills. They were outranked, outperformed and, presumably, outskilled entering the event. And of course, as if just to prove why golf matches aren't played on paper, the gang of Englishmen, Spaniards, et al. beat up on the U.S. squad on its home turf. This year the tables are turned on the Americans. As if the International team wasn't strong enough with major winners Singh,
Retief Goosen
and
Mike Weir
, up-and-comers
Adam Scott
and
Peter Lonard
and respected veterans
Stuart Appleby
and
Angel Cabrera
, it just got a boost in the form of Michael Campbell, the U.S. Open winner who most likely solidified a spot on the team Sunday. Can the U.S. team pull off a European-like upset? It remains to be seen.
6.
Can Michelle hang with the Big Boys?
Taking a cue from the Sony Open, the John Deere Classic has granted a sponsor's exemption to
Michelle Wie
. It'll be interesting to see how she will fare on the unfamiliar turf of Illinois rather than her hometown of Honolulu. Wie will also compete in the men's Public Links Championship. A win there should get her into The Masters ... and easily the top spot on this list entering the '06 season.
7.
A (slow) return to form?
David Duval
failed to make the cut at the U.S. Open, but it was hardly the performance we've been accustomed to seeing from him. Playing in his first tournament since The Masters, Double-D shot 76-76 to miss the cut by four strokes, but certainly didn't embarrass himself (he shot 83-82 at Shinnecock last year). Will Duval turn his game up a notch in the second half? Will he even play? Golf's most puzzling enigma is as tough to figure out as ever.
8.
Is he a one-trick Goose?
Through the third round at the U.S. Open, it looked as if Goosen was a lock to claim his second consecutive title and third in the past five years. But don't let his final-round 81 fool you; he's still one of the world's top five players. The ironic thing is that Goosen himself always thought he'd be a much better British Open player than U.S. Open. With his brilliant opening three rounds at Pinehurst, maybe more folks will recognize his talent and all talk of a Big Four will dissolve into discussions of the Fab Five. Still, a major win at another venue wouldn't hurt his resume.
9.
Who will be elected Presidents?
The U.S. Presidents Cup team can go 10 deep very easily. The current roster includes stalwarts like Tiger and Phil, and they're currently bookended on the back end of the automatic berths by guys like
Justin Leonard
and
Scott Verplank
. As for the two captain's picks, who will be named to the team by
Jack Nicklaus
? Uh, not so much. Nos. 11 through 15 read less like a "Who's Who of American golf" and more like simply, "Who?"
Ted Purdy
,
Chad Campbell
,
Zach Johnson
,
Joe Ogilvie
and
Bart Bryant
hold those next five spots right now, but Campbell's the only one with Ryder/Presidents Cup experienced, having played against the Europeans last year.
10.
What can we expect at Baltusrol?
This year's PGA Championship venue hasn't held a major since the 1993 U.S. Open,
Lee Janzen
's first of two wins in the event. Will the old(er) folks hold an advantage come August? In addition to Janzen, others in contention 12 years ago included Els,
Fred Funk
,
Nick Price
,
Jeff Sluman
and
Fred Couples
. Perhaps a young'n like Woods, Scott or
Sergio Garcia
with come through -- sight unseen -- but it'll be tough.
11.
Is Jack really retiring?
If it seems like we've been saying farewell to Nicklaus for five years, it's because, well, we have. Half-a-decade after hanging up his spikes at the 2000 U.S. Open, Nicklaus will make this year's British Open the final competitive round of his career. Kind of. He still reserves the right to play in his tournament, the Memorial. And maybe some other events. But this one's definitely the last. Probably.
12.
What is the value of the Euro?
With Campbell's win at Pinehurst, the European contingent has been shut out in 23 consecutive major championships. Not since
Paul Lawrie
took advantage of Jean Van de Velde's meltdown at Carnoustie has a player from across the pond earned a major trophy. Garcia,
Padraig Harrington
and
Luke Donald
are the best bets; will any of them come through at St. Andrews or Baltusrol?
13.
Another no-name second half?
You may have gotten bored watching Singh's late-season dominance in '04, but you can take heart in this: At least you know who he is. Last season's second half featured six Vijay victories, a British Open win by little-known
Todd Hamilton
and other titles by guys such as
Andre Stolz
,
Ryan Palmer
and
Vaughn Taylor
. No disrespect intended, but most golf fans probably spent those Sunday afternoons dozing rather than riveted to the television. Perhaps some elite players other than Singh will turn it up a notch in the second half.
14.
The mark of DiMarco?
Entering the U.S. Open,
Chris DiMarco
had been involved in a playoff in each of the last two majors ... and lost both. The good news? During that time, he endeared himself as a lovable loser to golf fans, in the same way that Mickelson did before he won The Masters. This doesn't change the fact that DiMarco hasn't won an event in three years. It's only a matter of time before the world's eighth-ranked player gets roundly criticized for not knowing how to finish.
15.
Will a rookie emerge?
The first half of the season featured some good individual performances by rookies on a week-to-week basis -- Sean O'Hair came in second at the
Byron Nelson
,
James Driscoll
lost in a playoff in New Orleans and
Greg Owen
is the leading rookie money-leader after three top-10 finishes -- but no victories. Will anyone break through to win the Rookie of the Year award? Last year, Johnson and Todd Hamilton both won in the first half, but the latter clinched the title with a win at the British. Could there be a repeat performance?
16.
More Gore-y details?
At the U.S. Open,
Jason Gore
went from an 818th-ranked no-name to a fun-loving fan favorite; he was even called "John Daly without the personal issues" by one reporter. Sure, he blew up with an 84 on Sunday, winning only $20,275 for his T-49 finish. That doesn't mean some tournament officials won't offer him exemptions in the second half of the year. With a couple more decent paychecks, he'd be in position to earn his way onto the PGA Tour full-time for '06.
17.
Child's play 2?
Once considered the PGA Tour's brightest young star,
Charles Howell III
has slowly drifted toward mediocrity. Chuckie started the season with a T-2 and T-3 finish in his first two starts, but only owns one other top 10. Will he return to form as one of the best up-and-coming players? Or will he find himself on the outside of the Tour Championship (top 30 money-winners are invited) once again?
18.
More up-Rory-ous behavior?
He wore camouflage trousers at last year's Memorial. His wife adorned a T-shirt reading "Stoopid Amerikan" in response to Paul Casey's comments at the World Cup. But Rory Sabbatini's, uh,
interesting
behavior was thrust into the limelight last week at the Booz Allen Classic. Displeased by the slow play of playing partner
Ben Crane
, Sabbatini hit out of turn and didn't wait during the final two holes, actions ABC analysts
Paul Azinger
and
Nick Faldo
called the rudest thing they'd ever seen on a golf course. With so many nice guys on tour, it doesn't take much to be Public Enemy No. 1, and Sabbatini has now earned that title. How will he react to the snickers and jeers of galleries throughout the second half of the season?
Jason Sobel is ESPN.com's golf editor. He can be reached at Jason.Sobel@espn3.com
Golf Editor, ESPN.com
Jason Sobel, who joined ESPN in 1997, earned four Sports Emmy awards as a member of ESPN's Studio Production department. He became ESPN.com's golf editor in July 2004.
SPONSORED HEADLINES
MORE GOLF HEADLINES
MOST SENT STORIES ON ESPN.COM
EDITORS' PICKS
@ESPNCaddie shares who to track in golf on Twitter.
Story »

Relive 2014's most memorable golf moments -- in photos.
The Masters

Ryder Cup defeat caused the PGA to look in the mirror.
Bob Harig »