Mentally tough Tiger briefly lets us in
Updated:
June 15, 2006, 10:18 PM ET
By
Ivan Maisel
| ESPN.com
MAMARONECK, N.Y. -- As impressive as Tiger Woods' physical gifts are, it is his mental hardness that makes him a champion. It's a Terminator deal -- behind the smile recognized around the world is an otherworldly material impervious to injury. That's why he does not give up a lead on Sunday. It's why he has won 10 major championships. It is what makes him Tiger Woods.
The truth is that -- this just in -- Woods is human. He is just unparalleled in his ability to conceal it.
Woods competes in a sport that reveals foibles with ruthless efficiency, yet all we know of his imperfections is his penchant for colorful language after his talent has taken a shot off. The rest of the time, we see what he wishes us to see. Woods has image-makers who build his image and he has the wealth to keep his adoring, suffocating public at driver's length. Those who attempt to pierce Woods' careful construct usually come away with blunted lance.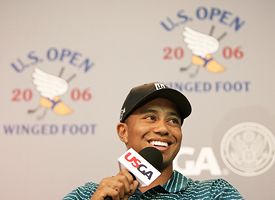 Richard Heathcote/Getty Images"I really had no desire to get back to the game of golf," said Woods, referring to the time after his father's death.
But some forces in life are too strong for even Woods to hold back. On May 3, his father Earl died. Earl served as his son's mentor and best friend. Earl trained Tiger to be a champion on and off the course. It has taken all of Tiger's considerable mental discipline to deal with the hole in his life.
Woods has the grace -- and yes, the upbringing, from his father and his mother Tida -- to say aloud that he understands he is not the first person to lose a parent. But his amazement at the outpouring of sympathy his family has received also revealed the cost of living behind the walls he has built for protection.
"The overwhelming support, the letters and the e-mails and the phone calls, really shocked me," Woods said. "I was very surprised. All the companies that I work with, the people that I haven't talked to in years called. It really was eye-opening. It made this time in my life, and my mom's and all the friends that my dad knew and had, it made it a lot easier. It really did."
Tiger last competed on the PGA Tour at the Masters nine weeks ago. He reappeared in public for the first time Monday afternoon here at Winged Foot Golf Club, when he played nine holes in preparation for the U.S. Open that begins Thursday. Woods said he did not come back until he could focus on doing what he would need to do to win his third national championship.
He sounded focused Tuesday. His voice never wavered as he spoke about his father. His eyes, on a couple of questions, showed a glimmer of the pain he has suffered. Some bruises are not so easily concealed.
"I really had no desire to get back to the game of golf," Woods said of his layoff from the game. "I think one of the hardest things for me, in all honesty, was to get back to the game of golf, because a lot of my memories, great memories that I have with my dad, are at the golf course."
Earl Woods taught his son the game. We have all seen the photos, the fuzzy video from "The Mike Douglas Show" of a 2-year-old Tiger cub with a putter in hand, a bemused Bob Hope watching.
"It was hard at times going out there late in the evening like I always do to practice," Tiger said, "and I remember starting back -- anytime you take time off and start back, you always work on your fundamentals: grip, posture, stance, alignment. Well, that's what I learned from Dad."
Golf couldn't be an escape, until Woods realized he could use it to return to the past.
"It was certainly a little more difficult than I expected," Woods said. "But also, then again, it brought back so many great memories, and every time I thought back I always had a smile on my face. As I was grinding and getting ready, it was also one of the great times, too, to remember and think back on all the lessons, life lessons Dad taught me through the game of golf. All these things come rushing back to you."
Other things don't rush back because they never left. Someone asked him about the day he beat his father on the golf course for the first time. Woods sounded as if he was describing the practice round he had just finished.
"I beat Dad when I was 11," Tiger said. "I shot 71 to his 72 at the Navy Golf Course. I birdied 16 and 18, made about a 15-footer, a little uphill right-to-left. I gave it the fist pump walking off the green and everything. It went in, and we celebrated."
Note the "we."
On the Father's Days of his childhood, Woods would play a round of golf with Dad and then go home and catch the back nine of the U.S. Open, perhaps to see Scott Simpson beat back Tom Watson at Olympic in 1987, or maybe Tom Kite outlast the field in the wind gusts in 1992 at Pebble Beach, where Tiger would win his first Open a scant eight years later.
Someone asked Woods what special gift his father had as a coach.
"Love," Woods said. He flashed that magnificent smile, and on this occasion, no wall stood behind it to protect him. This was real. "That's basically it. The love that we shared for one another and the respect that we had for one another was something that's pretty special."
Tiger Woods is human, indeed, which makes the mental strength he employs to conceal it all the more impressive. It is heartbreaking to watch that strength tested this week, when Woods will attempt to win his third U.S. Open and his first without his father.
There is a precedent of sort at Winged Foot, where Davis Love III putted out for the 1997 PGA Championship beneath a rainbow. Love's father, who died in a 1988 plane crash, had been a well-known teaching pro.
There is also precedent in Woods' career. He pointed out Tuesday that after the longest two layoffs of his career, his knee surgery in December 2002 and his vacation last year, he won the first tournament in which he teed it up.
If Woods wins his third U.S. Open this Father's Day, the federal government could balance its budget on the Kleenex sales alone.
Ivan Maisel is a senior writer for ESPN.com. He can be reached at Ivan.Maisel@espn3.com.
Senior Writer, ESPN.com
ESPN.com senior college football writer
Five-time FWAA award winner
28 seasons covering college football
106th U.S. Open Championship
When:
Thursday-Sunday, June 15-18
Where:
Winged Foot Golf Club (West)
Yardage/Par:
7,264 yards; par 70
2006 champion:
Geoff Ogilvy
Purse:
$6.8 million (Winner: $1.225 million)
Final-round coverage
• Mickelson's collapse leads to Ogilvy's first major victory
• Wojciechowski: Phil's Phailure will hurt for a while
• Maisel: Open will be remembered for Mickelson's collapse
• Sobel: Ogilvy defies destiny to become champion
• Harig: Final hole played a cruel role for leaders
• Sirak: Winged Foot was the real winner
• Rudy: USGA setup spawns another train wreck
• Final-round podcast

• ESPN.com photo gallery: Mickelson's collapse

Third-round coverage
• Recap: Mickelson, Ferrie tied at 2-over
• Maisel/Wojciechowski: E-mail chats from the Open
• Sobel: Cream rises to top of U.S. Open leaderboard
• Harig: Open rookie searching for a Ferrie tale ending
• Sirak: Dealing with final-round pressure
• ESPN.com photo gallery
• After missed cut, Svoboda makes mark


Second-round coverage
• Recap: Stricker leads by one
• Wojciechowski: Mercifully, Woods' Open ended
• Harig: Lefty celebrates birthday with a patient 73
• Sobel: Woods, Duval head in opposite directions
• Maisel: Stricker, like Monty and Duval, finds an old spark
• ESPN.com photo gallery
• ESPN.com breaks down Round 2

• Round 2 podcast

• Tiger misses the cut

• Goosen among those who missed cut
• Rovell: Tiger missing cut affects Nike
First-round coverage
• Wojciechowski: Phil shoots even-par ... and loves it
• Maisel: Woods returns to similar frustration
• Harig: Expectations lowered, Monty finds his rhythm
• Sobel: Scores soar on first day at Winged Foot
• Montgomerie captures early lead
• Hawkins/Sobel: Round 1 podcast

• ESPN.com photo gallery
• Mickelson Mania at Winged Foot

• ESPN.com breaks down Round 1

• Phil Mickelson ShotPack

• Tiger Woods ShotPack

• More Day 1 highlights


Scores
• Real-Time Scoring from USOpen.com

Preview coverage
• Sobel: Ranking the U.S. Open field, 1 through 156
• Maisel: USGA's New York state of mind
• Fact or Fiction: Will par win the Open?
• Picking a U.S. Open champion, by the numbers
• In the Crosshairs: Tiger, Phil, Vijay, Retief
• Maisel: Mentally tough Tiger briefly lets us in
• Hawkins: The reinvention of Philly Mick
• Harig: Three decades later, the Massacre lingers on
• Huggan: Campbell's view from the mountain top
• Verdi: Davis Love III makes the rainbow connection
• Weekly 18: Major story lines abound entering Open
• Rosaforte: U.S. Open is back where it belongs
• On The Hot Seat: Peter Jacobsen
• Antonini: Winged Foot has always been a crowd pleaser
• Johnson: Why Winged Foot is special
• Herrington: Winged Foot will be rough and ready
• Whitten: Is Winged Foot still fit for a fight?
• Owen: Where real New Yorkers play golf
• McCleery: The Massacre of '74 still lingers

Facts
• U.S. Open field
• U.S. Open past champions
• Winged Foot course map
• Merion to host 2013 U.S. Open

U.S. Open qualifying
• Sobel: Is U.S. Open qualifying an outdated process?
• Harig: Wie's bid to make history drew believers
• Sirak: Wie growing before our eyes
• Wojciechowski: Wie belongs, even if she didn't qualify
• Wojnarowski: What's Wie's rush?
MOST SENT STORIES ON ESPN.COM