Stricker, like Monty and Duval, finds an old spark
Updated:
June 17, 2006, 8:03 AM ET
By
Ivan Maisel
| ESPN.com
MAMARONECK, N.Y. -- Somewhere amid the 7,264 yards of shin-high rough, raised greens and lowered expectations at Winged Foot Golf Club is a fountain of youth for golfing careers. Halfway through the 106th U.S. Open, the hallowed ground of the West Course has resurrected more forgotten stars than Rhino Records. Check out this three-CD set of the Greatest Hits of 1998:
• David Duval, the former No. 1 in the world whose game cuckolded him for the last three years, played his first 13 holes Friday in 4-under and climbed as high as seventh on the leaderboard. His 2-under 68, tied for the low round of the Open, moved him into a share of 15th at 5-over 145.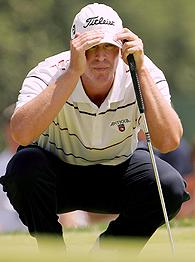 Nick Laham/Getty ImagesWith rounds of 70-69, Stricker finds himself in the lead entering the weekend.
• First-round leader
Colin Montgomerie
continued his once-regular display of fairways and greens, making 17 pars on his way to a 71-140.
• And your 36-hole leader is Steve Stricker, a three-time PGA Tour winner who hasn't finished in the top 150 on the money list since 2002. Stricker holed two bunker shots for birdie, including his last swing of the day at the par-4 ninth, for a 69 and a 36-hole total of 139.
"For a guy who doesn't even have his full [tour] status back to be up near the lead at the halfway point makes me feel good," said Stricker, who didn't know he would be the second-round leader because he played Friday morning. "I can't get too excited about it. I keep telling myself to forget about it and start thinking about [Saturday]."
While Monty, 42, merely receded from the top of the world golf ranking (now 21st), Duval and Stricker plummeted. Duval came to Winged Foot at No. 402. He is only 34, but the lows he has endured over the last three years are more than most golfers suffer in a career.
Duval has been saying for some time that he has been playing well, even though the Open is only the seventh cut that he has made in 15 events this year. This is a player who won 13 tournaments in five years, the last of which was the 2001 British Open. Duval not only made the cut in a major for the first time in four years, he is in contention to win.
"You know what? It feels wonderful," he said. "Last week [at Westchester], I'm scratching my head. I felt like after two days I should be in contention and I don't even get to play on the weekend. I hit the ball well enough to be doing that."
Once upon a career, Stricker made camp on the leaderboards of major championships. In 1998 and 1999, he finished fifth in the U.S. Open. In the 1998 PGA Championship, he finished second, two strokes behind Vijay Singh. Stricker won the 2001 WGC Match Play Championship. He had a game made for the majors: hit it straight and make birdies. And then Stricker didn't have a game for majors, or for any other PGA Tour events. Unlike Duval, whose well-told slide began with back, wrist and shoulder problems, Stricker couldn't blame his slump on his body.
Elias Says
Going into round three of the 2006 U.S. Open at Winged Foot, only Steve Stricker is under par. It's the first time since 1986 at Shinnecock Hills that only one player is under par heading to the third day of action at a U.S. Open. That year, Greg Norman stood alone at 1 under. Norman finished the tournament in a tie for 12th.

To read more of the Friday night Elias Says, click here.
"There were no physical injuries, but mental injuries there might have been. I'm not sure," Stricker said with a grin.
In other words, Stricker lost his confidence, gradually at first, and then completely. He entered the realm of golf where the pressure of making the cut rested more heavily on his shoulders than the pressure to win ever had. He refused to hire a sports psychologist. A quiet, self-contained man, he decided he would find his game, as Ben Hogan described it, in the dirt. He went back to work.
"It's the nature of the game," Stricker said, "and that's what I've come to realize. It's very difficult to sustain unless you're a Tiger or a Vijay or some other God-gifted player. For the normal guys out here, it's hard to sustain a high level for a long period of time. You have your ups and your downs."
The Match Play victory earned him an exemption through 2004. By last December, Stricker's play forced him to play in the six-round PGA Tour Qualifying Championship, the dreaded "Tour School." Stricker finished two strokes out of the top 30, which meant he could play the Nationwide Tour and scramble for sponsor exemptions in the PGA Tour.
"Going back to Tour School was humbling, not to say I'm too good to go back," Stricker said. "I've been on tour for 13 years. To go back, you've got to swallow a little bit of your ego."
He didn't get an exemption at Houston until a few days before the tournament began. Stricker made the most of the invitation, finishing third. Just as important, he cashed a check for $374,000. Though he has played in only six events this year, Stricker ranks 80th on the money list with $551,864. He beat the field by five strokes at the Open sectional qualifying last week in St. Charles, Ill., finishing with a 65-64-129.
Stricker played in last week's qualifier with Mike Small, his teammate at the University of Illinois and still one of his closest friends. Stricker's score of 65-64-129, 15 under par, secured one of the two available spots. Small's 69-66-135 fell one stroke short.
"That's the guy I remember," Small, the golf coach at their alma mater, said Friday morning from campus. "I shot 9-under and felt like I was shooting 15-over. He has always one-upped me. That's the way it is. In the first round, he shot 65 and I shot 69. I thought, I've got to come back and get him. I birdied my first four holes. He birdied his first five holes. O.K. Same ol' thing ... I knew it was still in him. I always knew."
Stricker didn't always know, but he sounds as if he knows again. He began this Open by rifling his first tee shot into a tree on the left side of the first fairway. It kicked 60 yards left into the ninth fairway. He began bogey-bogey-double bogey. Since then, Stricker has made nine birdies at Winged Foot, more than anyone else in the field. He knows again, and that is all that matters.
"I have to keep reminding myself to be patient," Stricker said. "There's a lot of golf to go. It's only going to get harder out there."
Or maybe Stricker, Montgomerie and Duval will continue to party like it's 1998.
Ivan Maisel is a senior writer for ESPN.com. He can be reached at Ivan.Maisel@espn3.com.
Senior Writer, ESPN.com
ESPN.com senior college football writer
Four-time FWAA award winner
27 seasons covering college football
106th U.S. Open Championship
When:
Thursday-Sunday, June 15-18
Where:
Winged Foot Golf Club (West)
Yardage/Par:
7,264 yards; par 70
2006 champion:
Geoff Ogilvy
Purse:
$6.8 million (Winner: $1.225 million)
Final-round coverage
• Mickelson's collapse leads to Ogilvy's first major victory
• Wojciechowski: Phil's Phailure will hurt for a while
• Maisel: Open will be remembered for Mickelson's collapse
• Sobel: Ogilvy defies destiny to become champion
• Harig: Final hole played a cruel role for leaders
• Sirak: Winged Foot was the real winner
• Rudy: USGA setup spawns another train wreck
• Final-round podcast

• ESPN.com photo gallery: Mickelson's collapse

Third-round coverage
• Recap: Mickelson, Ferrie tied at 2-over
• Maisel/Wojciechowski: E-mail chats from the Open
• Sobel: Cream rises to top of U.S. Open leaderboard
• Harig: Open rookie searching for a Ferrie tale ending
• Sirak: Dealing with final-round pressure
• ESPN.com photo gallery
• After missed cut, Svoboda makes mark


Second-round coverage
• Recap: Stricker leads by one
• Wojciechowski: Mercifully, Woods' Open ended
• Harig: Lefty celebrates birthday with a patient 73
• Sobel: Woods, Duval head in opposite directions
• Maisel: Stricker, like Monty and Duval, finds an old spark
• ESPN.com photo gallery
• ESPN.com breaks down Round 2

• Round 2 podcast

• Tiger misses the cut

• Goosen among those who missed cut
• Rovell: Tiger missing cut affects Nike
First-round coverage
• Wojciechowski: Phil shoots even-par ... and loves it
• Maisel: Woods returns to similar frustration
• Harig: Expectations lowered, Monty finds his rhythm
• Sobel: Scores soar on first day at Winged Foot
• Montgomerie captures early lead
• Hawkins/Sobel: Round 1 podcast

• ESPN.com photo gallery
• Mickelson Mania at Winged Foot

• ESPN.com breaks down Round 1

• Phil Mickelson ShotPack

• Tiger Woods ShotPack

• More Day 1 highlights


Scores
• Real-Time Scoring from USOpen.com

Preview coverage
• Sobel: Ranking the U.S. Open field, 1 through 156
• Maisel: USGA's New York state of mind
• Fact or Fiction: Will par win the Open?
• Picking a U.S. Open champion, by the numbers
• In the Crosshairs: Tiger, Phil, Vijay, Retief
• Maisel: Mentally tough Tiger briefly lets us in
• Hawkins: The reinvention of Philly Mick
• Harig: Three decades later, the Massacre lingers on
• Huggan: Campbell's view from the mountain top
• Verdi: Davis Love III makes the rainbow connection
• Weekly 18: Major story lines abound entering Open
• Rosaforte: U.S. Open is back where it belongs
• On The Hot Seat: Peter Jacobsen
• Antonini: Winged Foot has always been a crowd pleaser
• Johnson: Why Winged Foot is special
• Herrington: Winged Foot will be rough and ready
• Whitten: Is Winged Foot still fit for a fight?
• Owen: Where real New Yorkers play golf
• McCleery: The Massacre of '74 still lingers

Facts
• U.S. Open field
• U.S. Open past champions
• Winged Foot course map
• Merion to host 2013 U.S. Open

U.S. Open qualifying
• Sobel: Is U.S. Open qualifying an outdated process?
• Harig: Wie's bid to make history drew believers
• Sirak: Wie growing before our eyes
• Wojciechowski: Wie belongs, even if she didn't qualify
• Wojnarowski: What's Wie's rush?