Open will be remembered for Mickelson's collapse
Updated:
June 25, 2006, 5:18 PM ET
By
Ivan Maisel
| ESPN.com
MAMARONECK, N.Y. -- Move over, Jean Van de Velde. Make room on the tee box, Sam Snead. The list of players who blew a major championship on the final hole grew by one Saturday, and, like Snead, his is not just any name.
"I still am in shock that I did that," Phil Mickelson said Sunday evening. "I just can't believe that I did that. I am such an idiot."
The trophy will have the name Geoff Ogilvy inscribed as the winner in 2006, but the 106th U.S. Open will forever belong to Lefty the same way the 1986 World Series belongs to Bill Buckner. This is Phil Mickelson we're talking about, the winner of the last two major championships, the pre-Open favorite, the man who visited Winged Foot Golf Club for nine days on three separate trips in order to prepare himself for the famed West Course.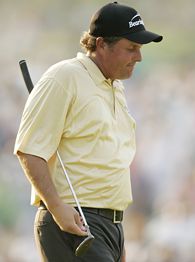 AP Photo/Chuck BurtonMickelson's implosion on 18 will be the enduring memory of the 2006 U.S. Open.
Mickelson stood on the 18th tee at 4-over-par, one shot clear of the field. Five different players had shared the lead with Mickelson over the course of the final round, and he had ground them down. He needed a par to win, and a bogey to make an 18-hole playoff on Monday. Instead, Mickelson made a double-bogey 6 and handed the Open to Ogilvy, the 29-year-old Australian who won the World Match Play Championship in February.
"It hurts because I had it in my grasp and just let it go," said Mickelson, who fell into a tie for second with 2003 U.S. Open champion Jim Furyk and Colin Montgomerie of Scotland, who also double-bogeyed the final hole.
"This is as difficult as it gets," said Montgomerie, who, after relinquishing some years ago the title of Best Player Never to Win a Major as his game faded, may have reclaimed it this week. "You wonder sometimes why you put yourself through this."
Ogilvy won the Open from the comfort of the locker room, where he watched in amazement as Mickelson stumbled through the final hole. Ogilvy, who shot a 72 Sunday to finish at 5-over 285, became the first Australian to win a major since Steve Elkington won the 1995 PGA. He joins David Graham (1981) as the only Aussies to win the U.S. Open.
Ogilvy finished his round with a champion's flourish, making improbable pars on each of the last two holes. He holed a 30-foot chip shot at the 17th, and then got up-and-down for par at the 18th, dropping a downhill six-footer for his final stroke.
"I think I was the beneficiary of a little bit of charity," Ogilvy said. "I think I got a bit lucky."
Winning Powerball is lucky. Winning the Open the way Ogilvy won it defies belief. No one has been better than Mickelson this year, and for 71 holes, no one had been better than Mickelson this week. He fell out of the lead briefly on the front nine, only to regain it with a birdie at the par-4 11th hole. After hitting his approach at the par-4 14th to six feet, Mickelson made the birdie putt and stood at 3-over, two shots clear of the field.
All day long, Mickelson had made a lie out of the golfing wisdom that you can't win the Open if you don't drive it in the fairway. Mickelson hit only two of his first 13 fairways, yet his imagination and his shotmaking had kept him in the lead.
"I tried to go to my bread-and-butter shot, a baby carve-slice on 18 and just get it in the fairway," Mickelson said.
Instead, he overcooked the slice and bounced his drive off a rented tent well left of the fairway. He block-sliced his second into a tree. By the time his third shot buried in a bunker left of the green, the Open ceased being a golf tournament and looked like the Winged Foot 500 with a wreck in Turn 4. Golf fans around the world began rubbernecking, unable to avert their eyes.
Ogilvy, who had played in the group ahead of Mickelson, moved from the scorer's room to the locker room. He didn't want Mickelson to see him celebrating when Lefty arrived to sign his card.
"I thought, 'Something silly is going to happen. He's going to hit it stiff and we're going to play tomorrow,' " recalled Ogilvy, referring to the 18-hole playoff that would have settled a tie on Monday. "But that wasn't a very good spot where he hit it there. He got pretty unlucky, obviously."
Mickelson's fourth shot out of the bunker ran through the green. He needed to hole a chip out of Winged Foot's thick, grabby rough to make the playoff, but the ball ran several feet past. Then all Mickelson needed was a shoulder to cry on.
He might have found one belonging to Montgomerie, who, playing two groups ahead of Mickelson, stood on the 18th tee tied with him for the lead at 4 over. Unlike Mickelson, Monty hit his drive into the fairway. But like Mickelson would soon do, Montgomerie made a double bogey, missing the green and then three-putting.
Montgomerie handled his final hole with grace and humor. "I look forward to coming back here again next year and try another U.S. Open" -- pausing with perfect comic timing -- "disaster." It is the third second-place finish in the Open for Montgomerie, who lost a playoff to Ernie Els in 1994, and finished second to him again in 1997.
He is one short of the record for second-place Open finishes. The four-time runners-up include Bobby Jones, Arnold Palmer and Jack Nicklaus, who also combined to win nine Opens. The other two are Snead and, as of Sunday, Mickelson.
For nearly 70 years, Snead had suffered the most famous collapse in Open history. In 1939, he needed a par on the 72nd hole to win. But in the days before on-course scoreboards, Snead thought he needed a birdie. He played aggressively, made a triple-bogey 8 and finished two strokes out of a playoff, won by Byron Nelson.
Mickelson will join Snead on the same page of history as Van de Velde, the Frenchman who made a triple-bogey on the final hole of the 1999 British Open. He lost in a playoff to Paul Lawrie and has rarely been heard from again. As dominant as Mickelson has been over the last two years, it's hard to believe he may never be the same. But his collapse Sunday is the kind of event that can change a golfer's career.
"The biggest reason why this is so disappointing is that this is a tournament that I dreamt of winning as a kid," Mickelson said, "that I spent hours practicing -- I mean, countless hours practicing, dreaming of winning this tournament, came out here weeks and months in advance to get ready and had it right there in my hand, man. It was right there and I let it go."
A few seconds later, Mickelson left the podium, and draped his right arm around his wife Amy's shoulders. She slid her left arm around his waist, and they walked slowly back toward the Winged Foot clubhouse. Mickelson will forever be linked with this grand old club, just not the way he hoped and dreamed.
Ivan Maisel is a senior writer for ESPN.com. He can be reached at Ivan.Maisel@espn3.com.
Senior Writer, ESPN.com
ESPN.com senior college football writer
Four-time FWAA award winner
27 seasons covering college football
SPONSORED HEADLINES
MORE GOLF HEADLINES
MOST SENT STORIES ON ESPN.COM
106th U.S. Open Championship
When:
Thursday-Sunday, June 15-18
Where:
Winged Foot Golf Club (West)
Yardage/Par:
7,264 yards; par 70
2006 champion:
Geoff Ogilvy
Purse:
$6.8 million (Winner: $1.225 million)
Final-round coverage
• Mickelson's collapse leads to Ogilvy's first major victory
• Wojciechowski: Phil's Phailure will hurt for a while
• Maisel: Open will be remembered for Mickelson's collapse
• Sobel: Ogilvy defies destiny to become champion
• Harig: Final hole played a cruel role for leaders
• Sirak: Winged Foot was the real winner
• Rudy: USGA setup spawns another train wreck
• Final-round podcast

• ESPN.com photo gallery: Mickelson's collapse

Third-round coverage
• Recap: Mickelson, Ferrie tied at 2-over
• Maisel/Wojciechowski: E-mail chats from the Open
• Sobel: Cream rises to top of U.S. Open leaderboard
• Harig: Open rookie searching for a Ferrie tale ending
• Sirak: Dealing with final-round pressure
• ESPN.com photo gallery
• After missed cut, Svoboda makes mark


Second-round coverage
• Recap: Stricker leads by one
• Wojciechowski: Mercifully, Woods' Open ended
• Harig: Lefty celebrates birthday with a patient 73
• Sobel: Woods, Duval head in opposite directions
• Maisel: Stricker, like Monty and Duval, finds an old spark
• ESPN.com photo gallery
• ESPN.com breaks down Round 2

• Round 2 podcast

• Tiger misses the cut

• Goosen among those who missed cut
• Rovell: Tiger missing cut affects Nike
First-round coverage
• Wojciechowski: Phil shoots even-par ... and loves it
• Maisel: Woods returns to similar frustration
• Harig: Expectations lowered, Monty finds his rhythm
• Sobel: Scores soar on first day at Winged Foot
• Montgomerie captures early lead
• Hawkins/Sobel: Round 1 podcast

• ESPN.com photo gallery
• Mickelson Mania at Winged Foot

• ESPN.com breaks down Round 1

• Phil Mickelson ShotPack

• Tiger Woods ShotPack

• More Day 1 highlights


Scores
• Real-Time Scoring from USOpen.com

Preview coverage
• Sobel: Ranking the U.S. Open field, 1 through 156
• Maisel: USGA's New York state of mind
• Fact or Fiction: Will par win the Open?
• Picking a U.S. Open champion, by the numbers
• In the Crosshairs: Tiger, Phil, Vijay, Retief
• Maisel: Mentally tough Tiger briefly lets us in
• Hawkins: The reinvention of Philly Mick
• Harig: Three decades later, the Massacre lingers on
• Huggan: Campbell's view from the mountain top
• Verdi: Davis Love III makes the rainbow connection
• Weekly 18: Major story lines abound entering Open
• Rosaforte: U.S. Open is back where it belongs
• On The Hot Seat: Peter Jacobsen
• Antonini: Winged Foot has always been a crowd pleaser
• Johnson: Why Winged Foot is special
• Herrington: Winged Foot will be rough and ready
• Whitten: Is Winged Foot still fit for a fight?
• Owen: Where real New Yorkers play golf
• McCleery: The Massacre of '74 still lingers

Facts
• U.S. Open field
• U.S. Open past champions
• Winged Foot course map
• Merion to host 2013 U.S. Open

U.S. Open qualifying
• Sobel: Is U.S. Open qualifying an outdated process?
• Harig: Wie's bid to make history drew believers
• Sirak: Wie growing before our eyes
• Wojciechowski: Wie belongs, even if she didn't qualify
• Wojnarowski: What's Wie's rush?