Why Winged Foot is special
Updated:
June 9, 2006, 12:25 PM ET
By
E. Michael Johnson
| Golf World
The very name "Winged Foot" has a sort of magic for those who know the club from afar. To them it stands for competitive golf at its highest level -- a place where history was made by Bobby Jones ... and others. [But] for those who know Winged Foot intimately, it is much more fun and meaningful than a place of big occasions. It is a steady heartbeat of golfing pleasure and sportsmanship, where the game is the thing and where many great matches and tall tales have been spun. Winged Foot is, in sum, a temple to the spirit of golf." -- Joseph C. Dey
Joe Dey had it right. The former top man at the USGA and the PGA Tour understood Winged Foot GC's magic, in both its grand and subtle forms. To help you celebrate the national championship's return to Mamaroneck, N.Y., after 22 years, here are some of the things that make Winged Foot so compelling.
The putts
Like with kids who pretend while practicing that they're
Tiger Woods
putting to win the U.S. Open, hardly a day goes by when reenactments of two of the game's historic putts on the West Course's 18th green aren't attempted by members or guests. And it matters not whether the cup is in the proper position. Most members can locate the proper hole locations. The more tried of the two is
Greg Norman
's monster downhill 40-footer for par from the left fringe on the 72nd hole of the 1984 U.S. Open. Norman was tied with
Fuzzy Zoeller
, who was standing in the fairway, when his putt broke some four feet left-to-right. After the Shark opted to leave the flagstick in, his putt struck it squarely and dropped, setting off a celebration from Norman and prompting Zoeller to wave a white towel in mock surrender. Although Norman's putt is more recent, real aficionados also tackle Bobby Jones' putt that forged a tie with Al Espinosa in the 1929 U.S. Open. Only a 12-footer, the putt was downhill with a vicious left-to-right break, prompting Grantland Rice to call it "the greatest single putt I have ever witnessed."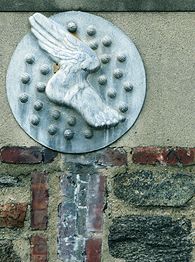 David Cannon/Getty ImagesAmong the special things at Winged Foot is this club crest.
For the record, the daydreaming is not reserved just for everyday players. In 1954, on the 25th anniversary of Jones' feat, four pros who had played in the 1929 Open -- Tommy Armour, Gene Sarazen, Craig Wood and Johnny Farrell -- attempted to make Jones' putt. None converted.
The East Course
Since the first foursome teed off (using a combination of holes from the East and West courses) June 16, 1923, debate has been waged over which of Winged Foot's two courses is better.
The East is ranked 34th on Golf Digest's list of America's 100 Greatest Golf Courses and the West checks in at No. 8, making Winged Foot the only private club in America with more than one layout in the top 100. The East, generally thought to demand a wider variety of shots than the West, was host of the 1957 and 1972 U.S. Women's Opens, along with the inaugural U.S. Senior Open in 1980. A trio of water hazards and several rock outcroppings differentiate it visually from the West, and it offers less room off the tee. As on the West, deep greenside bunkers provide a stern test along with A.W. Tillinghast's putting surfaces, which can be brought up to bewilderingly fast speeds.
The 1929 U.S. Open was originally scheduled for the East Course but a severe storm damaged it to such an extent that the championship had to be moved to the West. Without that intervention from Mother Nature, Winged Foot's place in golf history might be much different.
The pros
How many clubs in America can boast that two of their club pros won major championships while serving as the head professional? Wood won The Masters and U.S. Open in 1941 while on the club's payroll, and Claude Harmon captured the 1948 Masters while driving back to Winged Foot from his winter job at Seminole GC in Juno Beach, Fla. In addition, a pair of Winged Foot assistants, Jackie Burke Jr. (1956 Masters and PGA) and Dave Marr (1965 PGA), went on to win majors later in their careers. Club members take great pride in the outstanding playing performances of their pros past, but they're more proud of the fact they've employed just five men as head professional in the club's 83-year history. Winged Foot is a club of stability and, despite Dan Mackie's brief (1923-24) stint as head pro, the tenures of Mike Brady (1924-1938) and Tom Nieporte (1978-present) are further evidence of that philosophy.
The clubhouse
Winged Foot's majesty is reflected in its clubhouse. From Leo the Lion, the sculpted sentry that stands guard under the front portico, to the trademark blue-and-white awnings that cover the terrace, architect Clifford Wendehack produced one of the most recognizable structures in golf -- an impressive building that wears its age well and seems as if it will be around for as long as the game is played.
There's a reason the classic English scholastic-style clubhouse -- made of stone, brick and slate -- seamlessly blends with the surroundings. The stones used were culled from the 7,200 tons of rock blasted during construction of the courses. In an article in The Architectural Record in January 1926, Wendehack explained that the rationale for using the material went beyond convenience or economics. "The strong and durable materials used convey the spirit of the organization it is designed to house," he said.
The cornerstone, laid on April 14, 1923, contains a copper box with a copy of the club's bylaws, membership roll, the evening edition of that day's New York Times and Tillinghast's plans for the two courses -- the only records of the course design the club has.
The Anderson
Many Winged Foot members believe the East Course is a better match-play venue than the West. John G. Anderson, a founding member who won the club championship five times between 1925 and 1931, thought so, as well, consistently contending that the East Course didn't receive the recognition it deserved. As Anderson was runner-up in the 1913 and 1915 U.S. Amateurs, his words held weight. He died in 1932, and the club, aware of all he had done, established the Anderson Memorial Four-Ball tournament in 1933 and, in his honor, held it on the East Course.
Today, with its 70th edition fast approaching this July, the Anderson is considered one of the premier amateur invitationals in the country, drawing two-man teams (from the same club) from as many as 25 states as well as several foreign entries. The format is best-ball of two, with 18 holes of qualifying on each course. The tournament proper is held alternately on the two courses.
But the competition is only part of the appeal for those fortunate enough to get the nod. "I was like a kid in a candy store, looking at the photos, reading about the club's history and walking around the clubhouse soaking it all in," says Kyle Harper, a plus-1 handicap from Jennings Mill CC in Bogart, Ga., who paired with fellow member Greg Kennedy to win the 2005 Anderson. "I kept thinking of all the great golfers who have played here and that I was standing where they stood and walking where they walked. For a person who understands the history of the game, there's not a better venue. It stimulates every one of your senses."
Sight being one of them. "Just to see your name up there in the grillroom next to all the great amateurs that have won this event is unlike anything I'll ever experience," Harper says. "There are a lot of heavy hitters on that board."
The locker room
The two-story locker room at Winged Foot is spacious, but not ostentatious. The six-foot-tall metal lockers are more functional than fancy (and with good reason; they are the metal originals), and the framed photographs hanging at the end of each row of lockers are hardly the stuff you'd find garnering interest at an art auction. But for Winged Foot members, this simplicity works, thanks in no small part to the attentive locker-room staff and because members pride themselves on being part of a golf club, not a country club. There are no fancy leather chairs or carefully stained mahogany lockers. They're not needed.
What is necessary, however, is a good shower after a round. And Winged Foot has some of the best showers of any golf club in the country. After battling either (or both) of the courses, golfers relax under a powerful cascade of water coming from large, circular shower heads that dangle directly overhead instead of being attached to the wall. "The locker room is the most important feature of the entire clubhouse," Wendehack said. Those who have enjoyed its atmosphere likely would be quick to agree.
A player's club
Winged Foot possesses a membership of serious golfers, with one of the highest percentages of single-digit handicappers among clubs in the U.S. That caliber of play has led some members to boast they could field a team that could rival the U.S. Walker Cup squad. Perhaps that is hyperbole, but the fact remains these guys are good. Very good. Winged Foot currently boasts 72 players with a handicap index of less than 5 (including Donald Trump, who carries a 3.5 index) and an astounding 42 with an index of 2 or better, maintaining Winged Foot's reputation as a "player's club."
No starting times
Obtaining a tee time at Winged Foot is never a problem -- there are none. And the club's members prefer to keep it that way. They believe that it's nice not to be bound by the clock, that there's no danger of losing the chance to play if you need a few extra minutes to warm up or to finish listening to a yarn over lunch.
The mulligan
It might be hard to believe that a club so connected to high-level tournament golf is likely the genesis of golf's term of forgiveness for recreational players. Although there always will be debate about the birth of the term "mulligan," the most plausible explanation credits its origin to a Winged Foot member.
David Mulligan was a Canadian hotelier who joined Winged Foot in 1937. Although he later would chair the club's House Committee, his more lasting contribution was bringing the breakfast ball, a concept he first employed in Canada, with him across the border. No one knows the true story, but three of the most accepted scenarios can be found on the USGA's Web site.
One story says the first mulligan was an impulsive event -- that Mulligan hit a wayward drive on the first tee and instinctively re-teed and hit again. His playing partners decided the shot Mulligan himself called a "correction shot" deserved a better name, so they called it a "Mulligan."
The next version has Mulligan enduring a particularly bumpy ride to his home course near Montreal. Mulligan, who was driving the vehicle, was given an extra shot on the first tee because he was jumpy and shaking from the difficult trip. The last iteration has Mulligan showing up late to a match, having scrambled to get out of bed, dress and get to the course on time. Frazzled on the first tee, he hit a poor shot and re-teed. Whatever the true story, golfers everywhere have this Winged Footer to thank for an extra chance at getting their rounds off to a good start.
The logo
The club's original plan called for a roster of 600 members. And the first 200 came largely from the New York Athletic Club. Although the club's name and logo are direct lifts from the sculpture embedded in the floor of the NYAC's lobby in Manhattan, there is no formal connection between the organizations. That said, the club's original membership brochure emphatically stated that "We want the shares of the Winged Foot Golf Club to go to 600 members of the NYAC, our companions in all lines of sport."
The caddies
Winged Foot is a walking club (those using carts also must take a caddie), and with that comes a caddie corps that numbers more than 100 strong in the height of the summer. The loopers are an eclectic collection of well-to-do suburbanites and eager-to-work urban men. This cast of characters regularly carries the load, but not always without incident. "I had a caddie a few years back who disappeared for a few minutes between nines," one member said. "When he returned, I asked him where he had gone. He said he had to check in with his parole officer."
Until last year, the job of riding herd on this group fell to Pat Collins, a man with a booming voice who looks like a character straight out of the Bowery Boys. Collins reigned as the club's caddie manager from 1977 through 2005, instructing his men and members alike on what course they would be playing and what time they should head to the tee. That job currently belongs to David Zona, but Collins' legacy at the club remains strong, thanks in part to stories such as the time he told King Hassan II of Morocco that he had to use a caddie instead of the pull cart he had brought with him. Just one of the many moments that makes Winged Foot special.
E. Michael Johnson is an editor for Golf World magazine.
106th U.S. Open Championship
When:
Thursday-Sunday, June 15-18
Where:
Winged Foot Golf Club (West)
Yardage/Par:
7,264 yards; par 70
2006 champion:
Geoff Ogilvy
Purse:
$6.8 million (Winner: $1.225 million)
Final-round coverage
• Mickelson's collapse leads to Ogilvy's first major victory
• Wojciechowski: Phil's Phailure will hurt for a while
• Maisel: Open will be remembered for Mickelson's collapse
• Sobel: Ogilvy defies destiny to become champion
• Harig: Final hole played a cruel role for leaders
• Sirak: Winged Foot was the real winner
• Rudy: USGA setup spawns another train wreck
• Final-round podcast

• ESPN.com photo gallery: Mickelson's collapse

Third-round coverage
• Recap: Mickelson, Ferrie tied at 2-over
• Maisel/Wojciechowski: E-mail chats from the Open
• Sobel: Cream rises to top of U.S. Open leaderboard
• Harig: Open rookie searching for a Ferrie tale ending
• Sirak: Dealing with final-round pressure
• ESPN.com photo gallery
• After missed cut, Svoboda makes mark


Second-round coverage
• Recap: Stricker leads by one
• Wojciechowski: Mercifully, Woods' Open ended
• Harig: Lefty celebrates birthday with a patient 73
• Sobel: Woods, Duval head in opposite directions
• Maisel: Stricker, like Monty and Duval, finds an old spark
• ESPN.com photo gallery
• ESPN.com breaks down Round 2

• Round 2 podcast

• Tiger misses the cut

• Goosen among those who missed cut
• Rovell: Tiger missing cut affects Nike
First-round coverage
• Wojciechowski: Phil shoots even-par ... and loves it
• Maisel: Woods returns to similar frustration
• Harig: Expectations lowered, Monty finds his rhythm
• Sobel: Scores soar on first day at Winged Foot
• Montgomerie captures early lead
• Hawkins/Sobel: Round 1 podcast

• ESPN.com photo gallery
• Mickelson Mania at Winged Foot

• ESPN.com breaks down Round 1

• Phil Mickelson ShotPack

• Tiger Woods ShotPack

• More Day 1 highlights


Scores
• Real-Time Scoring from USOpen.com

Preview coverage
• Sobel: Ranking the U.S. Open field, 1 through 156
• Maisel: USGA's New York state of mind
• Fact or Fiction: Will par win the Open?
• Picking a U.S. Open champion, by the numbers
• In the Crosshairs: Tiger, Phil, Vijay, Retief
• Maisel: Mentally tough Tiger briefly lets us in
• Hawkins: The reinvention of Philly Mick
• Harig: Three decades later, the Massacre lingers on
• Huggan: Campbell's view from the mountain top
• Verdi: Davis Love III makes the rainbow connection
• Weekly 18: Major story lines abound entering Open
• Rosaforte: U.S. Open is back where it belongs
• On The Hot Seat: Peter Jacobsen
• Antonini: Winged Foot has always been a crowd pleaser
• Johnson: Why Winged Foot is special
• Herrington: Winged Foot will be rough and ready
• Whitten: Is Winged Foot still fit for a fight?
• Owen: Where real New Yorkers play golf
• McCleery: The Massacre of '74 still lingers

Facts
• U.S. Open field
• U.S. Open past champions
• Winged Foot course map
• Merion to host 2013 U.S. Open

U.S. Open qualifying
• Sobel: Is U.S. Open qualifying an outdated process?
• Harig: Wie's bid to make history drew believers
• Sirak: Wie growing before our eyes
• Wojciechowski: Wie belongs, even if she didn't qualify
• Wojnarowski: What's Wie's rush?
MOST SENT STORIES ON ESPN.COM