Commentary
Red numbers not endangered species (yet) at Torrey Pines
Updated:
June 13, 2008, 2:38 AM ET
By
Bob Harig
| ESPN.com
SAN DIEGO -- The names are unfamiliar, a couple of guys putting together dream rounds at the U.S. Open. But it's early, very early. And Justin Hicks and Kevin Streelman surely know it won't get any easier than it was Thursday at Torrey Pines.
[+] Enlarge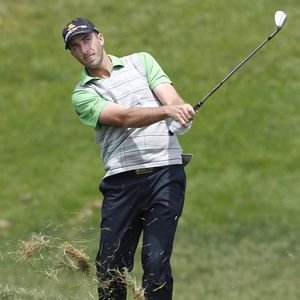 AP Photo/Chris CarlsonGeoff Ogilvy owns a U.S. Open title, yet Thursday was his first round under par at the year's second major championship.
They opened the 108th U.S. Open with a couple of 3-under-par 68s on a day that could not have been any more ideal for golf, with barely a breeze coupled with clear, sunny skies.
Yet you get the feeling the hard, fast greens are only going to get harder and faster. And the rough will get thicker. And certainly the fairways will not get any wider.
"The screws will tighten down all week, and by Sunday, this place will be unreal," said Rocco Mediate, whose 69 left him a stroke behind the leaders and in a tie with Geoff Ogilvy, Stuart Appleby and Eric Axley.
They were the only six players to shoot in the 60s on a picture-perfect day, although it is interesting to note that there were just two rounds in red numbers at par-70 Oakmont last year and just one at Winged Foot the year before that. There were 11 players under par 71 here Thursday.
If the two previous hosts boasted revved-up, high-powered U.S. Open layouts, then Torrey Pines is not quite in the same horsepower league. Still, the South Course that yielded a 19-under-par winning score to Tiger Woods when he won the Buick Invitational in January is plenty stout, and even par is plenty to be proud of around here.
The proof that Torrey Pines is playing easier is in the numbers.
Thursday's scoring average at Torrey Pines (75.61, par-71) was nearly 1 1/2 strokes lower in relation to par than the first round at Winged Foot in 2006 (75.98, par-70) and nearly a stroke lower than last year at Oakmont (75.32, par-70).
Just ask Ogilvy, who has a U.S. Open trophy on his mantel but had never broken par in any Open round until Thursday.
"It's nice to have a good round in the afternoon when the conditions are tougher, and nice to know I'll be going off in the morning," Ogilvy said. "You know it's potentially going to be easier."
Or ask hometown hero Phil Mickelson, who battled back to shoot 71 after falling to 3-over-par after just seven holes.
"Whether it's today's round, tomorrow's round or any round, you're just trying to keep it around par," Mickelson said. "Trying not to make too many big mistakes, sneak a birdie here or there and it will be a good tournament."
Mickelson was the best of the high-profile group that also featured Woods (72) and Adam Scott (73).
Woods, playing his first competitive round since the Masters and subsequent knee surgery, was both brilliant and brutal. He made his first double-bogey of the year on his very first hole and added another at the 14th. In between, he had three birdies and three remarkable par saves that kept him in the tournament. He then three-putted the 18th green for a disappointing par that probably hurt more than his left knee -- although it was hard to tell, and he wasn't saying.
"To make two double-bogeys and a three-putt and only be four back, that's a great position to be in," Woods said. "Because I know I can clean that up. I hit the ball pretty good all day, had a couple missed left, but just need to clean up the round just a little bit."
For Woods, who is tied for 19th, it will be little consolation that there were plenty of players who gladly would have taken his score. Masters champion Trevor Immelman shot 75, and Players Championship winner Sergio Garcia had 76, as did two-time U.S. Open winner Retief Goosen. Reigning British Open champion Padraig Harrington carded a 78.
So although the scoring was not as difficult as at Oakmont or Winged Foot, everything is relative.
"I haven't seen easy out there," Mediate said. "There's not one hole out here where you can fall asleep. You've got to really work upon what you're doing, and more so than any other event. You just have to have a much tighter tolerance or you're going to get ripped to pieces.
"And I love that part about the U.S. Open."
Bob Harig covers golf for ESPN.com. He can be reached at BobHarig@gmail.com.
108th U.S. OPEN CHAMPIONSHIP
18-hole playoff
•
Tiger wins 3rd Open in playoff
|
Watch
|
Scores
•
Forde: Tiger's win was greatest Open ever
•
Harig: Haney puts Open No. 1 on Tiger's win list
•
Wojciechowski: Tiger, Rocco save sports
•
Watch:
North's analysis
|
Reilly's take on Mediate
•
Watch:
On The Tee: Woods had to grind for win
•
Watch:
Woods, Mediate discuss epic playoff
•
Watch:
PTI's Wilbon, Kornheiser talk Tiger
•
Photos:
The playoff
|
Tiger's 14 major wins
•
Sobel, Harig recap Tiger's victory

•
Sobel's U.S. Open blog
|
Harig chat wrap

•
Vote:
Can Tiger overtake Nicklaus?
•
Top performances of athletes play in pain
|
Rank
Fourth round
•
Tiger forces Open playoff
|
Watch
|
Photos
•
Forde: Tiger's mind vs. his knee to decide Open
•
Harig: Mediate finally 'back' on track
•
Westwood odd man out of U.S. Open playoff
•
Watch highlights:
Tiger
|
Mediate
|
Westwood
•
Jason Sobel's round 4 U.S. Open blog
Third round
•
Woods surges into U.S. Open lead
|
Photo gallery
•
Forde: As others faltered, Woods held it together
•
Harig: Uphill battle for Westwood, Mediate
•
Sobel:
A plan for contenders
|
U.S. Open blog
•
Watch:
Rd. 3 analysis
...
Highlights
|
Tiger
•
Watch:
Reilly's take
|
Sunday predictions
•
Watch:
Westwood
|
Mediate
|
Ogilvy
|
Lefty
•
Chip Shots: Floundering Phil cards a quad
•
Bell: Strong mind helps Woods overcome pain
Second round
•
Harig: In a blink, Woods changed everything
•
Appleby up 1
|
Watch: Tiger, Phil highlights
•
Harig: Love has 'major' plans
|
Watch
•
Forde: No. 18 presents risks, rewards
• Watch:
Highlights
|
Best of Rd. 2
|
Rd. 3 preview
•
Watch: Reilly's ode to the Open
|
Photo gallery
• Watch:
On The Tee's second round recap
• Watch interviews:
Phil Mickelson
|
D.J. Trahan
•
3 Up, 3 Down: First-round leaders fade fast
•
Chip Shots: Cabrera makes early exit
•
Sobel: Blog jinx working OT in round 2
• On The Tee:
Is U.S. Open Tiger's to lose?

First round
•
Forde: Circus came to town for opening round
•
Watch: North, Ravech look ahead to 2nd round
•
Watch: Forde, Sobel, Harig on round 1 leaders
•
Watch: Reilly on who's cooler ... Tiger or Phil?
•
Harig: Hicks (68) wants to extend his 15 minutes
•
Opening-round recap
|
Highlights
|
Photos
•
Harig: Red numbers not endangered Thursday
•
Chip Shots: Who needs a driver, right Lefty?
•
3UP, 3DN:
Cabrera on wrong side of the list
•
Jason Sobel's blog: Who got Romo'd?
•
Sobel/Harig discuss unlikely Open leaders

Latest News
•
Heckler tangles with Scott's caddie at No. 9
•
Fans outside ropes to face first smoke-free Open
•
Woods says knee is sore, but he's 'good to go'
•
Woods plays nine, shows no limp
•
Report: Scott nurses broken finger, will play
•
Tiger, Phil paired in star-studded groupings
•
Tiger plays first round since Masters
•
As Open nears, rehabbing Tiger hasn't gone 18
•
Four players win playoffs to make U.S. Open field
•
Round 1, Round 2 tee times
Podcasts
•
On The Tee: Sobel talks to Imada

•
On The Tee: Sobel talks to Okla.. St.'s Fowler

Golf Digest
•
'Philip' Mickelson knows Torrey Pines well
•
6 things to know about Torrey Pines
•
Torrey Pines course map
|
More coverage
USOpen.com
•
Spectator info
|
U.S. Open championship history
•
Player bios
|
USOpen.com
|
Golf blogs
MOST SENT STORIES ON ESPN.COM